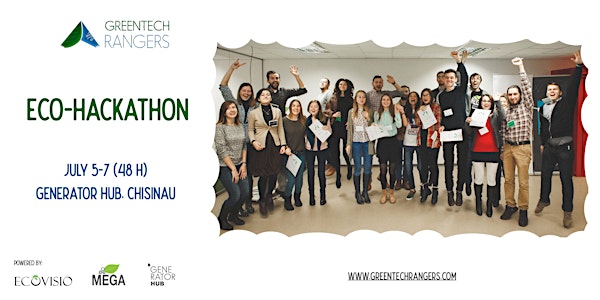 Eco-Hackathon of GreenTech Rangers
When and where
Location
Generator Hub 202 Bulevardul Ștefan cel Mare și Sfînt MD 2004 Кишинэу Moldova, Republic of
Description
Eco-Hackaton este o competiție națională din cadrul programului GreenTech Rangers, organizat de către MEGA, Generator Hub / DNT și EcoVisio.
Scopul evenimentului este de a ajuta tinerii să găsească soluții inovative și funcționale pentru adresarea problemelor de mediu cu care ne confruntăm în Moldova și în special în Chișinău.
Eco-Hackathon-ul va dura 48 de ore, pe parcursul cărora ideile cu potențial se vor transforma în prototipuri. Ulterior, cele mai bune echipe vor fi susținute în a-și dezvolta mai departe startup-urile, prin mentorat cu antreprenori locali și internaționali de succes, precum și posibilitatea de a participa la ClimateLaunchpad, cea mai mare competiție internațională de startup-uri eco.
Evenimentul va avea loc în perioada 5-7 iulie în Chișinău la Generator Hub (Ștefan cel Mare 202/2).
Pentru mai multe detalii și contacte accesează site-ul www.greentechrangers.com.
***
Эко-хакатон представляет собой национальный конкурс, который является частью программы GreenTech Rangers, организуемой MEGA, Generator Hub / DNT и EcoVisio.
Целью мероприятия является помощь молодежи в поиске новаторских и функциональных решений для экологических проблем, с которыми мы сталкиваемся в Молдове и в частности в Кишиневе.
За 48 часов Эко-хакатона наиболее перспективные идеи превратятся в работающие прототипы. А лучшие команды получат поддержку для развития своих стартапов в форме менторства от успешных местных и международных предпринимателей, а также возможность принять участие в крупнейшем международном конкурсе экологических стартапов ClimateLaunchpad.
Мероприятие будет проходить 5-7 июля в Кишиневе в Generator Hub-е (Штефан чел Маре, 202/2).
Для получения более подробной информации и контактов посети сайт www.greentechrangers.com.
***
Eco-Hackaton is a national competition organized by MEGA, Generator Hub / DNT, and EcoVisio as part of the GreenTech Rangers programme.
The aim of the event is to support young people in finding inovative and functional solutions to address environmental issues that we face in Moldova and especially in Chisinau.
During 48 hours of Eco-Hackathon, promising ideas will transform into prototypes. Afterwards, the most active and successful teams will get additional support to develop their startups further. This support will be in the form of mentoring with successful local and international entrepreneurs and participation in ClimateLaunchpad, the biggest international competition of environment-focused startups.
The event takes place in the period of 5th - 7th of July in Chisinau at Generator Hub (Stefan cel Mare 202/2).
For more details and contacts please go to the website www.greentechrangers.com.