Description
WHAT
Eco Adventure Days is a fun and educational way for your child to discover the amazing diversity of Florida's natural resources. Campers will learn about the diverse habitats of Ravine Gardens State Park, conduct scientific experiments in a fun environment, and even work on projects at the park like a real park ranger! This three day event will be filled with learning objectives and corresponding activities, games, and crafts!
WHO
Ravine Gardens State Park is a historical garden park located in Palatka, Florida. The park boasts beautiful gardens, trails, a steephead ravine system, and an abundance of wildlife viewing opportunities. The park is offering a summer camp aimed at exploring Florida's amazing natural resources!
The camp is geared for students entering 3rd, 4th, and 5th grade for the 2016-2017 school year.
WHEN
Wednesday, July 6 - Friday, July 8
Drop-off is at 8:30 a.m. and pick-up at 2:30 p.m. Wednesday - Friday.
This is second of two opportunities for children to get involved with Eco Adventure Days. If unable to attend these dates, our first Eco Adventure Days camp session (same curriculum as the second session) will be, Monday, June 27 through Wednesday, June 29. Please see the corresponding Eventbrite page to register for the June camp, here.
WHERE
Ravine Gardens State Park 1600 Twigg Street Palatka, FL 32177
HOW MUCH
The summer camp is $25 per child. This includes all activities and instruction for the week, as well as snacks and lunch. Camp fees benefit the Friends of Ravine Gardens, who supply all of the materials for the summer camp.
Lunch will be provided each day by the Putnam County School Food Service Program.
All parents/guardians must complete a Registration Form for each child attending, which also includes both a General Waiver Form and a Photo Release Form. It will be send to the email address you provide while purchasing your ticket. Please complete and email it to, Chanell.Guillaume@dep.state.fl.us, or fax it to the office at, 386-329-3721. Please call 386-937-0949 with any questions.
The camp is limited to 30 students and will be filled on a first-come-first-serve basis. If the camp is sold out please email Chanell Guillaume at, Chanell.Guillaume@dep.state.fl.us to be placed on the waitlist.
---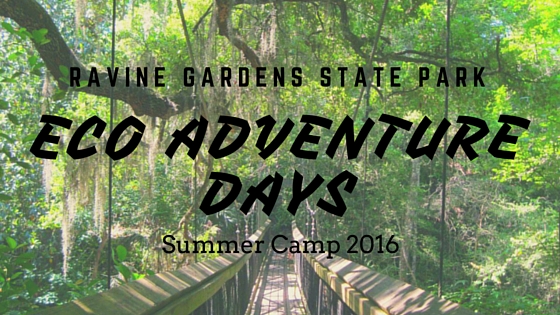 FAQs -
Will there be a check in/drop off procedure?
Yes. We will have a sign-in sheet for both drop off and check in located in our main lobby. Only parents and guardians you listed when you registered your child will be allowed to pick up your child. You may add additional guardians by emailing Chanell Guillaume at, Chanell.Guillaume@dep.state.fl.us, or by calling at 386-329-3721.
What is the dress code for camp?
Please wear something comfortable and casual! We will be outside getting dirty and possibly wet at times. We recommend your child bring a change of clothes, just in case.

Please do not wear spaghetti straps, shorts shorter than 4" above the knee, halter or tube tops, or low cut clothing, cut off clothing, pajamas, flip flops or anything valuable such as jewelry.

Please send your child to camp with sunscreen and bug repellent already applied.

We cannot apply sunscreen or bug spray to your children.
Do they need to bring any supplies?
The only thing you need is a reusable water bottle!
Should they bring refreshments/ snacks?
Only if you need or want to. We will be providing the snacks and lunches listed above, but if your child has a dietary need or special snack need, please feel free to drop them off with a camp counselor.
What if it rains?
Camp will go on! We have plenty of activities planned in the event of foul weather.
Do I need to pay when I come in to the park?
No! Included in the summer camp fee are the park entry fees. You do not need to pay extra to pick up or drop off your child.
What is the refund policy?
Unfortunately there are no refunds available past the registration deadline.
Can my child bring a guest or parent to camp?
No – unfortunately we are unable to accommodate guests or parents at summer camp. However, family and friends are invited to the

graduation ceremony to see what our campers learned and discovered during camp!
If you have any additional questions or concerns, please contact Chanell Guillaume at 386-329-3721 or 386-937-0949.
See you at Summer Camp!