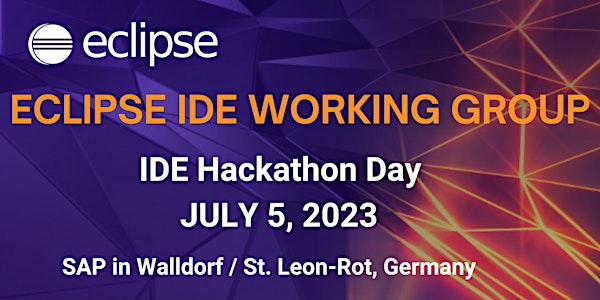 Eclipse IDE Working Group IDE Hackathon Day
Eclipse IDE Working Group - IDE Hackathon Day at SAP, Walldorf, Germany - July 2023
Date and time
Wed, Jul 5, 2023 10:00 AM - 5:00 PM CEST
Location
SAP-Allee 28 SAP-Allee 28 68789 Sankt Leon-Rot Germany
About this event
The IDE Working Group Steering Committee Members are organizing an IDE Hackathon Day that will be hosted by SAP in Walldorf / St. Leon-Rot, Germany on July 5, 2023! The event will be onsite and free of cost to attend.
This hackathon is of interest to those who share a passion for delivering a commercial quality community-driven IDE and extensible platform and is the next step in the Working Group's commitment to strategic investment in the Eclipse IDE. Newcomers and those experienced are all welcome to get in touch with the community and the IDE Working Group.
The IDE Working Group will propose a set of topics to work on (e.g. visual refresh). There will also be the chance to propose other topics at the beginning of the event and work on those together with other interested community members. Experienced Eclipse committers will be on site to provide guidance.
Meeting Rooms (building ROT05) & Registration (building ROT04)
About the organizer
The Eclipse Foundation provides individuals and organizations with a business-friendly environment for open source software collaboration and innovation. The Foundation is home to the Eclipse IDE, Jakarta EE, and over 415 open source projects, including runtimes, tools, specifications, and frameworks for cloud and edge applications, IoT, AI, automotive, and more. We are a not-for-profit organization supported by over 320 members. Learn more at eclipse.org.