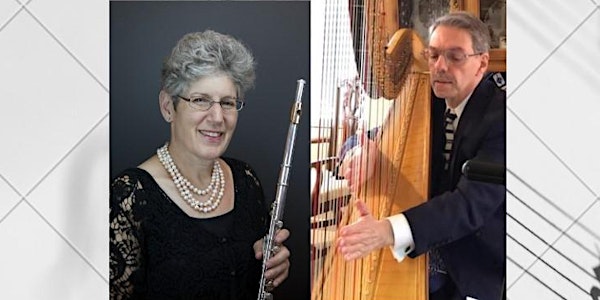 Eclectic Selections for Flute and Harp
Community Conversations Music in the Afternoon
When and where
Location
Oshman Family JCC - Albert and Janet Schultz Cultural Arts Hall (Bldg F) 3921 Fabian Way Palo Alto, CA 94303
Refund Policy
Contact the organizer to request a refund.
Eventbrite's fee is nonrefundable.
About this event
Enjoy an afternoon of delightful music with a duo of harp and flute.
The repertoire will feature composers such as: Debussy, Ravel, Ibert, Bizet, Puccini & Mascagni. Also including the magnificent Kol Nidrei by Max Bruch.
Musicians:
Marian Concus - Flute
Dan Levitan - Harp
Marian Concus is a versatile flutist in The San Francisco Bay Area. She currently is a member of Fremont Symphony/Opera/Ballet and Santa Cruz Symphony. Her former positions include Solo Piccoloist with Boise Philharmonic and Banda Piccoloist with Central City Opera. Ms. Concus was Alto Flute Soloist with Fremont Symphony in a performance of Takemitsu's Toward the Sea for Alto Flute, Harp, and Orchestra. She is a regular guest soloist at St. Pius Catholic Church in Redwood City.
While she was living in Philadelphia, Marian Concus was Principal Flutist for Wilmington Ballet and Opera Libera. She was guest soloist for both the Philadelphia Harp Festival and on the Brown Bag Concert Series at Church of the Holy Trinity in Rittenhouse Square. She was a weekly Midday Melodies Artist at Reading Terminal Market and an Art-Reach soloist.
Ms. Concus has recorded in Paris with Adama, with Chicago based Maxwell Street Klezmer Band and Windy City Slickers, and in The San Francisco Bay Area with Laudamus Choir and Ohlone Chamber Singers. At the request of New Music Works, Santa Cruz, California composers, Ms. Concus recorded contemporary pieces for their CD Night of the Living Composers. Ms. Concus is also featured flute soloist on Enchante's Shades of Love, an eclectic collection of love songs arranged for flute, voice, and harp. (Dan Levitan is the harpist featured on Enchante's Shades of Love recording.)
Marian Concus holds a Bachelor's Degree with Honors in Flute Performance from New England Conservatory of Music. She studied for two years in France with former Principal Flutist of Orchestre de Paris Michel Debost, and did undergraduate coursework in music at University of California, Berkeley. She has held flute faculty positions at Friends Central, Wynnewood, PA; Torah Academy, Wynnewood, PA; and Bellarmine College Preparatory School and Almaden School of Music and Arts in San Jose, CA. Marian Concus was a board member and competition adjudicator for Flute Society of Greater Philadelphia. She is a member of American Federation of Musicians and National Flute Association.
Dan Levitan holds contracts as the Principal Harpist with three professional orchestras: Santa Rosa Symphony, Marin Symphony, and Symphony San Jose. He is the solo harpist with Carmel-Bach Festival, having performed solo, chamber music, and other concerts as a member of the Festival Orchestra. He has been the "first call" harpist with the San Francisco Opera since August 2008. He regularly performs for the San Jose Chamber, Mission Chamber, UC Berkeley Symphony orchestras and is sought after as a soloist by numerous other orchestras, choirs, and ensembles throughout northern California.
Mr. Levitan's concerto performances by Bach (Johann Christian), Boieldieu, Debussy, Ginastera, Glière, Mozart, Ravel, Reinecke, and Saint-Saëns with orchestras throughout the San Francisco Bay Area have been highly praised by local critics, who write of his "impeccable virtuosity" (San José Metro), "virtual perfection" (Marin Independent Journal) and "precision and élan" (Mercury News). His most recent concerto performance was the Hindemith concerto for harp, 4 (four) woodwinds (flute, oboe, clarinet, bassoon) and orchestra with the Santa Rosa Symphony. Internationally, Mr. Levitan was invited to perform two works for harp and string quartet at the Seventh World Harp Congress in Prague, Czech Republic, and was a semi-finalist in the prestigious 10th International Harp Competition in Israel.
As a teacher and coach, he coaches for California Youth Symphony (CYS), Golden State Youth Orchestra (GSYS), as well as San Jose Youth Symphony (SJYS), in addition to teaching privately.
Born and educated in Philadelphia, Mr. Levitan received Bachelor of Arts degrees in Music Performance and in Music Education from Temple University —both magna cum laude—and was named "Most Promising Musician" on graduation. He studied with Margarita Montanaro, (retired) Co-Principal Harpist with the Philadelphia Orchestra and internationally acclaimed harpists Susann McDonald and the late Susanna Mildonian, as well as the well-known late Bay Area Harpists Anne Adams, Marcella DeCray, and Phyllis Schlomovitz.
Funded in part by the Jewish Community Federation and Endowment Fund. Senior Programs are made possible in part by generous contributions from the John R. Schwabacher Family. We are grateful for the generous support of all of our donors.
COVID: Masks are encouraged for all OFJCC in-door events. We follow up-to-date CDC guidelines regarding COVID safety measures.
Doors open at 12:30 PM | Linger after the concert for a snack and beverage.
Contact Michelle Rosengaus at email: mrosengaus@paloaltojcc.org for questions