Description
TICKETS AVAILABLE AT THE DOOR!
San Francisco Hottest, Funkiest & Most Diverse New Year's Eve
Extravaganza Returns with Headliner ZAP MAMA.
Partial Proceeds Benefits Doctors Without Borders.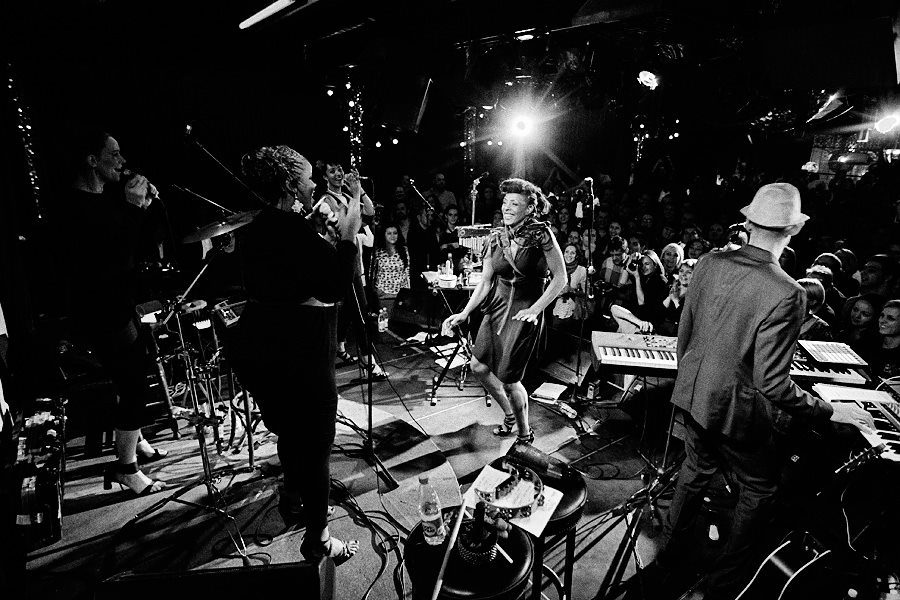 ZAP MAMA & ERYKAH BADU
SILA LIVE AT LAST YEAR'S SOLD OUT NYE PARTY

San Francisco's most multicultural NYE party returns with headliner Zap Mama, plus SILA, Non-Stop Bhangra, Sambaxe Dance, and DJs J-Boogie, Jimmy Love, Dj Jeremiah (AKA Mr. Afrobeat) and Matt Haze.
Now in its 6th year, Eclectic Fever has become a multicultural institution among New Years' Eve partygoers in San Francisco, ever since debuting in 2005. As always, the lineup offers a global feast of rhythms from all over the world.
Known to her fans as Zap Mama, Marie Daulne redefines the term "vocalist." She is more than just a singer—although she does that very well—but more of a sonic stylist, who alternates between storytelling and organic creative expression utilizing the tonality of the human voice. Since first bursting on the scene almost 20 years ago, the Belgian-Congolese diva has wowed audiences around the world with her unique sound, which seamlessly blends African, American, and European cultural influences and effortlessly mixes genres such as R&B, hip-hop, and jazz with indigenous and tribal sounds. Zap Mama's seven album-deep catalog represents her mastery of what African griots recognize as the seventh sense: the ability to heal through music. In addition to her musical endeavors, Daule has worked with humanitarian aid organizations Doctors Without Borders, Amnesty International, CARE and the United Nations.
Since launching his musical career in 2005, Kenyan-born singer/songwriter and 2010 NAACP Image Award winner SILA has steadfastly become the Bay Area's top world music artist, as well as a tireless proponent of humanitarian causes. Currently at work on his highly-anticipated third album, SuperAfrican, his music combines the social commentary of Fela Kuti, the funk of James Brown, and the universal consciousness of Bob Marley.
Non-Stop Bhangra are a SF-based Indian dance/music troupe who bring the traditional sounds of Punjabi culture into a contemporary frame. Starting with a template based around North Indian Bhangra, this collective of dancers, musicians, vocalists, drummers, and musicians fuses hip-hop, reggae, and electronic sounds into the mix, resulting in a festive, party-friendly vibe.
Sambaxé Dance is a full force, energetic group of Brazilian-style dancers who bring the spirit of Carnival with them wherever they go. They perform alongside Bateria ¡Blocura! De San Francisco, a live band led by Alfie Macias.
DJ support at Eclectic Fever is provided by Jimmy Love (Non-Stop Bhangra), J-Boogie (Om Records/J-Boogie's Dubtronic Science), Jeremiah (Aka Mr. Afrobeat) and Matt Haze (Slayers' Club). A portion of proceeds will benefit Doctors Without Borders' work in Somalia.
100% of coat check fee and tips will benefit One Mama which supports improvided communities in Uganda (http://onemama.org)
With live visuals by VJ NIGHTSHADE

Very Special Guest Host Audio Angel (http://www.facebook.com/audioangelHQ)

For Video, Photos and more information visit http://eclecticfever.com/
________***_________

VIDEOS
ZAP MAMA & ERYKAH BADU
PREVIEW FROM PREVIOUS NYE PARTIES
NON-STOP BHANGRA
Tickets: After purchasing a ticket through Eventbrite you may either print out your confirmation email for faster entry, or bring your ID and your name is automatically added to will call.
NO REFUNDS
All SALE FINAL
NO TICKET TRANSFER
This event is 21+ | Please bring valid identification. For more information visit eclecticfever.com
We will have an affordable full bar (no host) at the event.
MORE INFORMATION, DIRECTIONS, HOTEL, OR PARKING GO TO ECLECTICFEVER.COM
West Bay Center
1290 Fillmore Street
(right next to Yoshi's San Francisco)
San Francisco, CA 94115
BROUGHT TO YOU BY SILA PRESENTS
Organizer of Eclectic Fever Presents A Zap Mama New Year's Eve Extravaganza