Composers Concordance's ongoing series 'Eclectic Bands' with Gene Pritsker's Sound Liberation, Dan Cooper Quartet &. poe Jim Kempner
About this event
Composers Concordance's ongoing series 'Eclectic Bands' continues on June 5th at The Jim Kempner Fine Art Gallery, with a concert featuring two cutting-edge groups: Gene Pritsker's Sound Liberation and the Dan Cooper Quartet. Starting at 6:30pm, the two ensembles will play back-to-back sets.
The show will open with a set by the Dan Cooper Quartet, featuring Dan's distinctive compositions. Followed by poet Jim Kempner, who will present some of his verses. Then, Sound Liberation will take the stage and premiere Gene Pritsker's new half an hour composition 'Let's Save The World Suite' based on a poem by Erik T. Johnson, featuring Todd Rewoldt on alto sax, Franz Hackl on trumpet, Jose Moura on bass, Damien Bassman on drums, Erik as narrator and Gene Pritsker on guitar. The set will end with the premiere performance of the hip-hop song 'Complicit' from Gene's 'Protest' album, featuring rapper Chad 'The Brooklyn Globetrotter' Harper and a new jazz version of the song 'The Biggest Lie (Trickle Down)' based on a poem of Robert C. Ford, featuring vocalist Charles Coleman and Robert as narrator.
This performance will be held in the outdoor space of Jim Kempner's Fine Art Gallery.
Join us for this fun event to usher in the summer.
Sound Liberation's set at 7:15pm will also be live streamed on the Composers Concordance Facebook page.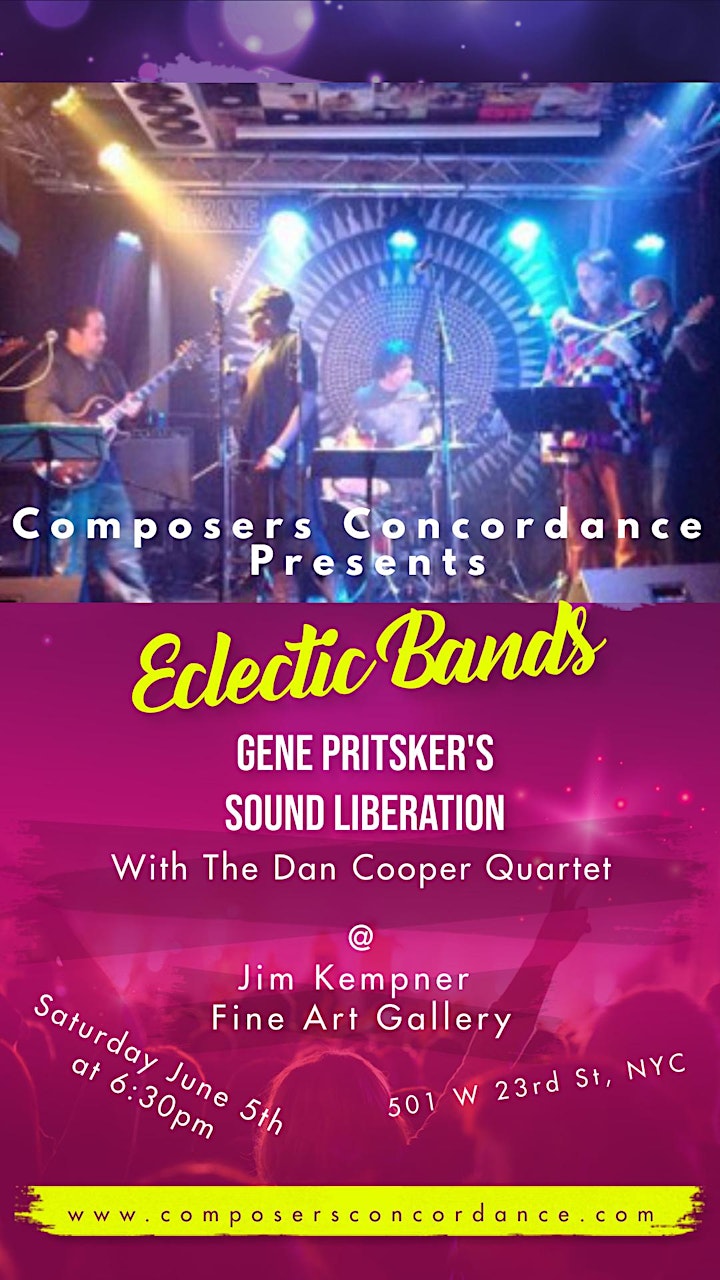 Organizer of Eclectic Bands feat. Gene Pritsker's Sound Liberation & Dan Cooper Quartet
 Staying in rotation for thirty two years in NYC is a rare feat. In the case of a new music presenting organization, it requires not only diligence and cognizance of achievements of the past, but also an ethic of keeping one's ear to the ground for emerging stylistic and technological developments, as well as talented new composers on the scene. Composers Concordance strives to present contemporary music in innovative ways, with an emphasis on thematic programming. It has also created a record label, Composers Concordance Records, with distribution by Naxos. Directors Gene Pritsker and Dan Cooper co-curate the programs, and lead the CompCord Ensemble, Chamber Orchestra, String Orchestra, and Big Band. Associate Directors are Milica Paranosic, Peter Jarvis, Svjetlana Bukvich, and Melissa Grey. Composers Concordance's overriding vision is to promote contemporary music, composers, and new works as a rightful and respected part of society. Good music, performed and recorded well, pushing the boundaries of sound and composition.
"For the past 30 years, Composers Concordance has been a booster for local composers, through both its concerts across the city and a record label."  -The Wall Street Journal. "Enterprising new music organization" -The New York Times. "The Composers Concordance folks are unpredictable and at times refreshingly irreverent in a reverent sort of way....ingenious fun" -Classical-Modern Music Review. "Edgy...boisterous...demanding our attention" -San Diego Story. "These men and women are creating exciting music with elements of jazz, world music and many experimental techniques blended with equal parts classical tradition and playing techniques." -Asbury Park Press. "There is considerable evidence to show that Composers Concordance may be one of the most exciting labels in American contemporary music. - JazzdaGama

http://composersconcordance.wix.com/2016-17-season