About this Event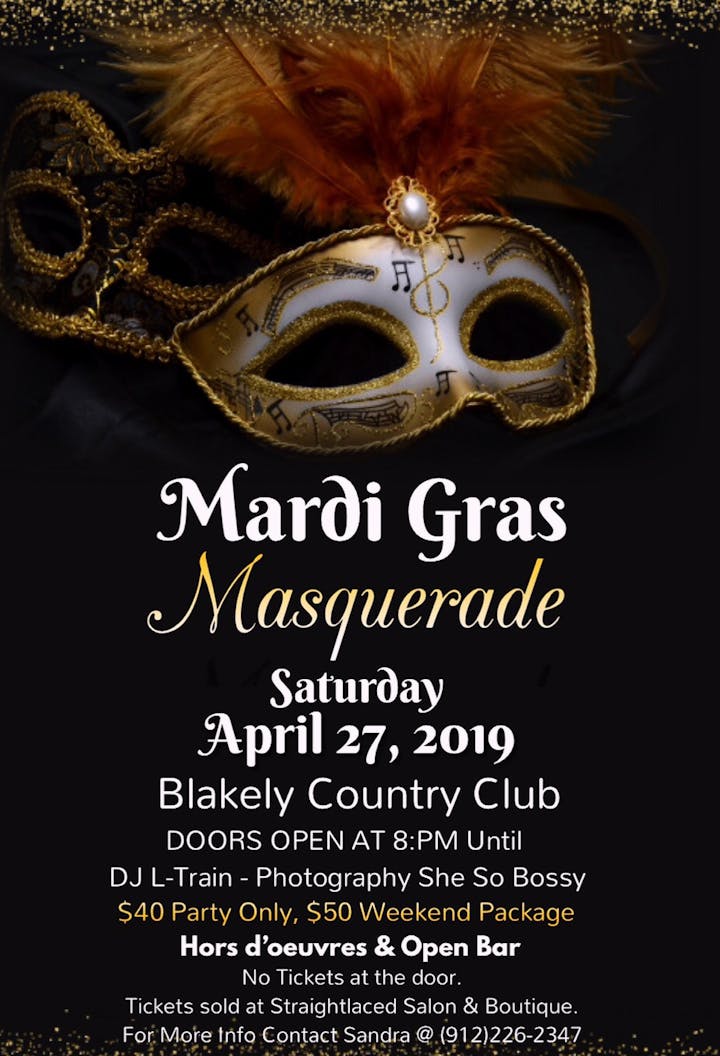 Alumni Weekend consists of 4 parts:
1. Friday night: Meet and Greet at Straightlaced Salon & Boutique from 7pm-10pm. Come join us as we socialize, disperse t-shirts and sip lovely.
2. Saturday afternoon: Pep Rally/Tailgate at ECHS Old Gym. Fun and games and a rally to start the day's festivities off right. The tailgate will begin immediately afterword at the ECHS practice field. $3/person admission collected at the gate.
3. Saturday night: Mardi Gras masquerade party. Come dressed in your finest Mardi Gras wear.... and don't forget your mask! Held at Blakely Town and Country Club from 8pm-until. Hors d'oeuvres and open bar included in admission price.
4. Sunday Morning Worship: Choose a location and gather for morning worship and prayers of safe travel.
What Should I Wear to the Mardi Gras Party?Purple, green and gold are the three colors associated with Mardi Gras, dating back to the very first Mardi Gras celebrations. Each color has its own meaning, with purple representing justice, green: faith and gold: power. When participating in any Mardi Gras festivities, it is highly recommended that you wear one or all three of these colors. Also keep in mind that there is no such thing as wearing too much green, purple and gold, or too many accessories. When it comes to Mardi Gras—the more, the better!
Add a traditional piece of headwear, such as a crown, jester hat or masquerade mask. King's crowns are one of the many symbols associated with Mardi Gras. This is because Mardi Gras celebrations began during the Medieval period when kings ruled most countries in Europe. Another Mardi Gras icon is the jester. Sport a fun and goofy jester hat that is sure to get you noticed this Mardi Gras season. If you would like to go the more understated route when it comes to headwear, try a colorful feather or sequin mask. Masks are a popular accessory worn at Mardi Gras celebrations due to the Masquerade Balls held for secret society members during the early ages of Mardi Gras.