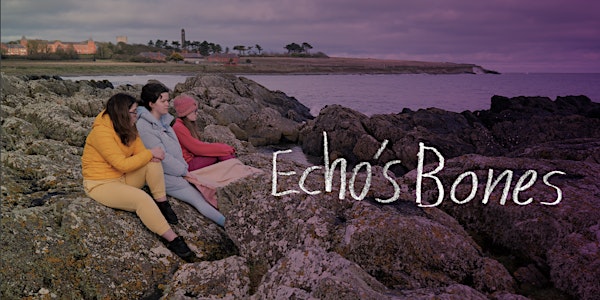 Echo's Bones premiere screening
Public art commission – premiere screening and Q&A **ADDITIONAL SCREENING SUNDAY 9TH OCTOBER: www.echosbonessunday.eventbrite.com**
When and where
Location
Light House Cinema Market Street South D07 R6YE Dublin 7 Ireland
About this event
Echo's Bones is a two year collaborative filmmaking project, led by Sarah Browne, with a group of autistic young people in north county Dublin. Commissioned by Fingal County Council under the Infrastructure 2017 - 2021 public art programme. It takes its title from a short story by Samuel Beckett set in the area.
Not a (neuro)typical film:
Borrowing from a Beckett sensibility, autism is not the topic of the film but a way of sensing the world and speculating about a shared future. This the premiere public screening, which is intended to be shown in sensory-friendly settings.
The screening will be followed by a Q&A.
Soundtrack available for free download on Bandcamp here.
For further information on Echo's Bones see here
Accessibility
The Light House Cinema building is fully wheelchair accessible with lifts located on each floor. There is a dedicated accessible toilet located on the mezzanine at -2 level, right outside Screen 3 where this film will be shown.
Each Screen has designated wheelchair-accessible seats. These seats are located in the front row of Screen 3. Please let us know when booking if you require a wheelchair-accessible seat by emailing eoghan.finn@fingal.ie
• Impaired Hearing
There is a Loop system in every screen. The loop system is an assistive listening device that works along with your hearing aid. The aim of the loop system is to help overcome background noise. The loop system must be activated in your hearing aid for you to be able to connect. Not all hearing aids are compatible with this system.
• Accessible Parking
There is limited accessible parking available at the Queen Street Park-Rite Car Park. Please contact Park-Rite directly for more information and advance booking at www.parkrite.ie or call (01) 542 5600
• The Film
The film is 26 minutes long and will play twice: the first time with captions, the second time with audio description. The film will be screened in low light (but not full darkness).
Audience members are free to stim and move around as they need to. You can leave at any time, and you are welcome to come back in. A quiet area will be provided on the mezzanine outside screen 3.
Please let us know if you have questions or additional requirements we can support by emailing eoghan.finn@fingal.ie
Please inform us if you are unable to attend the film screening so we can re-issue your ticket/s.