Description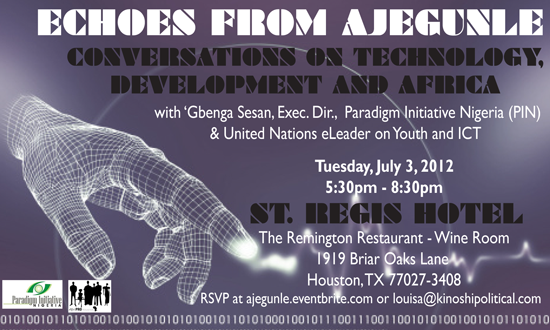 Join AfriPRO Houston and Paradigm Initiative Nigeria for dinner and conversations with 'Gbenga Sesan, Executive Director of Paradigm Initiative Nigeria and Nigeria's first ICT Youth Ambassador. The event will take place on Tuesday, July 3rd at the St. Regis Hotel – Remington Restaurant at 5:30pm. Paradigm Initiative Nigeria (PIN) is a social enterprise that connects Nigerian youth with ICT-enabled opportunities. PIN's projects include Ajegunle.org (focuses on providing ICT/Entrepreneurship capacity building for bottom-of-pyramid youth), MISSPIN (campaign seeks to combat the menace of cybercrime in Nigeria) and TENT (a program that combines series of workshops, annual showcase event and long-term partnerships with universities to train young entrepreneurs. Your RSVP confirms your seat at the table and we are limiting this event to only 20 people so please RSVP now!!
About 'Gbenga Sesan
'Gbenga was Nigeria's first Information Technology Youth Ambassador and served as the Vice Chair of United Nations Economic Commission for Africa's African Technical Advisory Committee. In 2006, he was appointed as the youngest member of the Nigerian Presidential Task Force on the Restructuring of the Nigerian Information Technology and Telecommunications Sectors. Imprimata published his book, In My Own Words, in September 2009. A member of the United Nations Committee of eLeaders on Youth and ICT, he is a Crans Montana Forum Fellow, Archbishop Desmond Tutu Leadership Fellow, Ashoka Fellow, Our Common Future Fellow and Cordes Fellow. Originally trained as an Electronic & Electrical Engineer at Obafemi Awolowo University, 'Gbenga completed management training at Lagos Business School, New York Group for Technology Transfer, Oxford University, Harvard University, Stanford University and Santa Clara University. His consulting experience includes assignments completed for numerous institutions, including Microsoft, Harvard University, United Nations Economic Commission for Africa, Freedom House, Res Publica, Computer Aid International, Heinrich Boll Foundation and the International Telecommunications Union.
About AfriPRO Houston
AfriPRO Houston impacts around 1000 African professionals in the Houston area. AfriPRO is a professional and community organization that consists of young professionals and entrepreneurs who have come together to network and exchange ideas. Throughout the year, we organize and collaborate on various programs to inform, educate, and empower the African community in Houston. For more information about our organization, please visit www.afriprohouston.org.