ECHO: Exhibition featuring new works by Sophia Domeville

Saturday, September 12, 2015 from 7:00 PM to 10:00 PM (EDT)
Event Details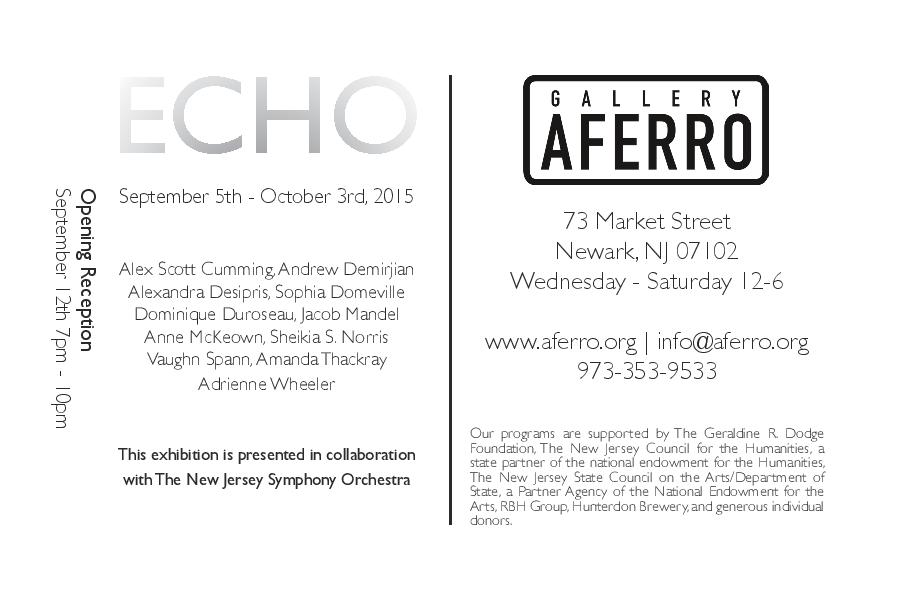 You are cordially invited,
Echo
Gallery Aferro Main Gallery
September 5th – October 3rd
Opening Reception: September 12th 7pm – 10pm

Haitian American Abstract Expressionist, Sophia Domeville were one of the selected artists to be apart of Artist Box, a unique initiative that brought artists from the Newark-based art gallery to NJSO performances in Newark throughout the 2014-2015 season brought to you by The New Jersey Symphony Orchestra and Gallery Aferro.
Echo is a unique experience in that it will be a visual arts exhibition inspired by music. There has always been a relation between the visual and the sonic arts, they have always been an integral part of human culture and society. But what would an artwork look like that's halfway between a song and a painting? A sound and a photograph? A sculpture and an echo? How does music and noise inform the way we create and define ourselves visually?
The artists will find the line between the sonic and the visual.
Gallery Aferro is giving the artists a space for experimentation and artistic interpretation inspired by New Jersey Symphony Orchestra's performances.
Participating Artists:
Alex Scott Cumming
Andrew Demirjian & James Proctor
Alexandra Desipris
Sophia Domeville
Dominique Duroseau
Jacob Mandel
Anne Q. McKeown
Vaughn Spann
Amanda Thackray
Adrienne Wheeler
On Saturday, September 12th, join your favorite haitian for the opening reception from 7pm – 10pm.
Free/Network/Sip/Enjoy!

https://www.facebook.com/njsymphony?fref=ts

More info:aferro.org/exhibitions/upcoming/
-
Team Sophia
When & Where

Gallery Aferro
73 Market Street
Newark, NJ 07102


Saturday, September 12, 2015 from 7:00 PM to 10:00 PM (EDT)
Add to my calendar