ECF2019 9th Asia-Pacific Shale Gas & Oil Summit
Description
ECF2019 – ALL ABOUT CHINA SHALE GAS & OIL
Energy China Forum - The Leading Forum for Public-Private Dialogue on Shale Development .
To help energy industry participants identify critical trends in global and China shale gas & oil and to assess the impact that these trends may have on companies and governments, Energy China Forum annual Asia-Pacific Shale Gas & Oil Summit was initiated in 2011 in Shanghai.
Now in its ninth year, Energy China Forum 2019 9th Asia-Pacific Shale Gas & Oil Summit will be held on 25-27 September 2019, with the theme "Opportunities in China Shale Gas & Oil". In this year's expanded focus on low-cost and efficient development of shale gas & oil, we look to address the new innovations and technologies – both old and new – around oil and gas business that will likely become increasingly important for shale gas development.
ECF2019 – WHY ATTEND?
BY ATTENDING ECF2019, YOU WILL:
•
Learn about current & future shale gas potentials and policy trends in China market
•
Compare different characteristics in geophysics, drilling & completion operations, fracturing and costs in China with global shale plays
•
Understand technology advances and demands from major Chinese shale players
•
Find the right place for your products and services in the fast growing market
•
Explore your new product offerings or investment portfolio for Chinese shale gas & oil industry
•
Gain market presence and exposure through official media and fellow delegates
YOU CAN ALSO BECOME AN ECF2019 EXHIBITOR TO:
•
Showcase your advanced product and service for shale gas development
•
Expand your customer base and business network in China
•
Solidify your company's industry presence in Asia-Pacific area
•
Stay competitive amongst your key competitors – both Chinese and global
ECF2019 SUMMIT FEATURES
The Largest Shale Gas Summit with Whole Industry Chain Coverage
Open to Opinions from All Major and Private Shale Players
Brainstorm, Socializing and Business Networking with Shale Leaders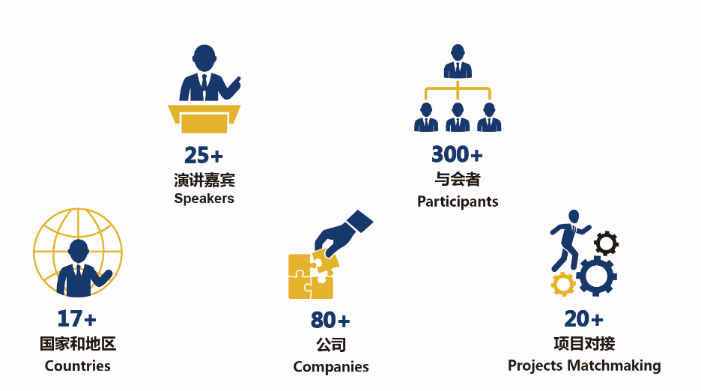 ECF2019 – FEATURED TOPICS
Part I: Global Shale Development
1.
Policy Changes & Influences on Unconventional Oil & Gas
;
2.
Conventional & Unconventional Energy Development in N. America
、
China and other countries
;
Part 2: Public Affairs
1.
China Oil & Gas Policy – System Reform, Oil Majors' Business Integration & Market Development;
2.China Shale Gas & Oil Resources & Development;
3.
China Shale Oil Resources Assessment & Engineering Challenges;
4.
Environment Protection, Regulation and Local Policy Impact during Operations;
5.
Cost Reduction, Efficiency Improvement and Project Management;
6.
Technology, Operation and Development of China's Main Shale Plays.
Part II: Technology Development & Market
1.
Exploration and Sweet-Spot Tech;
2.
Cleaner Production Practices & Environment Production; Water Treatment and Waste Management;
4.
Digital Tech Application;
5.
Shale Tech Focus - Rotary Directional Drilling, Drilling Fluid, Fracturing, PDC Bits, CTD, etc.
ENERGY CHINA FORUM
PAST SPEAKERS (PARTIAL)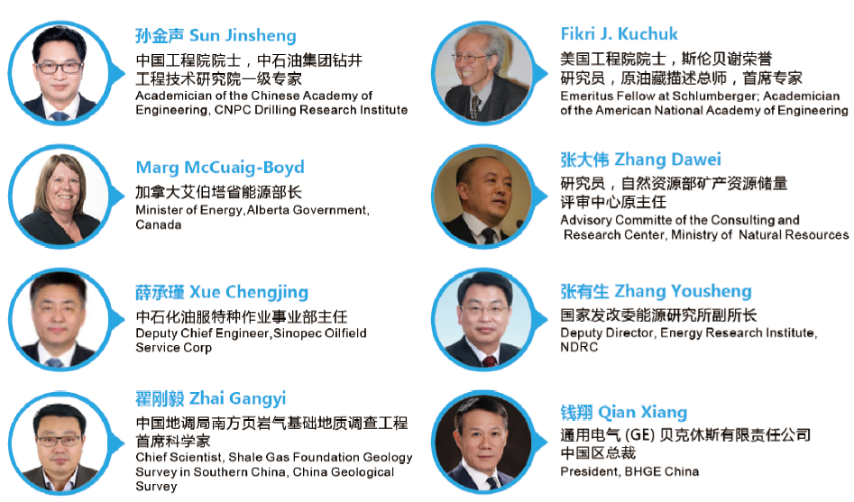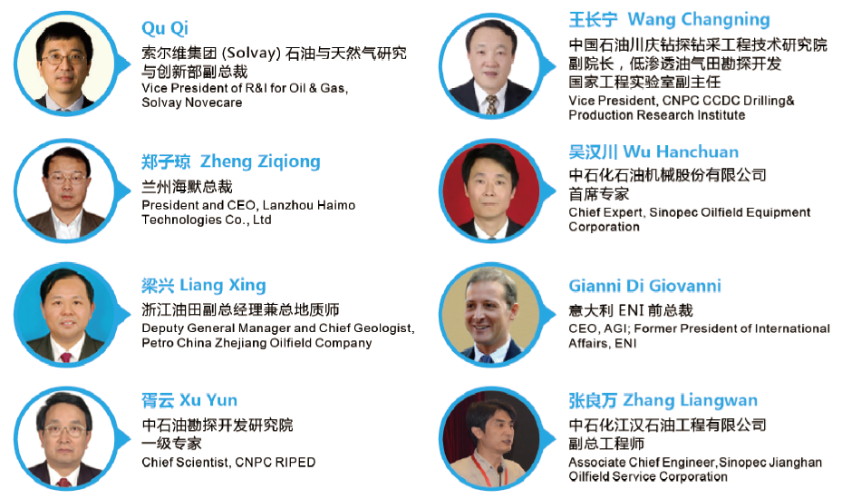 ECF2019 FEATURED CONCURRENT EVENTS
Now in its ninth year, ECF2019 9th Asia-Pacific Shale Gas & Oil Summit includes below session:
Public Track
September 25-27, 2019, including keynote addresses and discussion panels. A networking luncheon is also provided to all registered delegates.
ECF2019 Oil & Gas Innovation Tech Exhibition
Innovative technology, products and services, best practice, in both conventional and unconventional oil and gas E&P displayed by leading suppliers and service providers.
ECF2019 4th Oil & Gas Tech Innovation Award
Environment & Energy Conservation; Stimulation & EOR Technology; Cost Reduction & Efficiency; Technology; Exploration & Production Technology; Intelligent & Information Technology
Shale Gas Technology Showcase & Project Matchmaking
Technology showcase, presenting and matchmaking among ECF2019 domestic and global guests focusing on the great potential and demand of China shale gas & oil technology innovations.
General Event Programmes
25th September, 2019
9:00am – 17:30pm
Keynote Speeches & Presentations
26th September, 2019
9:00am – 12:00pm
Keynote Speeches & Presentations
26th September, 2019
14:00pm – 17:00pm
Technology Showcase & Project Matchmaking
27th September, 2018
9:00am – 12:00pm
Panel Discussions
FAQs
How can I contact the organizer with any questions?
Please contact the organizing committee for delegate registration inquiries: Call: +86 21 54383583 or Email: ecf@energychinaforum.com.