About this Event
About this Event
Ready to take your trading to a new high? Make plans to attend this special 2-day event covering the life changing ECC-11 strategy, featuring millionaire extraordinaire, Dr. Kathy Kirkland, Queen of the Cloud as well as Forex Queen Camille Westmoreland and Gold Queen Marquita Thomas! Learn and strengthen your knowledge of the ECC-11 strategy, and eliminate any questions with a special Q&A portion during the training.
Live Trading and Training with Dr. Kathy, Marquita and Camille! This strategy is on fire, and numerous testimonies have been rolling in all YEAR!
SCHEDULE AT A GLANCE (Subject to Change)
PRE-EVENT SUNDAY, SEPTEMBER 22
6:30-7:30PM - FREE Introduction to Trading Presentation
DAY 1 - MONDAY, SEPTEMBER 23
10:00am - 1:00pm . Training
1:00-2:30PM . LUNCH BREAK
2:30-4:30PM . OPTIONAL New Student Trader Orientation
5:00-7:00PM. LIVE Trading Asian Session
7:00-8:00PM . FREE Introduction to Trading Presentation
Day 2 - TUESDAY, SEPTEMBER 24
12:00-2:00AM - ONLINE Trading London Session With Dr. Kathy on iMLTV
6:00AM-9:00 . LIVE Trading New York Session
9:00AM-11:00 . Training
11:00AM-2:30 . LUNCH BREAK
2:30-4:30pm . OPTIONAL Workshop: Designing Your Personal Trading Plan
5:00-7:00pm . LIVE Asian Trading Session & Wrap Up
HOTEL RECOMMENDATIONS - ALL OAKLAND AIRPORT HOTELS ARE NEARBY.
QUESTIONS? PLEASE CONTACT EVENT ORGANIZERS: Shaun Richardson @ sdrichardson@me.com and/or Pam Stevenson @ pamelastevenson@sbcglobal.net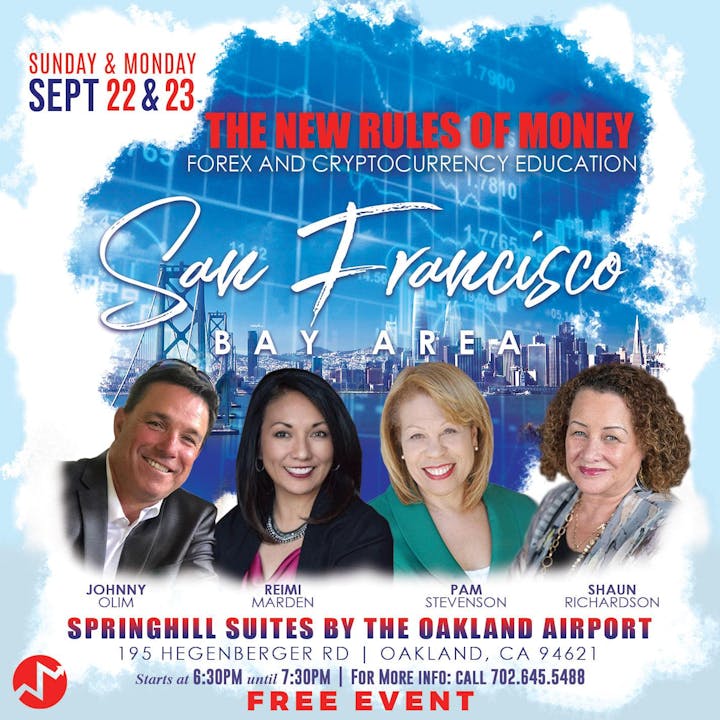 BRING YOUR GUESTS TO OUR FREE BUSINESS PRESENTATIONS!