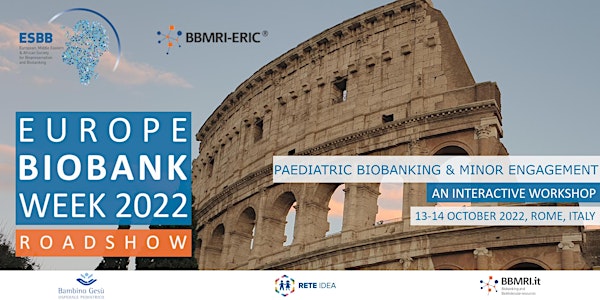 EBW22 ROADSHOW ROME
EBW22 Roadshow Rome
When and where
Location
Rome Ospedale Pediatrico Bambino Gesú Viale Ferdinando Baldelli 38 00146 Rome Italy
About this event
Paediatric (research) biobanking is a European priority asking for a scientific and Ethical-Legal-Societal-ELS shift within a Responsible Research & Innovation - RRI framework. Accordingly, our critical starting point will be an overall view of European commitment to paediatric research and healthcare and an in-depth exchange on good practices and priorities of various actors to raise awareness, facilitate assent and consenting processes, and improve engagement. Promoting practical solutions, we will address challenges of biobanking with children (earlier, over time, and following up), such as: how empowering new generations makes better research and a better research experience? Which tools to use to inform and increase the minor's understanding? By whom is the child's capacity (to understand, to assent) assessed? How to engage minors and their parents (guardians) over time and recognize them as active research participants?Online Registration will only allow credit card and other digital payment methods.
ESBB and BBMRI-ERIC are jointly organizing the 'EBW Roadshow; i.e. the Europe Biobank Week Roadshow, which will take place 13-14 October 2022, at Bambino GesúUniversity Rome (IT)
By registering, I have read and accepted the terms and conditions and the cancellation policy. This booking is legally binding. All mentioned rates exclude VAT.
In order to ensure a smooth operational process, I accept that my data are processed, for the only purpose of organizing the EBW Roadshow, by BBMRI-ERIC and ESBB as Joint Data Controllers. Registration and Ticketing is conducted by Eventbrite as Data Processor on behalf of ESBB and BBMRI-ERIC. Please find our privacy statements here: ESBB, BBMRI-ERIC. For more information on the Eventbrite Privacy Statement click here. You will find the information notice specific to the data processing for the organization of the EBW Roadshow here.