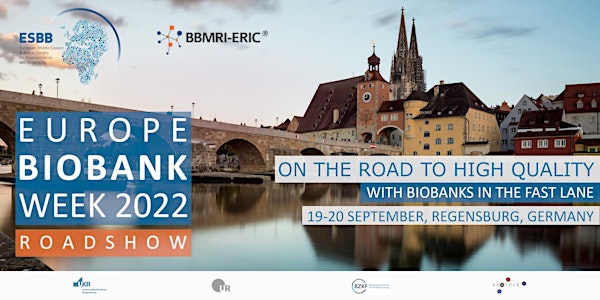 EBW22 ROADSHOW REGENSBURG
EBW22 Roadshow Regensburg
When and where
Location
University of Regensburg Universitätsstraße 31 93053 Regensburg Germany
About this event
The EBW 22 Roadshow in Regensburg is open for a limited number of poster presentations. The poster abstract submission takes place during the registration process. Therefore, please have the author information and the abstract (250 words) ready for submission!
The 3. BRoTHER Summer School takes place within the framework of the EBW 2022 Roadshow. It consists of a theoretical module (the EBW 2022 Roadshow) and a practical module (Hands-on Trainings). Participants of the 3. BRoTHER Summer School have to book a ticket* for the EBW 2022 Roadshow for the theoretical part and have to activate the box for the Hands-on Trainings** during the registration process. (* Special Summer School ticket for students, non-students: regular conference ticket. ** An additional fee of € 60 will be charged for the Hands-on Trainings)
Online Registration will only allow credit card and other digital payment methods.
ESBB and BBMRI-ERIC are jointly organizing the 'EBW Roadshow; i.e. the Europe Biobank Week Roadshow, which will take place 19-20 September 2022, at University Regensburg (GER)
By registering, I have read and accepted the terms and conditions and the cancellation policy. This booking is legally binding. All mentioned rates exclude VAT.
In order to ensure a smooth operational process, I accept that my data are processed, for the only purpose of organizing the EBW Roadshow, by BBMRI-ERIC and ESBB as Joint Data Controllers. Registration and Ticketing is conducted by Eventbrite as Data Processor on behalf of ESBB and BBMRI-ERIC. Please find our privacy statements here: ESBB, BBMRI-ERIC. For more information on the Eventbrite Privacy Statement click here. You will find the information notice specific to the data processing for the organization of the EBW Roadshow here.