| | |
| --- | --- |
| Ebru - Water Marbling Art Classes | |
Event Details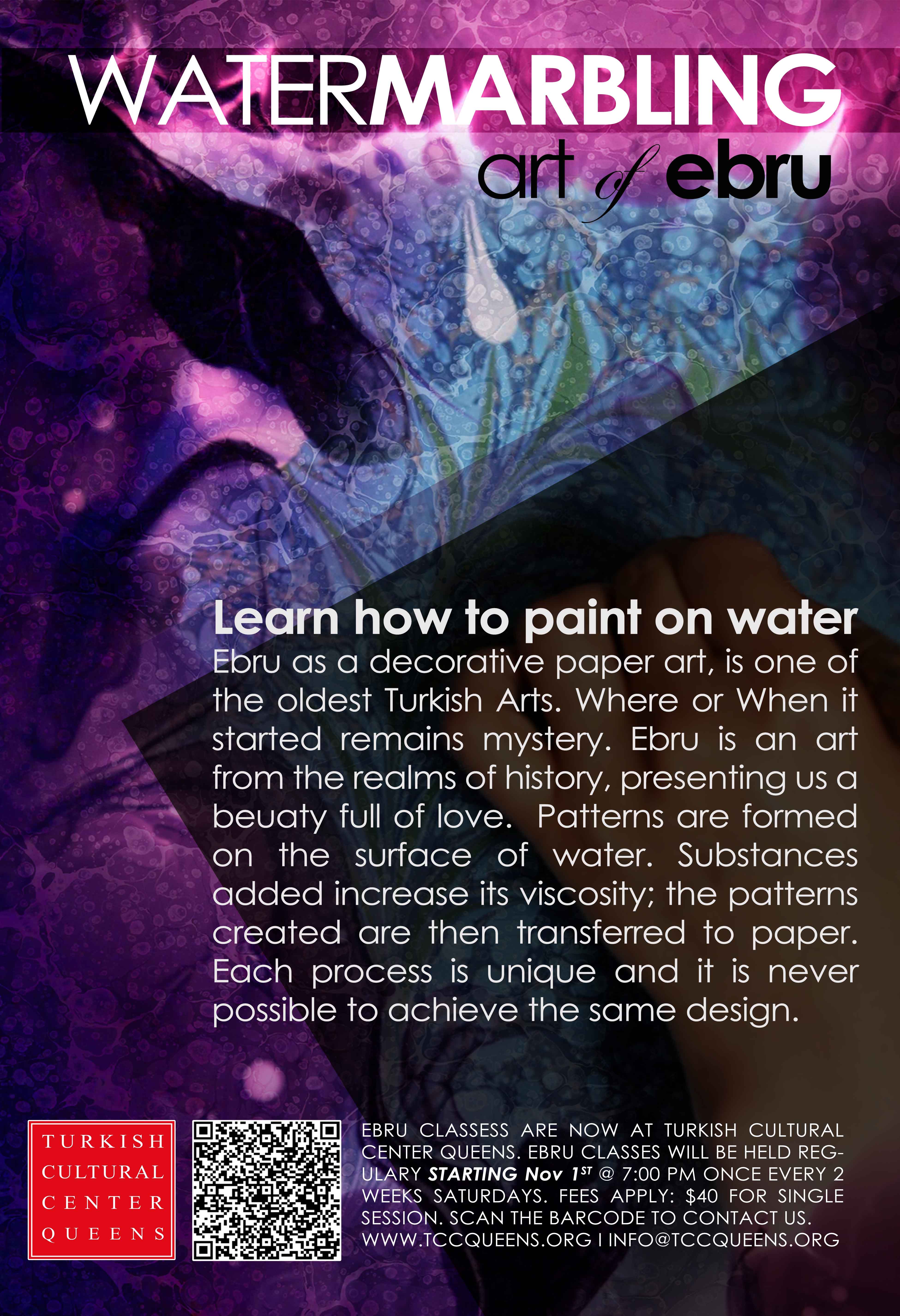 COURSE:              EBRU ART (WATER MARBLING)
LEVEL:                  INTRODUCTION TO EBRU ART
QUARTER:           FALL 2014
PROGRAM DATES: ONCE EVERY TWO WEKS SATURDAYS
COURSE HOURS: 7:00 – 9:00 PM
INTRODUCTION TO EBRU ART ( WATER MARBLING)
EBRU ART (WATER MARBLING);
Ebru's original name was EBRE in Jagatai dialect and during its journey through Iran via the Silk Road this name was changed into EBRI (cloud like) then ABRU (face of water). Seljukian and Ottoman periods saw widespread performance of this art in the Asia Minor with its final name EBRU. Ebru is the only word used  today in Turkey.
As the Europeans discovered this art via merchants and pilgrims in the beginning of the 17th century, they called it TURKISH PAPER and later WATER MARBLING.
EBRU PRACTICE
Traditionally ebru is done in WATER that has been thickened with the addition of the naturally occurring substance, GUM tragacantha, a special type of glue.
PAINTS obtained form mineral oxides, again another natural product, one mixed with OX-GALL, and then sprinkled over the surface of the water and dispersed with the help of brushes made from rose branches and horse hair.
The design that occurs on the surface of the water can be given form, motifs and flower DESIGNs can be added, and then placing a sheet of PAPER over the design, the design is transferred to the new medium.   
When & Where

Turkish Cultural Center Queens
43-49 45th St
NY 11104


Organizer
Turkish Cultural Center Queens
The Turkish Cultural Center is located in Queens, NY. The Center is an institution committed to community involvement. The organization hopes to be a forum of international cultural exchange while promoting Turkish Cultural Heritage.
Turkish Cultural Center of Queens is a non-profit organization dedicated to educating and informing the public about the many dimensions of Turkey and Turkish culture and its history and to unite the Turkish-American community within the Queens, NY area as well as strengthen relations with the surrounding population by exchanging cultural diversity through sponsorship of different social gatherings.