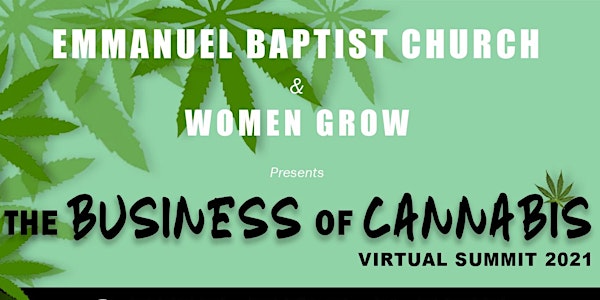 EBC & Women Grow "The Business of Cannabis Summit" - Feb 19th & 20th
A FREE two-day summit FEBRUARY 19TH & 20TH learn about opportunities in the cannabis industry.
About this event
With the recent Green Wave of legalized states after the recent elections, all eyes are on the Tri-state area. Serious talks of bringing adult-use cannabis to New York and New Jersey advocates, businesses and legislators are gearing up. In 2019, Emmanuel Baptist Church (EBC) partnered with Women Grow the largest professional network for women in cannabis, to host the first-ever conference at a church in the country titled:. The Business of Cannabis Summit. The event brought close to 400 people in attendance and with over 60 speakers together for open forum discussions.
Due to the pandemic the 2020 Summit was canceled.
Determined to bring education and information to the community, EBC and Women Grow return this year with a FREE two-day summit bringing political and business leaders, industry experts, and advocates together once again, but this time VIRTUALLY.
This event is open to all. Register today and get ready to learn about:
ADULT-USE LEGALIZATION IN NEW YORK & NEW JERSEY: WILL IT PASS
FIRST BUT NOT THE LAST - Women in Cannabis with Licenses
HOW TO START A CANNABIS BUSINESS?
CREATING CBD PRODUCTS (HEMP)
TRADEMARKING YOUR CANNABIS BUSINESS
UNDERSTANDING LAND USE & CANNABIS REAL ESTATE
KNOWING CANNABIS LAW CAN SAVE YOUR CANNABIS BUSINESS
MAJORING IN CANNABIS
CAREERS IN CANNABIS
THE BUSINESS OF HEALTH & WELLNESS IN CANNABIS
THE BUSINESS OF CAREGIVING & ELDERCARE IN CANNABIS
INVESTING IN CANNABIS STOCKS & BUSINESSES
HOW CANNABIS CAN REINVEST IN OUR COMMUNITIES
To support Emmanuel Baptist Church, feel free to donate by clicking the link: https://app.securegive.com/EBCConnects/emmanuel-baptist-church/donate/category