The disciplined pursuit of less
About this event
Doors open at 7pm
Session starts at 7:30pm
Have you ever found yourself stretched too thin? Do you simultaneously feel overworked and underutilized? Are you often busy but not productive? Do you feel like your time is constantly being hijacked by other people's agendas?
If you answered yes to any of these, you might be interested in joining us for this book.`
The Way of the Essentialist isn't about getting more done in less time. It's about getting only the right things done. It is not a time management strategy or a productivity technique. It is a systematic discipline for discerning what is absolutely essential, then eliminating everything that is not, so we can make the highest possible contribution towards the things that really matter.
By forcing us to apply more selective criteria for what is Essential, the disciplined pursuit of less empowers us to reclaim control of our own choices about where to spend our precious time and energy – instead of giving others the implicit permission to choose for us.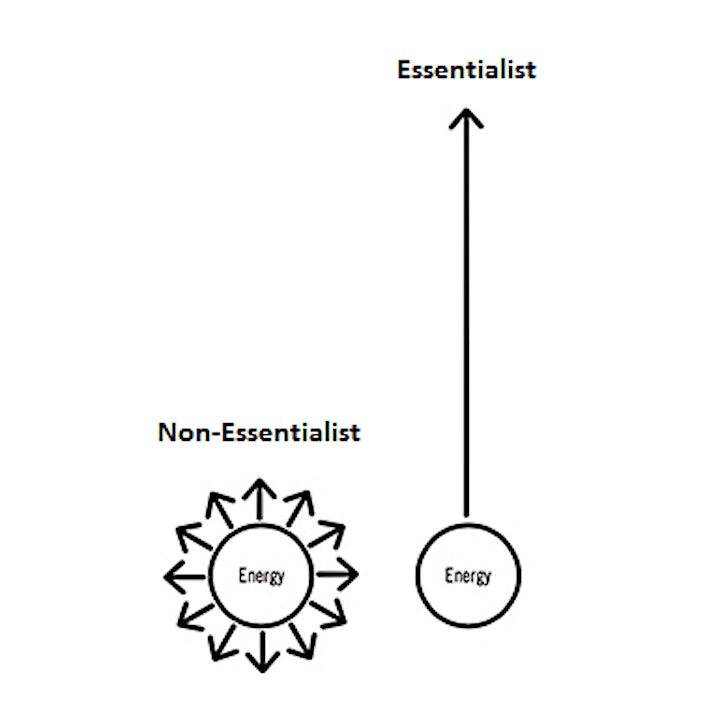 During this evening we are going to do take a deep dive into this book. Make sure you have read it (or at least you did some research).
Don't expect a monologue or one-man show. EBBC sessions are interactive. Meaning it sparks discussions, and facilitates an environment to share experiences and learnings with the group.
Note: the author of the book will not be presented. Sessions are hosted and led by members of the EBBC-organization.
Organizer of EBBC Ghent - Essentialism (a book by Gregor McKneown)
We ACTIVATE (y)our KNOWLEDGE
At EBBC we strongly believe in self-education. Knowledge is power, right? Self-education combined with social learning is what we strive for. This makes a dangerously interesting cocktail, best served to an ambitious, entrepreneurial and enthusiastic crowd.
Every month the members of EBBC get together to actively engage around a (business related) book or an interesting topic. These sessions are moderated by knowledgeable members, authors or industry/subject matter experts. Figuring out how to apply certain concepts in the real world, sharing personal experiences and generating new ideas are only a few of the outcomes we look for during each get-together. Additionally, we take the time to pitch business ideas, give feedback and invite interested new people to join one of our sessions.