Nudge is about how we make choices and how we can make better ones.
About this event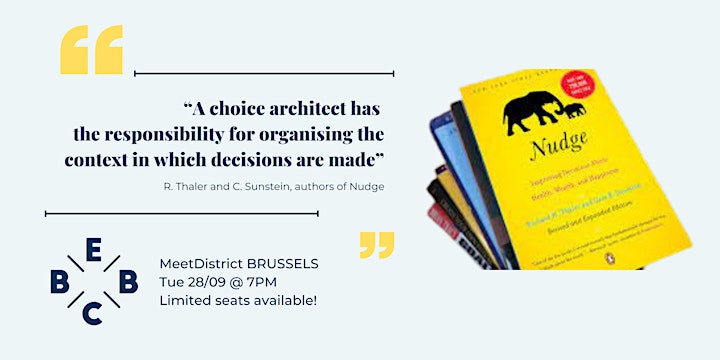 Monthly interactive EBBC (Entrepreneurial Business Book Club) session in Brussels.
This one centered around "Nudge ", by Richard Thaler.
DISCLAIMER: Author of the book will not be present. This is by and for the EBBC community.
Expect an interesting, introspective and practical session! We activate (y)our Knowledge!
Every day we make choices—about what to buy or eat, about financial investments or our children's health and education, even about the causes we champion or the planet itself. Unfortunately, we often choose poorly. Nudge is about how we make these choices and how we can make better ones. Using dozens of eye-opening examples and drawing on decades of behavioral science research, Nobel Prize winner Richard H. Thaler and Harvard Law School professor Cass R. Sunstein show that no choice is ever presented to us in a neutral way, and that we are all susceptible to biases that can lead us to make bad decisions. But by knowing how people think, we can use sensible "choice architecture" to nudge people toward the best decisions for ourselves, our families, and our society, without restricting our freedom of choice.
Make sure to read the book (or a summary, youtube videos, podcasts, ...) beforehand!
The more you put in, the more you get out! Do it for you, the others and the overall quality of the session!
www.ebbc.be
ebbc.core@gmail.com
+32 49 784 99 64
Organizer of EBBC Brussels - Nudge (R. Thaler)
We ACTIVATE (y)our KNOWLEDGE
At EBBC we strongly believe in self-education. Knowledge is power, right? Self-education combined with social learning is what we strive for. This makes a dangerously interesting cocktail, best served to an ambitious, entrepreneurial and enthusiastic crowd.
Every month the members of EBBC get together to actively engage around a (business related) book or an interesting topic. These sessions are moderated by knowledgeable members, authors or industry/subject matter experts. Figuring out how to apply certain concepts in the real world, sharing personal experiences and generating new ideas are only a few of the outcomes we look for during each get-together. Additionally, we take the time to pitch business ideas, give feedback and invite interested new people to join one of our sessions.