Description
AS SEEN ON
Don't Miss this FREE eBay and Amazon 2 Hour Training Workshop!
Learn to make money on eBay & Amazon right here in Toronto!
Pick from 4 workshop times and 3 locations that are convenient for you
Thursday July 6th 7:00PM - Hilton Toronto Markham, 8500 Warden Ave, Markham, L6G 1A5
Friday July 7th 1:00PM - Novotel Toronto, 3670 Hurontario St, Mississauga, L5B 1P3
Saturday July 8th 10:00AM - Holiday Inn Yorkdale, 3450 Dufferin St, Toronto M6A 2V1
Saturday July 8th 2:00PM - Holidy Inn Yordale, 3450 Dufferin St, Toronto M6A 2V1
LEARN TO SELL IN 5 SIMPLE STEPS
1. Sign up and attend this FREE 2hr eBay & Amazon Workshop
2. Discover what the Best Selling Products are that you can sell on eBay & Amazon even if you don't have any money
3. Discover where to Find Products to Sell on eBay & Amazon
4. Learn how Amazon FBA works and how Amazon can be your Warehouse and Fulfillment Center
5. Get off your butt and attend the FREE Workshop & Start selling on eBay and Amazon!
All Attendees Will Receive
FOR FREE

an iSpekz Lens ($49.95 Value) at the end of the 2-Hour Workshop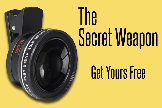 ADDITIONAL BONUS:
EVERYONE in attendance will receive a $197 bonus gift just for attending (Not redeemable for cash value)


We have helped thousands of people all around the world sell on eBay & Amazon, and we can help you too!

Register now to learn more!