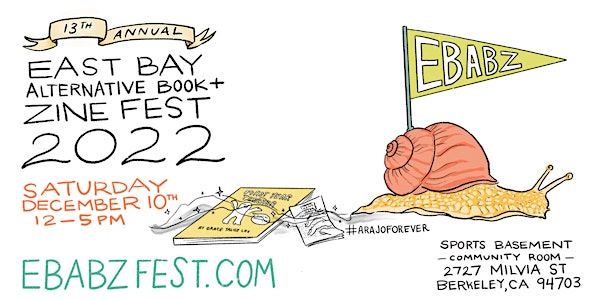 EBABZ Fest 2022
East Bay Alternative Books and Zines Fest is back for its 13th year! Come out and enjoy and support local artists and zinesters!
When and where
Location
Sports Basement 2727 Milvia Street Berkeley, CA 94703
About this event
The East Bay Alternative Books and Zines Fest is back for its 13th annual fest, this time in person at the Sports Basement Community Room in Berkeley! Join us in celebrating and supporting local zinesters, independent presses and artists who'll be showcasing their work here!
EBABZ (East Bay Alternative Book and Zine Fest) is an annual festival for writers, artists, makers, and everyone who creates or appreciates zines and alternative books. We strive to make EBABZ reflect the diversity, vibrance, and sense of community of the East Bay.
The zine fest will be open from 12-5pm. We require that everyone wear a mask for COVID precautions. Please see our venue flyer here. In addition, we strive to make EBABZ a safe space - you can review our safe space policy here.
EBABZ is an entirely volunteer-run not-for-profit organization. In addition to the time, labor, and creativity of volunteer organizers, we rely on tabler fees, community funding, and visitor donations to keep the fest running and vibrant from year to year. If you love zines and want to support the arts in the East Bay, please consider making a donation or getting involved!
If you have any questions, please let us know at ebabzfest@gmail.com.