Description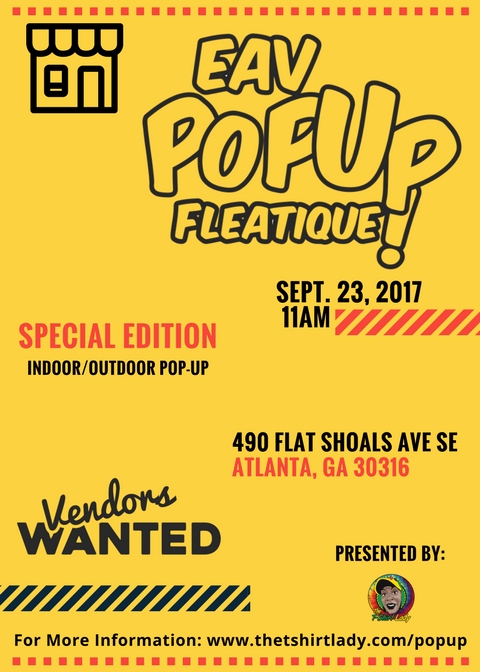 Join us on September 23, 2017 for our 2nd "EAV Pop-Up Fleatique" 11am - 8pm. We will have vendors bringing a variety items so come out and support! Don't forget to tag someone who might be interested.
******************************
This month's Popup will be a "Special Edition" of the EAV Pop-Up Fleatique with Indoor and Outdoor Spaces. In additon to the Pop-up, there will be an outdoor festival which will block off the streets the day of the event so we recommend taking Uber or Lyft!
******************************
We will have Vendors, Food, Drinks & Music!
******************************
Interested Vendors: popup@thetshirtlady.com
*****************************
#TheTShirtLady #TheGalleryEAV #PopUp #Shopping #Vendors #Creatives #Entrepreneurs #Networking #FleaMarket #GentlyUsed #Paintings #Clothing #Handmade #Accessories #SmallBusinesses #HomeFurnishings #EastAtlantaVillage #EAVPopUp #Atlanta

Date and Time
Location
Refund Policy