Sales Have Ended
Ticket sales have ended
Hi! Thanks for checking out Eat|See|Hear. At this time, tickets may no longer be purchased online BUT you may purchase General Admission tickets at the door for $16 cash or credit beginning at 5:30pm. GA Tickets for kids under 12 are $8 and kids under 5 are free. Fashionably Late tickets are no longer available for sale. Be sure to check our social media streams for any updates (i.e. limited tickets available, etc) @eatseehear #eatseehear See you soon! LA Times Events Team @latimesevents
Sales Have Ended
Ticket sales have ended
Hi! Thanks for checking out Eat|See|Hear. At this time, tickets may no longer be purchased online BUT you may purchase General Admission tickets at the door for $16 cash or credit beginning at 5:30pm. GA Tickets for kids under 12 are $8 and kids under 5 are free. Fashionably Late tickets are no longer available for sale. Be sure to check our social media streams for any updates (i.e. limited tickets available, etc) @eatseehear #eatseehear See you soon! LA Times Events Team @latimesevents
Description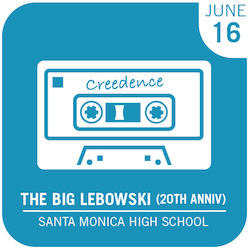 ---
"Nobody calls me lebowski, you got the wrong guy, I'm the dude, man."
Jeff Bridges plays Jeff Lebowski who insists on being called "the Dude," a laid-back, easygoing burnout who happens to have the same name as a millionaire whose wife owes a lot of dangerous people a whole bunch of money -- resulting in the Dude having his rug soiled, sending him spiraling into the Los Angeles underworld.
SEE: The Big Lebowski (20th Anniversary) | Rated: R
EAT: Food Trucks schedule - June 16th

HEAR: The Jacks

WHERE: Santa Monica HS Memorial Greek Amphitheater
PRO TIP: This is a concrete amphitheater with built-in seating (think oversized steps). Bring pillows and cushions to sit on and blankets to cuddle under. Low chairs also fit on the seating area.
DOGS: Yes! This event is dog-friendly! All dogs are welcomed with a free biscuit at the door!
TIME: Doors 5:30pm, Music 7pm, Movie 8:30pm
ENTRANCE: Enter on 4th Street in between the DoubleTree Hotel & the track. This is the ONLY entrance.
SEATING/CHAIRS: This location is a concrete amphitheater with built in seating (think oversized steps) with a limited amount of grass seating right up front. All seating is open, first come, first served. Pillows, cushions and blankets are strongly recommended - low chairs work well in this venue, too and shouldn't block the view of the person behind you.
PARKING: We recommend using the Civic Center Parking Lot on 4th Street, right across the street from the entrance. Remember to pay for your parking before going to your car. No, we do not validate. This lot is operated by the City of Santa Monica. We are not responsible for this lot nor are we connected to it in any way, this is a suggested location for parking. You can also try parking at the DoubleTree. Limited on street parking – Read Signs. You may also BIKE IN as there is ample free bike parking just inside the entrance.
For updates and more information about The Big Lebowski or any of Eat|See|Hear's events, please visit our website.
Get your tickets for The Big Lebowski today!