Location
Eatonville
2121 14th Street Northwest
Washington, DC 20009
Description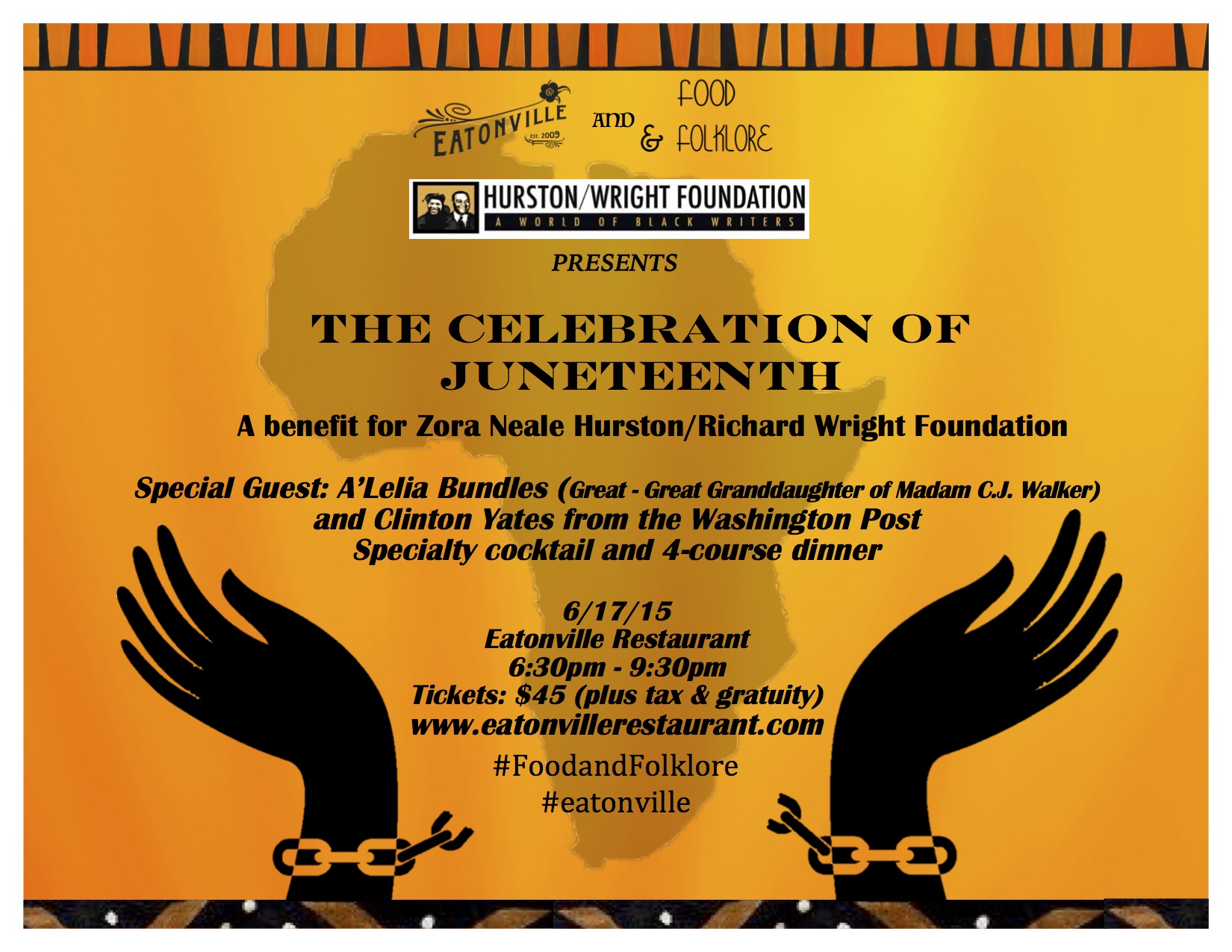 Washington D.C., Eatonville Restaurant is hosting its reoccurring dinner series, Food & Folklore on June 17, 2015 from 6:30pm-9:30pm. This event is centered around the Celebration of Juneteenth. Partnering with the Hurston/Wright Foundation, this evening entails a 4 course dinner, specialty cocktails, special guests, and live performances. Join us as we reflect, educate, and celebrate this memorable day in history.
Juneteenth commemorates the day the inhabitants of Galveston, TX were informed of their freedom via the Emancipation Proclamation. This resulted in the last 250,000 slaves finally being freed 2 ½ years after Lincoln signed said document. June 19th, which was quickly shortened to "Juneteenth", has become the African-American celebration of freedom. Black Americans have adopted Juneteenth as their OWN "Independence Day". It is a time to remember this troubled history, and to celebrate a hopeful future.
Juneteenth Family Style Menu: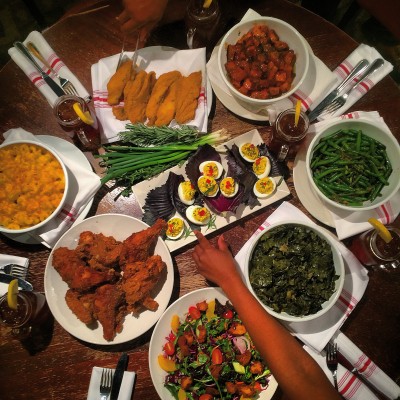 1st Course
Fried Chicken Liver with Crispy Onions and Mustard Tarragon Sauce
Trio of Deviled Eggs: Pickled Okra, Blackened Shrimp, Candied Bacon
Collard Greens and Red Cabbage Spring rolls
Mac & Cheese Balls
2nd Course:
Strawberry and Feta: Mixed greens w/ Red Onions, Bacon, and Balsamic Vinaigrette
Eatonville Cornbread
3rd Course:
Southern Fried Chicken
Catfish
Fried Cabbage w/ Caramelized Onion and Bacon
Macaroni and Cheese
4th Course:
Mango Cobbler
w/ Toasted Coconut Ice-cream
Specialty Cocktail: TBA
Special Guest Includes:
About the A'Lelia Bundles: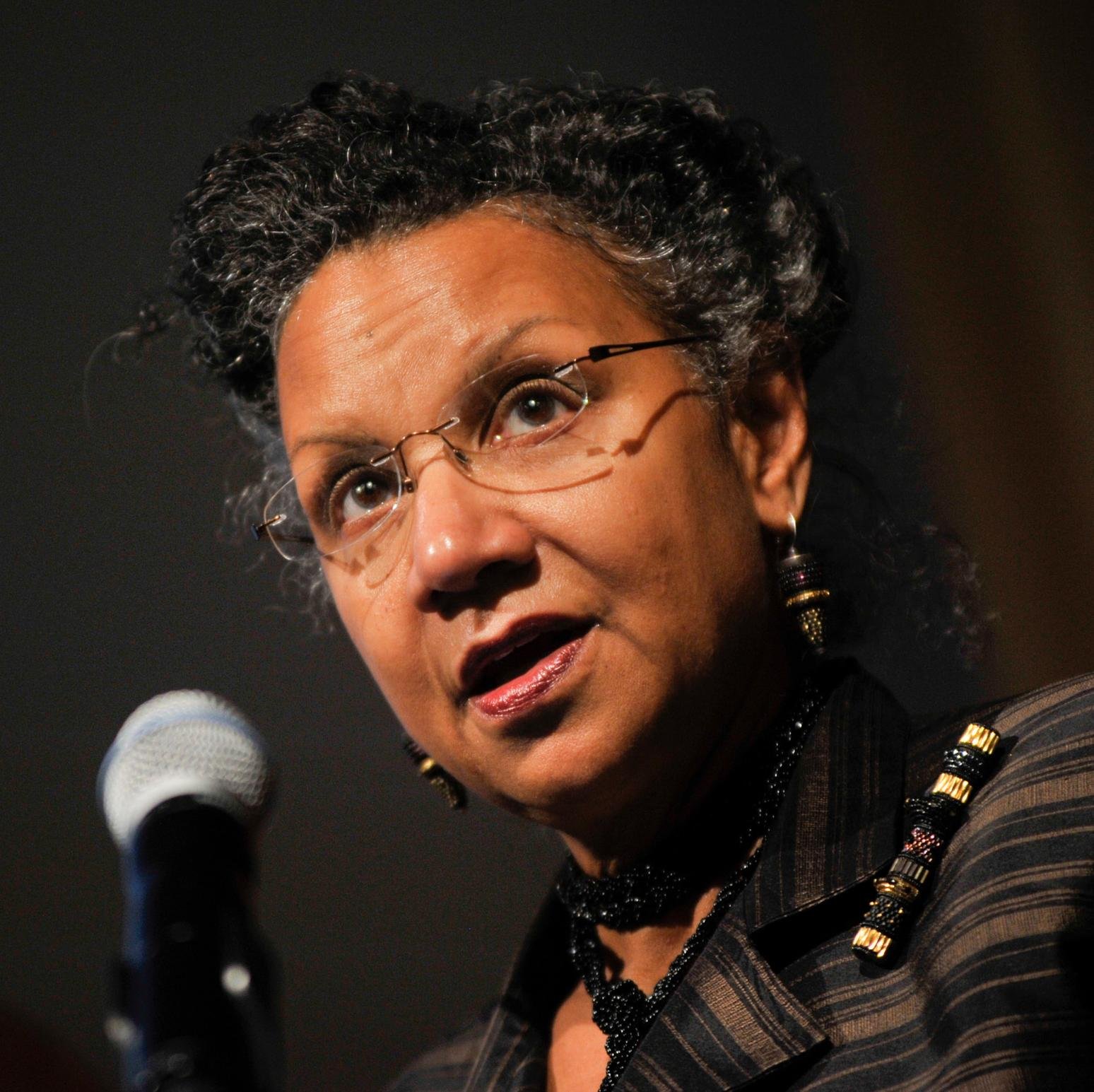 A'Lelia Bundles is at work on her fourth book, The Joy Goddess of Harlem: A'Lelia Walker and the Harlem Renaissance, a biography of her great-grandmother, whose parties and arts patronage helped define the Harlem Renaissance. On Her Own Ground: The Life and Times of Madam C. J. Walker was named a New York Times Notable Book. She is chairman of the board of the National Archives Foundation and a vice chair of Columbia University's board of trustees. Ms. Bundles enjoyed a 30-year career as an Emmy-award wining producer with NBC News, then as a producer and executive with ABC News, where she was Washington, DC deputy bureau chief.
An engaging public speaker and skilled MC, she brings warmth, intelligence, humor and a strong grasp of current events and history to her presentations about women entrepreneurs, philanthropy, media, journalism, politics, race, social issues and the stories of her pioneering great-great-grandmother, Madam Walker, America's first self-made millionaire businesswoman.
About Clinton Yates: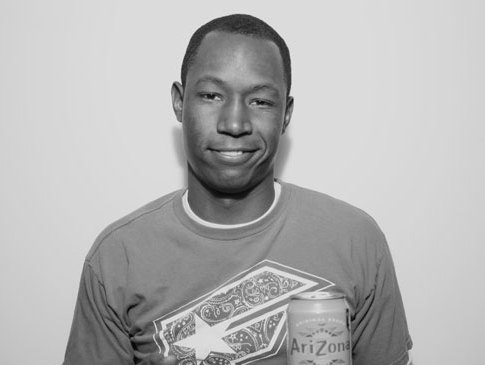 Clinton Yates is a D.C. native and an online columnist. He was born at GWU hospital the week before Ronald Reagan ended up there for the wrong reasons. When he's not covering the city, pop culture or listening to music, he watches sports. A lot of them.
About Malichi Bryd: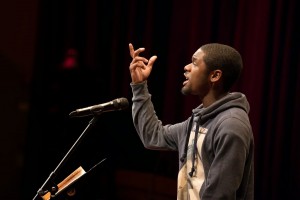 Proud Washington D.C. native Malachi Byrd is an eighteen year-old, rising sophomore at Princeton University. The captain and co-founder of ContraVerse, his high school slam team, Malachi led the team to the 2014 Louder Than a Bomb – DMV title. He also is a 2-time member of the DC Youth Poetry Slam Team, including the 2014 winners of theBrave New Voices International Poetry Festival. A rapper, poet, scholar, and activist, Malachi has won numerous awards and scholarships, and has performed on television, radio, at protests on the national mall, the Kennedy Center, and South Africa. He is the self-proclaimed first Senator of Washington D.C., (Vote Byrd 2032) and will use his education to help tackle problems of inequality and inequity in urban environments. An outspoken feminist and ally, Malachi uses his poetry as introspection, self-discovery, and activism. He never shies away from his Blackness and makes that evident in his second release of poems, Which Picture Would They Use? (2015), which is currently available. Also, his first mixtape, Domino Effect, is scheduled to drop this fall.
About Tosin: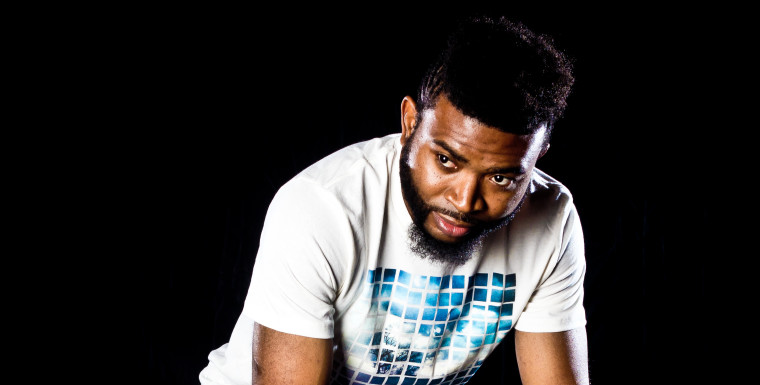 A renaissance force to be reckoned with, the music of composer, drummer and vocalist, Tosin, is a result of years of cultivation of music from his Nigerian cultural background to exotic genres like jazz, funk, reggae and AfroCuban music. Over the years, Tosin has stayed true to the African-rooted art form, helping to promote contemporary African music in the way that his musical heroes like Miriam Makeba, King Sunny Ade, Wally Badarou, Fela Kuti, Manu Dibango, Majek Fashek, Papa Wemba and Salif Keita have. But Tosin comes forth with a fresh and special vibrations to his brand of world music, which he calls Afrikan Rhapsody.
As a bandleader, Tosin has released 4 albums (What's On Your Mind, 2006; Drum Monologue, 2008; Restoration, 2012; Life Begins, 2013). And his band has performed, both as headliner and opening act, at various festivals and jazz venues around the states. Tosin continues to develop his sound, write new materials, conduct workshops and teach.
About Candace Thompson: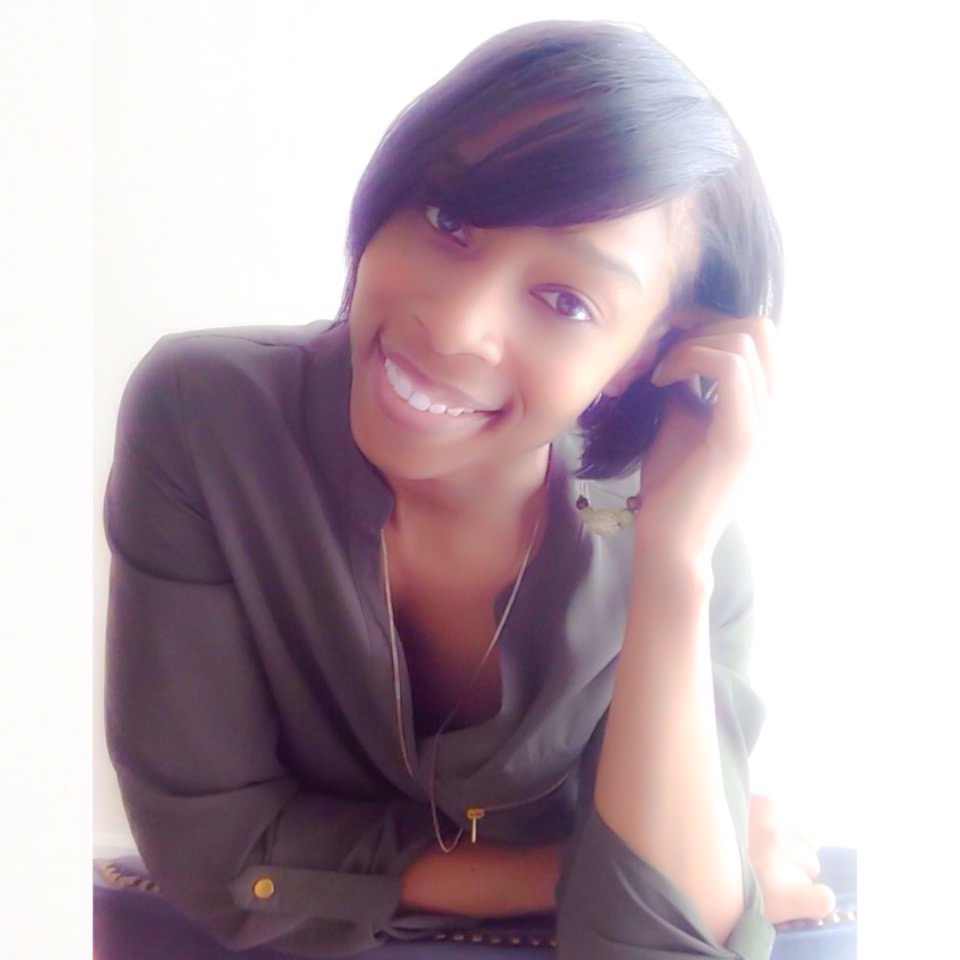 Candace Thompson is a Washington, DC native, a dancer, and local business owner. She has been a student and fan of dance for over 20 years. Participating in several dance ensembles, stage productions and now movement ministry, Candace enjoys applying her modern, jazz and ballet background at her home church, In His Image Christian Ministries and other Kingdom building initiatives. In addition to dance, she is running her lifestyle management company, The Cornerstone Concierge.
About the Hurston Wright Foundation:

Named for literary geniuses, Zora Neale Hurston and Richard Wright, the Hurston/Wright Foundation was founded in 1990 by award-winning author Marita Golden and bibliophile/cultural historian Clyde McElvene. Hurston/Wright was established to be a resource center for training and a gateway to ensure the unique experience and voice of African Americans in literature.
The Hurston/Wright Foundation is a literary education institution committed to the development, dissemination and preservation of literature with a focus on the contributions of African American writers. By preserving and honoring African Americans in literature, the Foundation ensures this vital part of American literature will continue to remain available to all readers.
The Hurston/Wright Foundation serves aspiring and emerging writers, published authors, readers and supporters of Black literature. Hurston/Wright programs, awards, special events and literary resources aim to impact the literature community and those who contribute to the enrichment of it.
About Food & Folklore

Bringing the art of the story back to the dinner table, Eatonville Restaurant launched Food & Folklore, a new monthly series intertwining storytelling and fabulous food, on November 13, 2009. Food & Folklore is wrapped in the spirit of gifted storyteller and folklorist Zora Neale Hurston's brand of hospitality and a generosity with food.