EATMAN FAMILY CRUISE EVENT

Thursday, July 18, 2013 at 4:00 PM

-

Monday, July 22, 2013 at 8:00 AM (EDT)
Event Details
On this exciting cruise you'll experience events customized specifically for The Eatman Family Reunion Cruise guests. You'll have 4 fun-filled days and nights to fellowship, socialize, enjoy private activities and PLAY!
Thursday July 18, 2013 - Monday July 22, 2013
A Family Reunion Cruise - the Best Family Reunion Ever
 A cruise ship is the ultimate place to host your Family Reunion. When you compare the value and activities of a cruise vacation with those of a land vacation, you will see that a cruise ship is the perfect setting for your Family Reunion!
Here's just a sneak peek........... 
• Celebrate with a "Bon Voyage" celebration in Miami FL!
• Enjoy delicious gourmet meals 24/7; even dine at the Captain's Table!
• Relax by the pool or in the hot tub.
• Hang out with friends and family while meeting new friends.
• Listen to salsa music with your honey!
• VIP and Private Admission to Eatman Family Events.
• Enjoy the glitter of Las Vegas/Broadway style shows after dinner.
• Explore exotic ports of call with private shore excursions: Key West FL & Cozumel MX.
• Dance the night away in one of the ship's hottest nightclubs!
• Pamper yourself with a luxurious full-body massage.
• Get first dibs at special incentives during our farewell Bon Voyage party!
• Much, much more -- the party is endless!!
 This "Fun Ship", one of the largest in Carnival's fleet, features all of the fabulous dining, endless entertainment options and pampering service that make for a truly special onboard experience!
 Exciting and ritzy nightlife; the chance to meet singles; alternative dining venues; spacious cabins for three and four passengers; cabins with balconies; excellent fitness and spa facilities; high-energy atmosphere with varied daytime activities, including children's programs. 
Master the art of having fun on the CARNIVAL VICTORY. The VICTORY is a great ship for families, where kids enjoy an ocean theme with lots of blues, greens, seahorses and mermaid/merman motifs. 
You will certainly celebrate VICTORY with this ship's amenities but also with the events!!
THIS IS NOT FOR YOU if you want to be away from the "FUN"!!!
We'll Be Sailing From Miami, FL to the exotic ports of..........
Key West, Florida - and Cozumel, Mexico!!
ITINERARY
| Day | Port | Arrive | Depart |
| --- | --- | --- | --- |
| July 18, 2013 | Miami FL |   | 4:00pm |
| July 19, 2013 | Key West FL | 7:30am | 2:00pm |
| July 20, 2013 | Cozumel, MX | 1:00pm | 10:00pm |
| July 21, 2013 | Fun Day at Sea |   |   |
| July 22, 2013 | Miami FL | 8:00am |   |
|   |   |   |   |
|   |   |   |   |
|   |   |   |   |
MIAMI, FLORIDA
KEY WEST, FLORIDA
Key West, Florida, is a haven for the famous, the nonfamous and for those looking to get a little lost. Everyone seems to enjoy Key West's relaxed pace, storybook architecture, colorful history, live-and-let-live local attitude and end-of-the-world feel.
The natural surroundings in Key West are just as pleasant: Hibiscus, bougainvillea, palm trees and other flora and fauna give the island a tropical feel and smell.
And when the sun begins to set each day, there's cause for celebration in Key West as street performers, arts-and-crafts vendors and other characters participate in the waterfront activities at Mallory Square.
Venture off the island for snorkeling, diving or fishing. Or you can just walk around Old Town and soak up the mix of flavors, including hints of Cuba and Old Florida.
But no matter how you spend your time in Key West, expect to be part of a crowd, because Cayo Hueso, as the Cuban locals call it, draws droves of visitors, many of whom wish they could become locals, if not genuine conchs (that's Key West-talk for island natives).
COZUMEL, MEXICO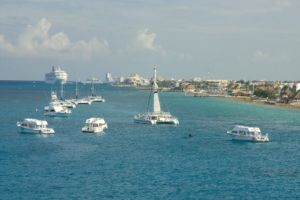 Cozumel Harbor
Cozumel, Mexico, should not be compared to Cancun, the splashy resort just 40 mi/65 km to the north and one of its nearest neighbors. In the past, Cozumel had a laid-back, sedate atmosphere, and its superior fishing, snorkeling and diving gave it a definite edge.
Today, Cozumel retains its unique vibe and remains a better choice for those who don't like planned resorts, but the island is no longer an escapist's paradise. The snorkeling, diving and fishing are still great, but no one would mistake present-day Cozumel for the sleepy backwater it once was.
One reason is cruise ships. Cozumel is the most popular cruise stop in Mexico and can host as many as four large ships simultaneously. When more than one ship looms on the horizon, Cozumel's restaurants, bars and shops fill with day-trippers. Everyone, from shopkeepers to bartenders, gets a bit stressed by the crowds.
Still, Cozumel tourism can be fun, especially for travelers interested in exploring its coral reefs on scuba and snorkeling outings. Cozumel's only town, San Miguel, fortunately has retained much of its pleasant, small-town atmosphere. Those with enough time for a day trip will find the Mayan ruins of Tulum and Chichen Itza, on the Yucatan mainland, within striking distance of Cozumel attractions.
A FULL itinerary with things to do, sights to see, options for dining, safety tips and facts, and events held in your ports of call will be provided as part of our concierge service prior to sailing.
But Wait...Can Kids Come Too?
ABSOLUTELY!
Carnival has a wide range of activities designed for kids ages 2-17!!! When its time to eat, they get their own menus featuring all of their favorites like hot dogs, chicken nuggets, pizza, macaroni & cheese, hamburgers and more!
Because The Eatman Family was smart enough to retain an exclusive 
Signature Event-at-Sea 
in addition to getting the "best available" staterooms at excellent pre-negotiated rates, all guests of this Cruise Event will also receive private events and amenities reserved ONLY for you*!
Here are just a few
• Pre-cruise hotel accommodations with a welcoming reception and "Bon Voyage" party in Miami
• Transportation from hotel to pier
• VIP Priority Guest Embarkation (early boarding)
• Bon Voyage Farewell Party
• Special seating for dining
• Customized Group Folders with Group Schedule
• VIP Admittance to all private family activities
• Private Group Shore Excursions
• Group Photograph to preserve the memories
• VIP Priority Guest Disembarkation 
• Customized Facebook Page for sharing with all cruise attendees
• Photo-Sharing Website after the cruise to keep those memories flowing
AND OTHER SURPRISES!! 
*with a minimum of 8 booked cabins
CRUISE FOR FREE??
Lets
ALL work together to make
EATMAN FAMILY REUNION CRUISE
an event people will be talking about for YEARS!! Help spread the word…and get paid $50 for each double-occupancy cabin that joins you!!
That's right…sell 10 double-occupancy cabins and get a check for $500!! 
Contact your family, friends, colleagues, facebook/twitter friends, etc. and let them know they TOO can earn $500!!
INDICATE REFERRER ON REGISTRATION FORM!!
 How much would you expect to pay for a weeklong adventure with
EATMAN FAMILY REUNION CRUISE with these types of events?
$1,000?? $2,500?? $3,000?? 
This cruise event would definitely be worth it!!
But how about starting as low as $504.00?? **Includes ALL cruise fees!! 
That means all port charges, government fees, taxes, mandatory pre-paid gratuities and signature event fees are included in the price. The Carnival website and other online cruise sites don't include these mandatory fees in their quoted prices..........until after you sign up......... 
but EATMAN FAMILY REUNION's Cruise rates includes them ALL!!
Carnival Victory Inside Stateroom
Two twin beds (convert to king). Chair and coffee table. Full bathroom with shower. 3 closets.
Carnival Victory Oceanview Stateroom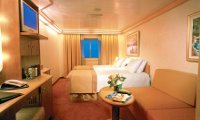 Two twin beds (convert to king). Sofa and coffee table. Full bathroom with shower. 3 closets. Picture window.

Carnival Victory Oceanview Stateroom with Standard Balcony
Two twin beds (convert to king). Chair. Full bathroom with shower. 3 closets. Private balcony with patio chairs and table.
CABIN PRICES*:
Interior: $637 per person (dbl occupancy)
Interior: $548 per person (trip occupancy)
Interior: $504 per person (quad occupancy)
Oceanview: $697 per person (dbl occupancy)
Oceanview: $595 per person (trip occupancy)
Oceanview: $544 per person (quad occupancy)
Balcony: $817 per person (dbl occupancy)
Balcony: $682 per person (trip occupancy)
Balcony: $614 per person (quad occupancy)
*Suites will be quoted at time of request. They will require a deposit of $200 per person to reserve. Please ask for SINGLE rates.
CABIN DEPOSITS:  
$300 per person due UPON BOOKING
$200 per person due MARCH 1, 2013
FINAL due MAY 1, 2013
*Your cruise prices includes ALL of the following:
 4 days and 4 nights in a luxurious stateroom. (We suggest upgrading to an Balcony).

$25 per stateroom Onboard Credit to be used on the ship

Shared cocktail party to catch up with family or 

Tote Bag

!

(based on 8 cabins)

Up to 8 gourmet meals per day

plus

complimentary 24-hour room service, even breakfast in bed if you want!

Daily professional live entertainment, and Broadway and Vegas styled shows nightly.

8x10 Group Photo

(based on 8 cabins)

INCLUDES All Cruise Fees!

That means, all port charges, government fees and taxes, gratuities and signature event fees are

included

in the price. Note: Carnival's online rates do NOT include gov. fees and taxes, but our group rates DO!
* Rates do not include shore excursions and travel insurance.
PLEASE COMPLETE FORM TO REGISTER
Reserve your cabin on a secure server! Click here:
NEXT....
Travel insurance is a crucial way to protect your travel investment. By choosing to offer travel insurance, your travel agent is providing you a financial safety net for most unforeseen travel inconveniences. Rx 4 Fun Travel Insurance plans have been created to suit most any traveler's coverage needs. Many of our travel plans include benefits like:
* Trip Cancellation/Interruption
* Emergency Medical/Dental Coverage
* Emergency Medical Transportation
* Baggage Loss/Damage
* Travel Delay
* Travel Accident
* Rental Car Protection
And all of our plans come with our award-winning customer service! We also provide one of the largest lists of covered reasons for trip cancellation and trip interruption including injury, illness, legal separation/divorce, strikes, natural disasters, bad weather, jury duty, trafficaccidents, normal pregnancy, job loss and more.*
Be sure to read the certificate of insurance and letter of confirmation for the specifics on what your plan covers. If you're not satisfied, you can be refunded your insurance premium if you cancel your insurance within 10 days of purchase and have not filed a claim or departed on your trip.
','','');return false;" href="http://www.travelguard.com/agentlink.asp?ta_arc=31530402&pcode=&agencyemail=rx4funtravel@ymail.com">
" target="_blank">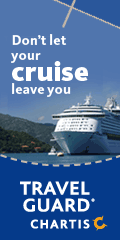 NEXT....
get a headstart on reserving and booking your Shore Excursions! Don't wait until you get on the ship because they may be sold out! Besides, don't you want to experience the excursions with your private group?
CLICK HERE FOR SHORE EXCURSIONS
 Want to get in on these prices and itinerary for your OWN family?  You can!! Just complete the Registration Form and enter your family's name in the comments section. Your family will get all of the amenities at the prices above!
*Prices will change based on time reserved!
 ***********************************************************************************
This EATMAN FAMILY REUNION Cruise is professionally planned and customized by Rx 4 Fun Travel LLC.
If you would like a similar cruise event or are a part of an organization who's looking to raise funds with a cruise event, please reach us on FACEBOOK or visit our WEBSITE. 
When & Where

Port of Miami
1015 N. America Way
Miami, FL 33132


Thursday, July 18, 2013 at 4:00 PM

-

Monday, July 22, 2013 at 8:00 AM (EDT)
Add to my calendar
Organizer
Rx 4 Fun Travel LLC
Rx 4 Fun Travel specializes in creating memorable and profitable travel experiences for individuals and organizations.
EATMAN FAMILY CRUISE EVENT