Description
Premium tickets are sold out but General Admission tickets to the panel discussion are still available.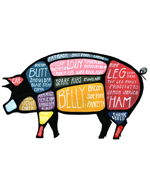 Chris Cosentino, Executive Chef and Partner, Incanto; Winner, "Top Chef Masters"; 2013 James Beard Award Nominee
Ryan Farr, Co-owner, Chef and Butcher, 4505 Meats
John Fink, Chef, The Whole Beast
Tia Harrison, Co-founder, The Butcher's Guild; Co-owner, Avedano's Meats; Executive Chef, Sociale
Marissa Guggiana, Co-founder, The Butcher's Guild; Author, Primal Cuts: Cooking with America's Best Butchers – Moderator
Beef tongue, calf brains, pork trotters. In the past, these meats were often left on the cutting room floor. But lately we've seen cooks growing more creative and eaters more adventurous. Have you ever wanted to know how to break down a pig like the pros, or wondered what to do with those offal bits that you have left over?
Look no further. INFORUM is taking a bite out of the nose-to-tail trend with some of the nation's best butchers and meat masters. First up we'll talk about the cultural impacts of the whole-animal movement with Incanto's Top Chef, Chris Cosentino, 4505 Meat's Ryan Farr, butchery wonder woman Tia Harrison and John Fink of the Whole Beast. Then premium ticket purchasers can head over to the Ferry Building for some hands-on fun. Learn how to butcher an entire pig as San Francisco's iconic Dave the Butcher kicks of the night with a demo and butchery class. Then find out what nose-to-tail tastes like as you sample dishes and chat with local farmers and butchers from Biagio Artisan Meats, Magruder Farms, Harley Richter Meats, The Whole Beast and more. We're hungry already…
.
Location: Panel: SF Club Office. Reception, CUESA Kitchen, One Ferry Building
Time: 6 p.m. check-in, 6:30 p.m. program, 8 p.m. demo and tasting party
Cost: General: $20 non-members, $12 members, $7 students (with valid ID); Premium (includes priority seating at the panel and access to the all-inclusive butchering demo and tasting party): $55 non-members, $40 members
Also know: Photo credit: 2010-2013 Alyson Thomas of Drywall Art
All ticket sales are final. We do not offer refunds.
Organizer of Eating Nose-to-Tail: The Whole Animal Movement INF