Description
This interactive panel conversation on the ethics of consuming animals blends perspectives from academic, activist and corporate responsibility experts. Come listen and participate!
Guest speakers:
• Seth Goldman, Founder and TeaEO Emeritus of Honest Tea, and Executive Chairman of the Board, Beyond Meat
• Leah Garces, USA Executive Director, Compassion in World Farming USA
• Aaron S. Gross, Associate Professor of Religion, University of San Diego, and Founder and CEO, Farm Forward
Thank you to our sponsors :
Emory University Center for Ethics
Emory University Center for Faculty Development and Excellence
Emory University Office of Sustainability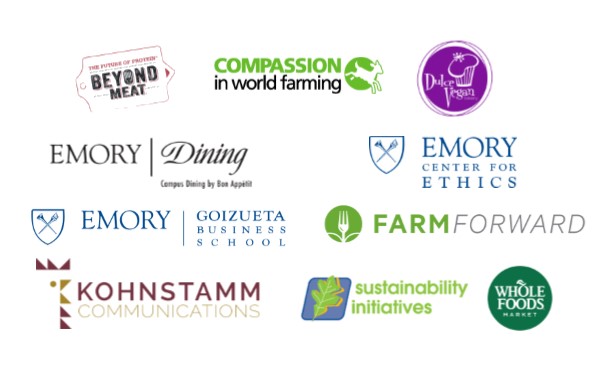 We encourage our attendees to use alternative commute options for our events. Below are a few options to help facilitate a more environmentally conscious trip to campus.
PEDS (Pedestrian Educating Drivers on Safety) - In addition to promoting pedestrian-friendly travel, PEDS provides non-vehicle travelers with a forum for reporting and obtaining information on broken sidewalks, faded crosswalks, dysfunctional ramps and other pedestrian safety hazards.
Cliff Shuttles and MARTA (Metropolitan Atlanta Rapid Transit Authority) – To learn more about the Cliff shuttle and MARTA bus routes, schedules and fares in the Emory community and beyond, visit Atlanta's two largest busing fleets online.
Emory Zipcar – Emory students, faculty and staff can go online to find additional information on Emory's Zipcar rates and policies as well as how to sign up for Emory's Zipcar program.
Map My Ride – Map My Ride offers bikers a space for posting their favorite urban or mountain biking paths and corresponding travel information online to share with the rest of Georgia's bikers.