Description

Experience TOKYO in New York City!
Attendees will get to expose their senses to what it is like to eat in Tokyo by way of menus created by Mr. Nakazawa, Mr. Sakurai, and Mr. Koizumi. Nakazawa's sushi will illustrate the principles of the Edo-mae sushi, the style invented in ancient Tokyo, that he serves at his celebrated restaurant. Sakurai and Koizumi will serve Japanese dishes inspired by Tokyo landmarks, along with sake pairings that have been carefully curated for the event. Eat Up Tokyo is essential for anyone interested in the many flavors of Tokyo.
Event time schedule:
Thursday, November 8, 2018
6:00pm-9:00pm

———————————————
Up to 250 free admission + original Tokyo gift!
Apply here by October 31, 2018, 3:00PM EST
(Registration for this event has closed as maximum capacity has been reached.)
*By Invitation Only. Registering does not guarantee entry. Registration confirmation from Eventbrite is NOT an invitation, nor a ticket for admission. Final 250 attendees will be notified.
*Tickets will not be sold at the door.
*Limited to attendees 21 and over.

*Limited to Facebook or Instagram personal account holders who agree to share photos of this event and enter their name and number of followers.

Share your photos: #TokyoTokyo

———————————————
All schedule and event detail are subject to change.
Contact information:
Tokyo Tourism Representative Office, New York

info@tokyo-nyc.com
For general information on visiting Tokyo, go to: tokyotokyo.jp & gotokyo.org/en/
———————————————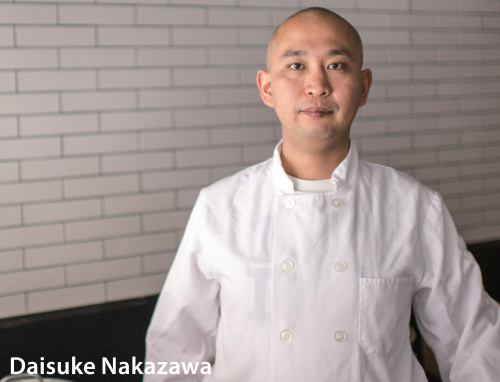 Chef Daisuke Nakazawa
Seasonally conscious
Edomae style sushi by star chef, Daisuke Nakazawa of Sushi Nakazawa. He worked for more than a decade under 90-year-old sushi master Jiro Ono - star of the hit documentary, Jiro Dreams of Sushi - before swapping Japan for the US.
sushinakazawa.com
-Sushi Nakazawa Menu-
Seasonally conscious Edo-mae style sushi:

1. Mini bowl of salmon roe marinated in soy sauce over rice with finely cut seaweed and wasabi
2. Fall salmon with Suzu regional salt and sudachi (Japanese green citrus fruit)
3. Pre-marinated and seared king salmon with mustard and Tosa soy sauce
4. Scallop, Yuzu citrus pepper and roasted salmon
5. Pressed crab sushi with seared crab miso
6. Yellowtail with wasabi and Tosa soy sauce
7. Lean tuna with wasabi and Tosa soy sauce
8. Egg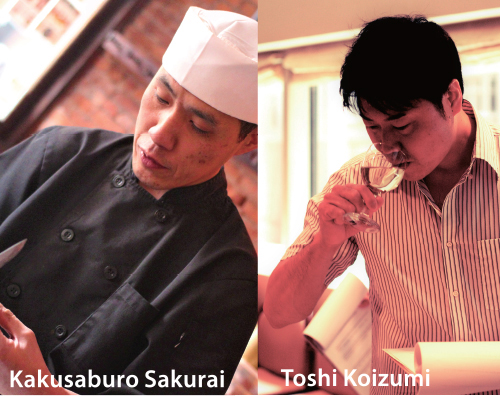 Cheif Kakusaburo Sakurai
Sommelier Toshi Koizumi
Tasting of three special menu items inspired by top Tokyo attractions, such as Skytree Yakitori. Menu planning by Sommelier Toshi Koizumi and Chef Kakusaburo Sakurai of Wasan Brooklyn. In 2011, The New York Times reviewed as "Sexiest food on earth".
wasan-ny.com
-Wasan Menu-
Creative (instagrammable!) menu items inspired by top Tokyo attractions:

1. Tokyo Skytree Yakitori
(grilled chicken skewers in the shape of Tokyo Skytree with potatoes on the side)
2. Imperial Palace Lotus Root Cake
(grated lotus root, a fall vegetable, formed into a ball and topped with a thick sauce infused with chrysanthemum flowers, an imperial symbol)
3. Kaminarimon "Thunder Gate" Salmon
(asparagus and red bell peppers in the form of a gate, with a piece salmon representing the center lantern, and the word "thunder" in sauce)
4. Akihabara Electric Mochi Crepe
(mochi crepe, a very popular dessert item at Wasan, with popping candy placed inside for an "electric" surprise)