Description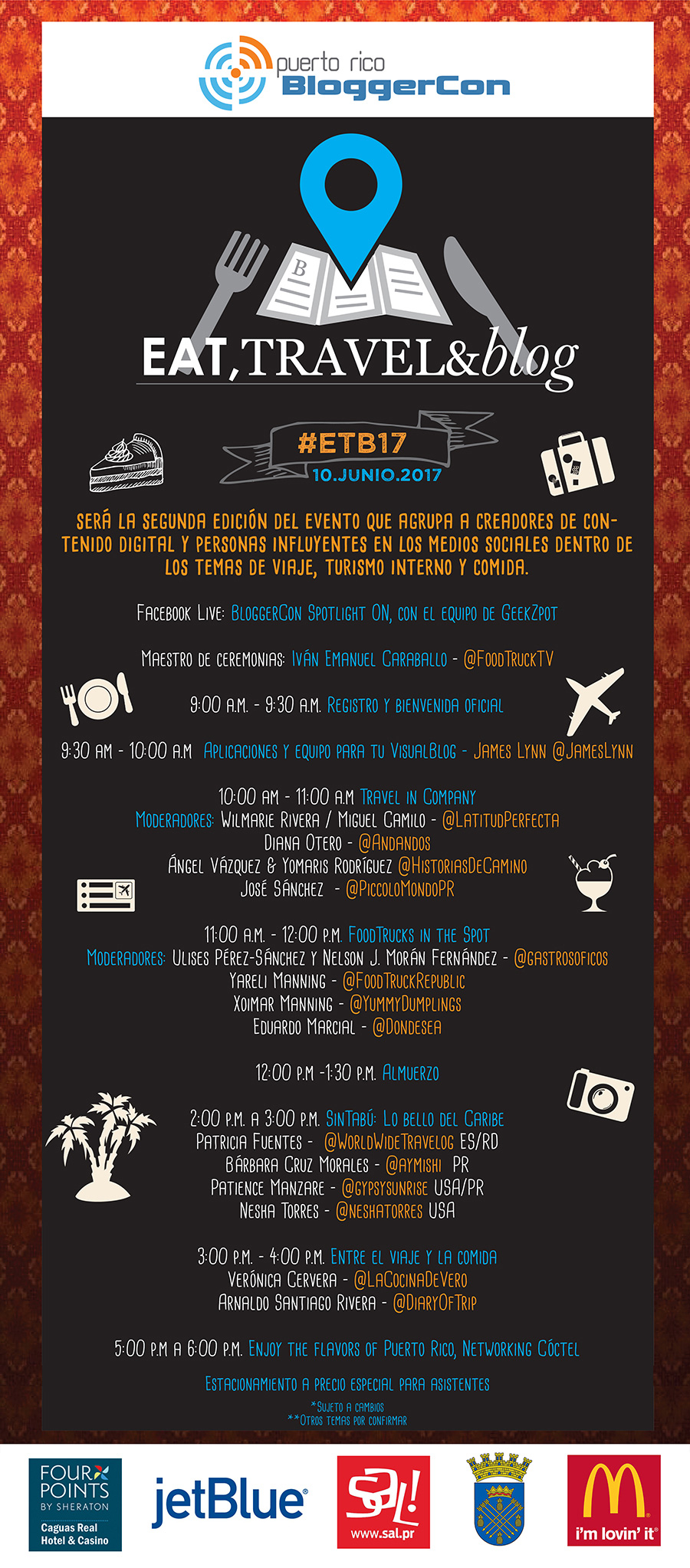 Eat, Travel & Blog 2017 (#ETB17), by Puerto Rico BloggerCon, será la segunda edición del evento que agrupa a creadores de contenido digital y personas influyentes en los medios sociales dentro de los temas de viaje, turismo interno y comida. Este evento está dirigido también a agentes de viaje, de la industria hotelera, de gobierno, ejecutivos de mercadeo y relaciones públicas, periodistas, educadores, estudiantes y toda aquella persona entusiasta de las tecnologías sociales de la comunicación.
Hashtag: #ETB17 | Facebook Live: BloggerCon Spotlight ON, con el equipo de GeekZpot
Itinerario (sujeto a cambios)
Maestro de ceremonias: Iván Emanuel Caraballo - @FoodTruckTV
9:00 a.m. – 9:30 a.m. Registro y bienvenida oficial
9:30 am - 10:00 a.m Aplicaciones y equipo para tu VisualBlog - James Lynn @JamesLynn
10:00 am - 11:00 a.m Travel in Company
Moderadores: Wilmarie Rivera / Miguel Camilo - @LatitudPerfecta
Diana Otero - @Andandos
Ángel Vázquez & Yomaris Rodríguez @HistoriasDeCamino
José Sánchez - @PiccoloMondoPR
11:00 a.m. - 12:00 p.m. FoodTrucks in the Spot
Moderadores: Ulises Pérez-Sánchez y Nelson J. Morán Fernández / Los Gastrosóficos - @gastrosoficos
Yareli Manning - @FoodTruckRepublic
Xoimar Manning - @YummyDumplings
Eduardo Marcial - @Dondesea
12:00 p.m -1:30 p.m. Almuerzo
1:30pm - 2:00p.m Charla auspiciada
2:00 p.m. a 3:00 p.m. SinTabú: Lo bello del Caribe, el mundo a través de mujeres Instagramers
Patricia Fuentes - @WorldWideTravel ES/RD
Bárbara Cruz Morales - @aymishi PR
Patience Manzare - @gypsysunrise USA/PR
3:00 p.m. - 4:00 p.m. Entre el viaje y la comida
Verónica Cervera - @LaCocinaDeVero
Arnaldo Santiago Rivera - @DiaryOfTrip
5:00 p.m a 6:00 p.m. Enjoy the flavors of Puerto Rico, Networking Cóctel
*Estacionamiento a precio especial para asistentes
*Sujeto a cambios
*Otros temas por confirmar
Asistentes de #ETB17, participa y gana una estadía en el Four Points by Sheraton Caguas Real Hotel & Casino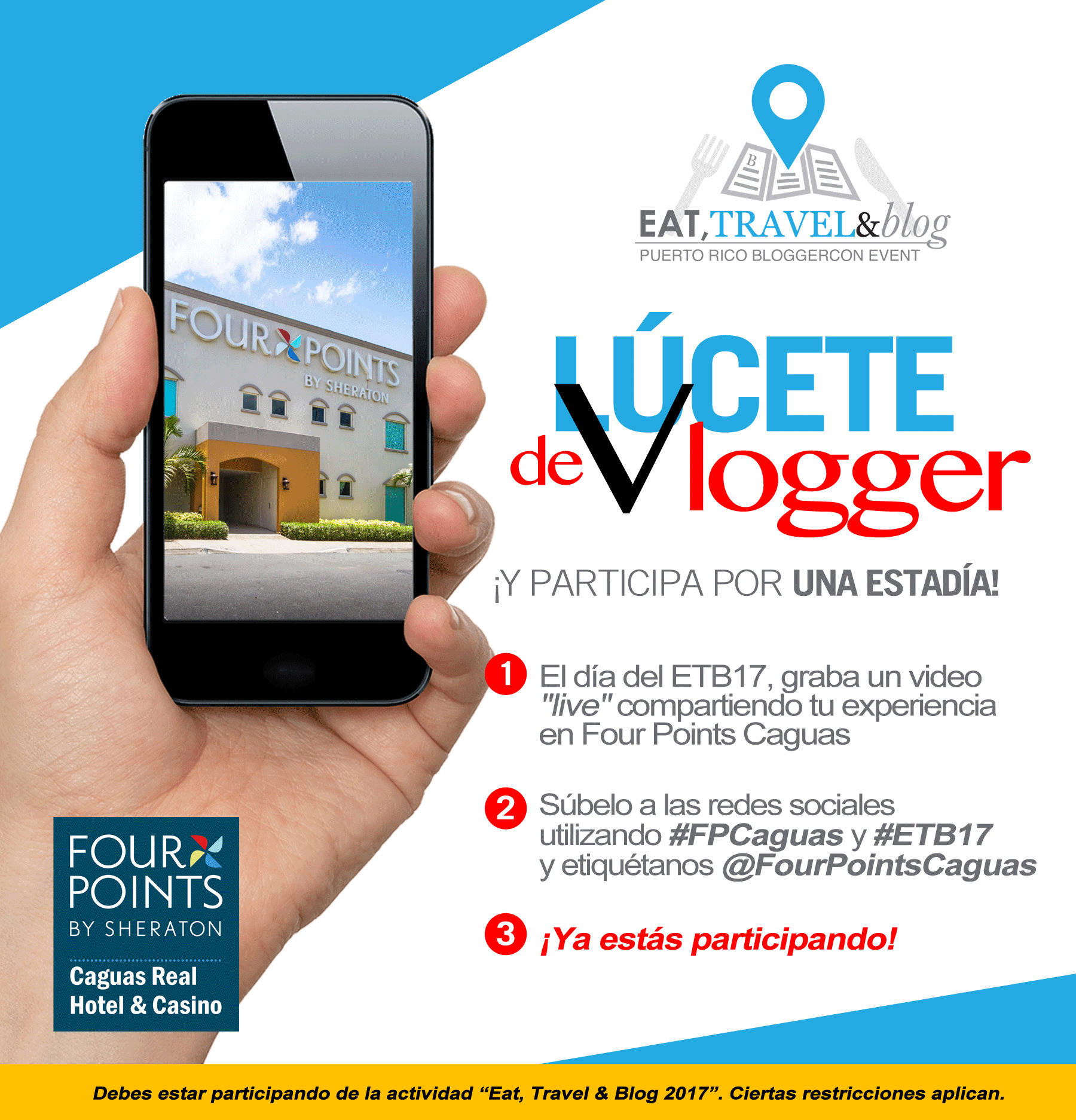 El Four Points by Sheraton Caguas Real Hotel & Casino ofrece una tarifa especial para los interesados en pasar el fin de semana de Eat, Travel & Blog 2017 en Caguas.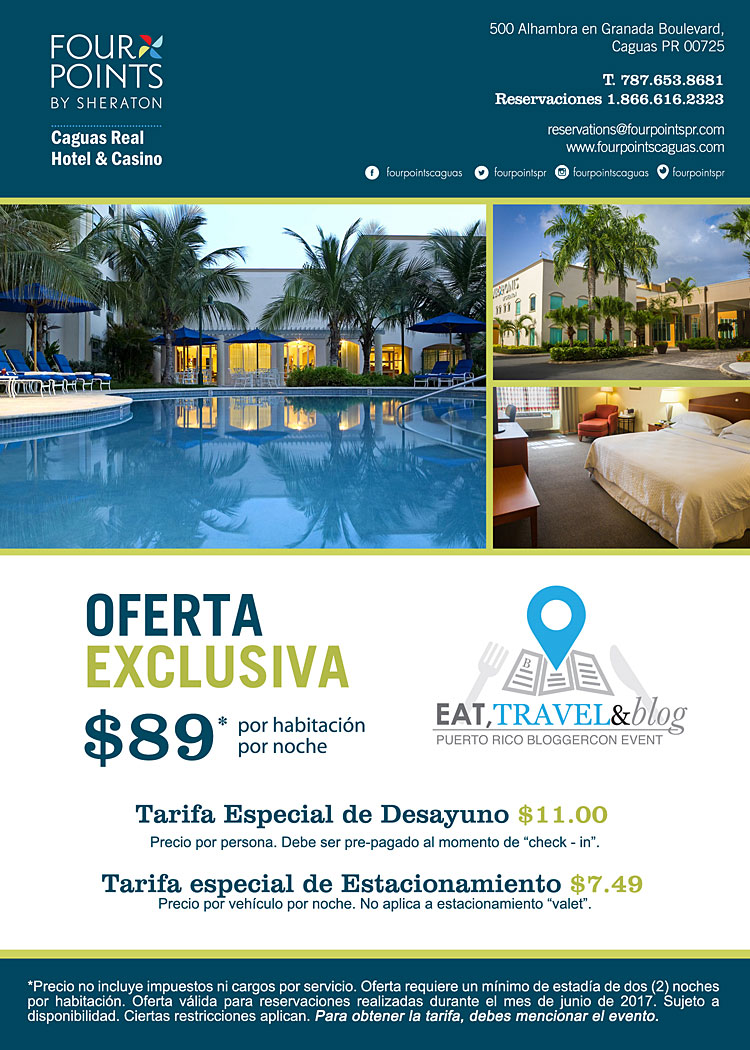 Date and Time
Location
Four Points by Sheraton Caguas Real Hotel & Casino
500 Alhambra En Granada Boulevard
Caguas, 00726
Puerto Rico