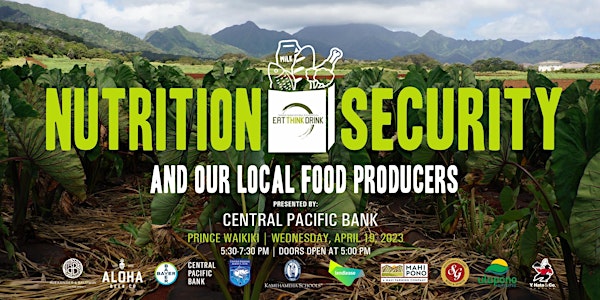 EAT THINK DRINK 21: Nutrition Security & Our Local Food Producers
Chef, Author and Food Equity Advocate Michel Nischan and community leaders discuss nutrition security and our local food producers.
By Hawaii Agricultural Foundation
Date and time
Wednesday, April 19 · 5:30 - 7:30pm HST
Location
Prince Waikiki Hotel 100 Holomoana Street Honolulu, HI 96815
About this event
The Hawai'i Agricultural Foundation hosts its 21st EAT THINK DRINK, Nutrition Security and Our Local Food Producers, on Wednesday, April 19, 2023 from 5:30 p.m. to 7:30 p.m. at the Prince Waikiki Hotel. Presented by Central Pacific Bank and Alaska Airlines, the event features keynote speaker Michel Nischan, a four-time James Beard Award winning chef with over 40 years of leadership advocating for a more healthful, sustainable food system.
When addressing food security, is providing reliable access to affordable food enough? Often, nutrition is overlooked or compromised for quantity, rather than quality, of food, and among the reasons our most impoverished communities are often plagued with the highest rates of diet-related disease like diabetes, heart disease, hypertension, and obesity. As important as providing enough food is providing the right food – local, fresh and unprocessed.
Nutrition Security and Our Local Food Producers will bring together thought leaders and advocates to discuss how addressing nutrition security can help our most vulnerable populations, as well as provide support to our local farmers, ranchers, and fishermen. The discussion will examine our food systems and the changes that need to be made so that nutritious, healthful, fresh foods are accessible while also reducing our need for food imports. With diet-related diseases like diabetes and obesity driving the highest hospitalization and death rates, it is imperative that we begin to make systematic changes to reverse this trend.
According to a University of Hawaiʻi study, 48% of families with children in Hawaiʻi experience food insecurity. The Hawaiʻi Foodbank has also reported that Hawaiʻi has the second highest rate of child food insecurity in the nation with one in four children experiencing hunger. Hawaiʻi kupuna also are at risk with nearly 10 percent of seniors, 60 and older, experiencing food insecurity. (Senior Hunger Report by the Hawaiʻi Appleseed Center for Law & Economic Justice in 2020).
Keynote speaker Michel Nischan is a four-time James Beard Award winning chef with over 40 years of leadership advocating for a more healthful, sustainable food system. He is Co-Founder and Executive Chairman of Wholesome Wave, Founder and CEO of Wholesome Crave, and Founder and Partner with the late actor Paul Newman of the former Dressing Room Restaurant. Nischan's presentation will share how his national non-profit Wholesome Wave was built to address food and nutrition insecurity in vulnerable populations in 2007, along with his late partner Gus Schumacher.
The panel discussion following the keynote will be moderated by "Phil" Augustus Acosta, Executive Director, Aloha Harvest, and will feature:
Alicia Higa, Director of Health Promotion, Waianae Coast Comprehensive Health Center / Kupuna Pantry program (Kaiser grant)
Sharon Hurd, Chair, Hawai`i Department of Agriculture
Kilikina Mahi, Director of Advocacy and Strategic Partnerships, Hawaii Food Bank
Jennine Sullivan, Executive Director, The Pantry by Feeding Hawaii Together
TICKETS: $85 EARLY BIRD PRICE | $95 REGULAR PRICE BEGINS APRIL 1
Your ticket includes dinner by Executive Chef Jeremy Shigekane and two (2) drinks from a selection of beer and wine.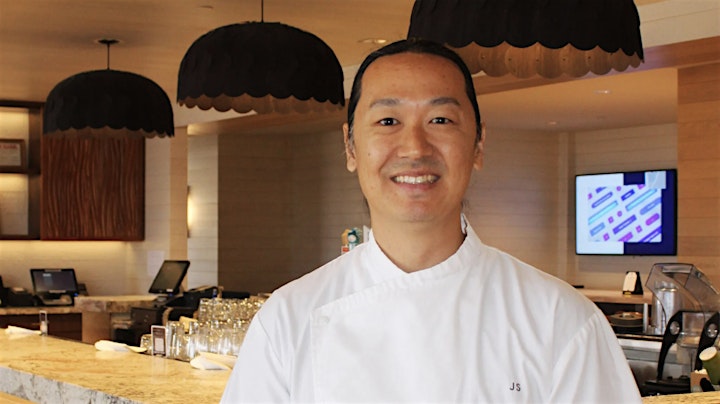 SPECIAL OFFER AT PRINCE WAIKIKI
Treat yourself to unobstructed ocean views, award-winning dining with live entertainment, a signature infinity pool, and more!
Rates from $199 (plus tax, per night)
50% off daily resort charge for Prince Preferred Members*
50% off self-parking (one vehicle per room)
Use promo code ETD23 when booking
VISIT THE LINK BELOW TO BOOK NOW:
https://www.princewaikiki.com/stay/offers/eat-think-drink/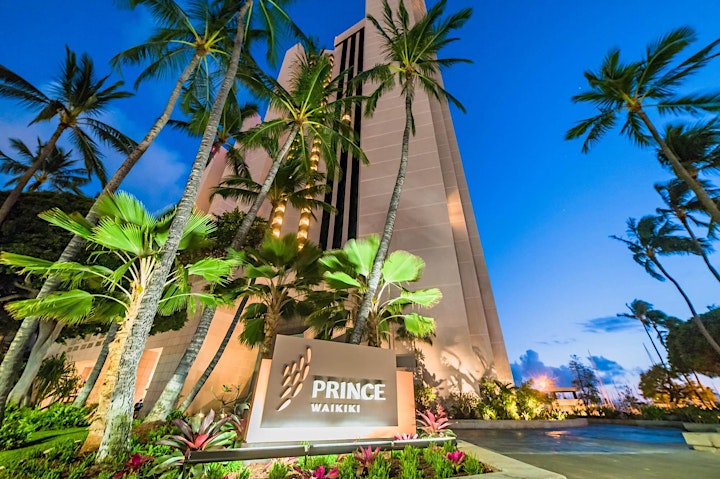 ABOUT EAT THINK DRINK (ETD)
Good things happen when we come together to EAT THINK DRINK! We learn, share and pull inspiration from the thoughtful conversations that happen over the table. ETD was developed by the Hawaiʻi Agricultural Foundation (HAF) in response to the need to provide better information to the community on important food issues. The quarterly series aims to build and engage a larger network of younger generation consumers and create new opportunities to learn about the food we eat and the people that grow it.
The goal of ETD is to find and develop areas of common ground–such as increasing awareness and support for local farmers and developing better infrastructure and consumer demand for value-added products–to empower Hawaiʻi's next generation of community and industry leaders.
ETD21 is presented by Central Pacific Bank and Alaska Airlines, and is also supported by Alexander & Baldwin, Aloha Beer Company, Bayer, Kamehameha Schools, Lendlease, Mahi Pono, Southern Glazer's Wine & Spirits, State of Hawai'i, Ulupono Initiative, and Y. Hata & Co., Ltd.
About the organizer
The Hawai'i Agricultural Foundation (HAF) is a non-profit organization created to promote agriculture and farming. Created in 2007, the mission of HAF is to support and sustain Hawai'i's agricultural industry by addressing critical needs and services of farmers and the agricultural industry in Hawai'i, and by better connecting the farmers with the community and vice-versa. This involves educational and outreach programs in the community, as well as direct marketing, technical, educational and in-the-field support for farmers.