Location
Tidepools at Central Pacific Bank
220 South King Street
Honolulu, HI 96813
AgTech: Growing Innovation brings together key leaders in ag to discuss new opportunities that can encourage a new generation of farmers
About this event
The Hawai'i Agricultural Foundation (HAF) will host its 19th EAT THINK DRINK (ETD), AgTech: Growing Innovation on Thursday, August 25, 2022 from 5:30-8:30pm at Tidepools by Central Pacific Bank. Presented by Central Pacific Bank and Alaska Airlines, AgTech: Growing Innovation will feature keynote speaker Jeremy Williams, the Head of Climate LLC and Digital Farming for the Crop Science division of Bayer.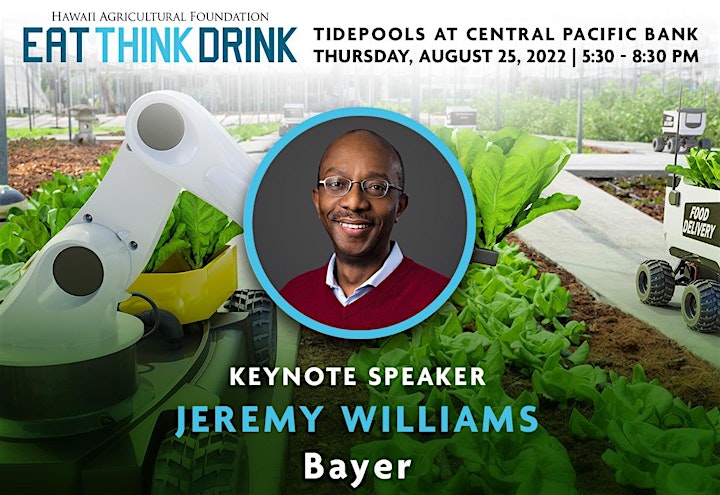 Agricultural technology or AgTech is projected for an exponential growth in the next few years. The global agricultural tech market is estimated to grow from 11.4 billion in 2021 to 18.1 billion by 2026. AgTech is the use of technology in agriculture with the aim of improving yield, efficiency and profitability for farm managers and growers. Examples include robotics and automation that can support the task of many farmworkers, enabling better working conditions and higher productivity. Artificial intelligence or drone technology is used to monitor crops or genetics to increase yields. State of the art greenhouses achieve best-in-class integrated pest management and food safety standards and vertical farming has enormous potential to increase crop yields in limited land space. For Hawaiʻi's ag industry to succeed in the 21st century, new technologies, innovations and approaches need to be considered and new attitudes need to be formed about agriculture.
Williams' keynote presentation will provide an overview of how Bayer uses science innovations and cutting-edge technology at their farms to work more efficiently, help improve the overall sustainability of their farming operations, and help farmers to work in a more precise and data-driven fashion.
The panel discussion following the keynote will be moderated by Rick Hamada, iHeartMedia Hawai'i's VP of Community Relations and Talk Show Host. The panel will feature:
• Frederick Cowell, General Manager, Kauaʻi Coffee Co.
• Ian Kitajima, Director/Tech Sherpa, Oceanit
• Leilyn Koev, Administrator, Kawamata Farms
TICKETS ARE $85 TO JOIN THE LIVE, IN-PERSON EVENT
A limited number of tickets are available for $85 and includes a gourmet bento by Chef Keaka Lee of Kapa Hale and (2) drink tickets for beer and/or wine. The gourmet bento features Kauai'i Coffee Company blackened Catch of the Day, Kawamata tomato butter, capers, pickled shallot, and Ho Farms baby bok choy. A vegetarian option is available.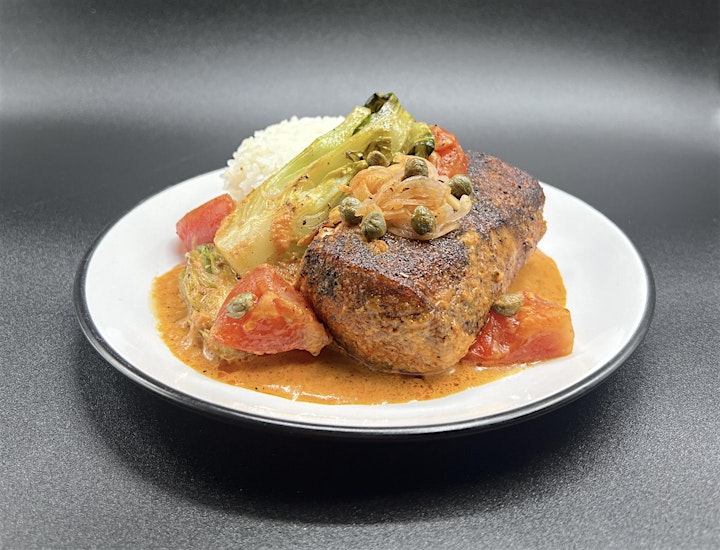 ABOUT EAT THINK DRINK (ETD)
Good things happen when we come together to EAT THINK DRINK! We learn, share and pull inspiration from the thoughtful conversations that happen over the table. ETD was developed by the Hawaiʻi Agricultural Foundation (HAF) in response to the need to provide better information to the community on important food issues. The quarterly series aims to build and engage a larger network of younger generation consumers and create new opportunities to learn about the food we eat and the people that grow it.
The goal of ETD is to find and develop areas of common ground–such as increasing awareness and support for local farmers and developing better infrastructure and consumer demand for value-added products–to empower Hawaiʻi's next generation of community and industry leaders.
ETD19 is presented by Central Pacific Bank and Alaska Airlines, and is also supported by Alexander & Baldwin, Bayer, Kamehameha Schools, Lendlease, Mahi Pono, Southern Glazers Wine & Spirits, State of Hawai'i, and Ulupono Initiative.