For this event, we will return to a live, in-person format to hear from keynote speaker Wayne Wade, President of SumaGrow®
About this event
The Hawai'i Agricultural Foundation (HAF) will host its 15th EAT THINK DRINK (ETD) event with a focus on Regenerative Agriculture on Thursday, July 29, 2021 from 5-7pm at Prince Waikiki. For this event, ETD returns to a live, in-person format to hear from keynote speaker Wayne Wade, President of SumaGrow® – an award-winning product used in regenerative agricultural practices. SumaGrow® is made from a combination of carefully selected microorganisms proven to promote rich, fertile soil and work with the plant to supply the nutrients it needs, when it needs them. Standard land use and conventional farming practices have compromised soil quality, diminished nutrition and loss of important trace minerals in our food supply. However, regenerative farming practices and the use of SumaGrow® can improve soil health for producing high quality, nutrient dense food, and lead to productive farms and healthy communities and economies.
Wade's keynote presentation will be followed by a panel discussion on how and where regenerative agriculture is currently being implemented in Hawai'i. The panel discussion will be moderated by Kainoa Carlson and feature:
• McCabe Cox, Chief Operations Officer, Clean Energy Solutions Pacific
• Hannah Hubanks, Conservation Specialist, Oahu RC&D
• David Wong, Owner, Mountain View Farms
Tickets are $75 to join the live in-person event at Prince Waikiki and $10 to join via Zoom.
Proof of full COVID-19 vaccination, or a COVID-19 negative test result within 48 hours of the event, is required to attend the in-person event.
In-person tickets include one complimentary bento and two drinks from Kona Brewing Company or wine selection from Southern Glazer's Wine & Spirits. The bento features Elote Corn Croquette, Shrimp Tempura Roll, Ahi Poke with House-Made Nori Rice Cracker, Hoisin Braised Short Rib, Onigiri, and Mac Nut Mont Blanc for dessert. A vegetarian option is available and features Elote Corn Croquette, Vegetable Tempura Roll, Roasted Beet Poke, Tomato Confit with polenta and pea tendrils, Onigiri, and Chocolate Crunch Cake for dessert.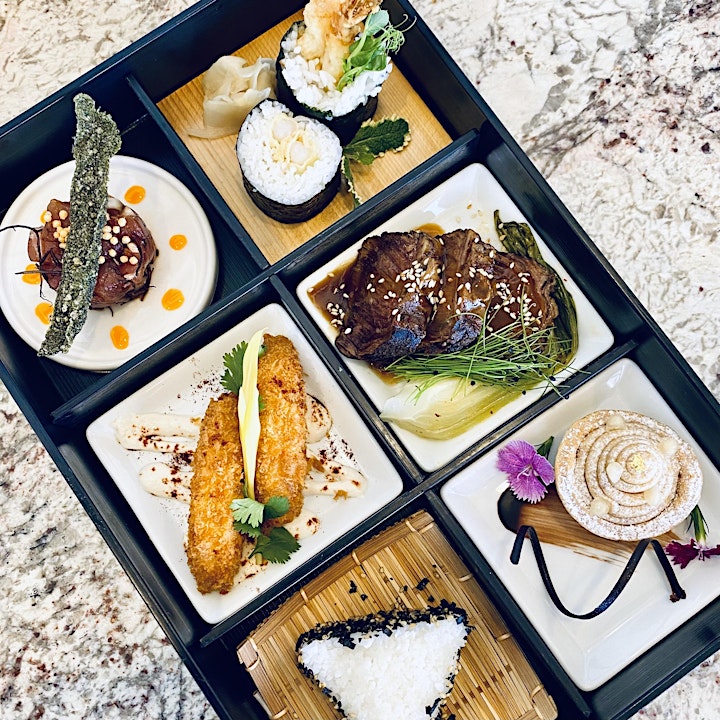 GET A DOZEN LOCAL EGGS – FOR FREE!
All registered attendees on O'ahu will be eligible to receive a dozen eggs from Hawaiian Maid or Ka Lei Eggs. No purchase necessary.
#EATTHINKDRINK Join the #OnoRevolution, was developed by HAF in response to the need to provide better information to the community on important food issues. The quarterly event series aims to build and engage a larger network of younger generation consumers and create new opportunities to learn about the food we eat and the people that grow it. The goal of ETD is to find and develop areas of common ground, such as increasing awareness and support for local farmers and developing better infrastructure and consumer demand for value-added products to empower Hawaiʻi's next generation of community and industry leaders.
ETD is supported by Alexander & Baldwin, Kamehameha Schools, Kona Brewing Company, Mahi Pono, Southern Glazer's Wine & Spirits, State of Hawai'i, and Ulupono Initiative.
For more information, visit OnoRevolution.com.
MUST BE 21+ YEARS OF AGE TO ATTEND IN-PERSON
Organizer of EAT THINK DRINK 15: Regenerative Agriculture
The Hawai'i Agricultural Foundation (HAF) is a non-profit organization created to promote agriculture and farming. Created in 2007, the mission of HAF is to support and sustain Hawai'i's agricultural industry by addressing critical needs and services of farmers and the agricultural industry in Hawai'i, and by better connecting the farmers with the community and vice-versa. This involves educational and outreach programs in the community, as well as direct marketing, technical, educational and in-the-field support for farmers.