Description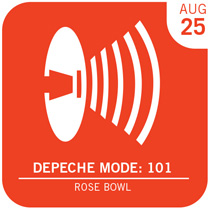 "The grabbing hands. Grab all they can. Everything counts in large amounts."
Hot off the heels of its breakthrough album, "Music for the Masses," British synth pop group Depeche Mode embark on the last leg of its 1988 North American tour. Acclaimed documentary filmmaker D.A. Pennebaker is on hand to document the trek from New York to California, focusing his lens on the band, its fans, but the minutiae of tour life. The documentary culminates with Depeche Mode's final performance of the tour at the Pasadena Rose Bowl, 29 years ago on Saturday 18 June 1988.
* * THIS EVENT IS ON FRIDAY (not Sat) AUGUST 25th * *
SEE: Depeche Mode: 101 Outdoor Movie / Not Rated
EAT: Food Trucks schedule here
HEAR: Hosted by Richard Blade, who will also be DJ for the evening
WHERE: Rose Bowl Stadium (and limited to a few thousand people. You won't be there with 65,000 like in 1988)
PRO TIP: This is a HUGE sport and concert venue. You will be sitting in stadium seating – chairs are not needed. Leave them at home for this event. Due to the built in seating, this may not be the most comfortable venue for your dog. Just sayin'. Bring pillows and cushions to sit on and blankets to cuddle under.
DOGS: Yes! This event is dog-friendly! All dogs are welcomed with a free biscuit at the door! It might be a little tight for bigger pooches at this venue. Or you may want to consider leaving the pooch at home for this one if he/she is bigger as this is stadium seating (and you may want to dance a lot), so it might be tight for your canine friend.
TIME: * NOTE EARLIER START TIME & THIS IS ON FRIDAY * Doors 5, Music 7, Movie 8
ENTRANCE: Please enter through the main entrance. This is the only entrance. You will be going through Rose Bowl security.
SEATING/CHAIRS: You will be sitting in built-in stadium seating – chairs, not benches. Blankets, pillows, cushions are recommended to stay warm and will keep your tush comfy. * Do not bring chairs *
PARKING: $5 Rose Bowl parking lot fee. Not controlled by Eat|See|Hear
METRO/PUBLIC TRANSPORT: You can also take the Metro Gold Line to Memorial Park Station.
For more infomation on Depeche Mode: 101 or any of Eat|See|Hear's events, please visit our website.
Get your Depeche Mode: 101 tickets today!