Actions and Detail Panel
Eat See Hear Outdoor Movie: Amelie
Sat, September 16, 2017, 5:00 PM – 10:00 PM PDT
Description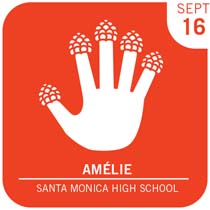 "It's hard not to fall under the spell of this moonstruck romance"
Pierre Jeunet. Amelie (Audrey Tautou) is a young woman who had a decidedly unusual childhood; misdiagnosed with an unusual heart condition, Amelie didn't attend school with other children, but spent most of her time in her room, where she developed a keen imagination and an active fantasy life.
When Princess Diana dies in a car wreck in the summer of 1997, Amelie is reminded that life can be fleeting and she decides it's time for her to intervene in the lives of those around her, hoping to bring a bit of happiness to her neighbors and the regulars at the cafe.
SEE: Amelie Outdoor Movie | Rated: R
EAT: Food Trucks schedule here
HEAR: Shunkan
WHERE: Santa Monica HS Memorial Greek Amphitheater
PRO TIP: This is a concrete amphitheater with built-in seating (think oversized steps). Bring pillows and cushions to sit on and blankets to cuddle under. Low chairs also fit on the seating area.
DOGS: Yes! This event is dog-friendly! All dogs are welcomed with a free biscuit at the door!
TIME: * NOTE EARLIER TIME * Doors 5pm, Music 7pm, Movie 8pm
ENTRANCE: Enter on 4th Street in between the DoubleTree Hotel & the track. This is the ONLY entrance.
SEATING/CHAIRS: This location is a concrete amphitheater with built in seating (think oversized steps) with a limited amount of grass seating right up front. All seating is open, first come, first served. Pillows, cushions and blankets are strongly recommended - low chairs work well in this venue, too and shouldn't block the view of the person behind you.
PARKING: We recommend using the Civic Center Parking Lot on 4th Street, right across the street from the entrance. Remember to pay for your parking before going to your car. No, we do not validate. This lot is operated by the City of Santa Monica. We are not responsible for this lot nor are we connected to it in any way, this is a suggested location for parking. You can also try parking at the DoubleTree. Limited on street parking – Read Signs. You may also BIKE IN as there is ample free bike parking just inside the entrance.
For updates and more information about The Grand Budapest Hotel or any of Eat|See|Hear's events, please visit our website.
Get your tickets for The Grand Budapest Hotel today!