Actions and Detail Panel
Eat See Hear Outdoor Movie: Airplane!
Sat, August 5, 2017, 5:30 PM – 11:00 PM PDT
Description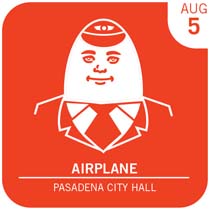 "Looks like I picked the wrong week to quit smoking"
Ex-fighter pilot Ted Striker (Robert Hays) became traumatized after an incident during the war, leading to his fear of flying. Recovering his courage, Striker attempts to regain the love of his life from the war, Elaine (Julie Hagerty), now a stewardess. In order to win her love, Striker overcomes his fear and buys a ticket on a flight she is serving on, from Los Angeles to Chicago. However, during the flight, Elaine rebuffs his attempts, the pilots get food poisoning and Striker is called on to land the plane. A perfectly corny parody of Airport and all of the sequels it spawned.
SEE: Airplane Outdoor Movie / Rated PG
EAT: Food Trucks schedule here
HEAR: TBA
WHERE: Centennial Square in front of Pasadena City Hall.
PRO TIP: This is a very large, concrete venue, with some grassy areas on the perimeter – the early bird gets the worm! You'll want to bring pillows, cushions, blankets and low chairs for this venue.
DOGS: Yes! This event is dog-friendly! All dogs are welcomed with a free biscuit at the door!
TIME: Doors 5:30, Music 7, Movie 8:30
ENTRANCE: Please enter on Marengo Ave. This is the only entrance.
SEATING/CHAIRS: This location is concrete with some grassy areas. Pillows, cushions and blankets are preferred, though low chairs are allowed, but please don't block the view of the person behind you. Tall, lawn chairs or camping-style chairs over 6 inches off the ground will be required to sit on the left and right side of the venue, which will be clearly marked with signs. There is ample room for chairs, so please don't block others view.
PARKING: There are a variety of pay parking lots in the area.
METRO/PUBLIC TRANSPORT: You can also take the Metro Gold Line to Memorial Park Station.
For more infomation on Airplane or any of Eat|See|Hear's events, please visit our website.
Get your Airplane tickets today!