Eat Local First Week 2013: July 22-28
Refund Policy
Contact the organizer to request a refund.
Description
"How Local Food Grows a City" Flash Talks and Kick-Off Party
Start Eat Local First Week right with our series of inspiring flash talks from local food movement leaders and a tasting party of local food and drink delight at the fittingly innovative and engaging Woolly Mammoth Theatre Company. Who's innovating in the city's food movement and where do they see opportunity? How do crops, commerce, and community shape the physical, nutritional, and economic landscape of our city? These are just part of the great stories we'll hear and see from the farmer, the restaurateur, the producer, the consumer, the innovator and more, while we celebrate the big ideas and small actions that make it happen.

Speakers Include

CROPS:
Forrest Pritchard: Smith Meadows Farm | Anita Adalja: Common Good City Farm
COMMERCE:
Ann Yonkers: FRESHFARM Markets | Michael Babin: Neighborhood Restaurant Group | Lisa Zechiel: Washington's Green Grocer | Chris Johnson: Cured DC
Richard McCarthy: Slow Foods USA | Josh Singer: Wangari Gardens | Jonathan Bardzik: Eastern Market Chef and Blogger
Monday, July 22
6 p.m. - 9 p.m. $35
Woolly Mammoth Theatre Company
641 D Street NW
Washington, DC 20004
---
FEMIVORE AWARDS RECEPTION AND HAPPY HOUR
Come celebrate the women in our local food movement with a night of food and drinks, conversation, and competition. Three amazing women will compete for guest votes during the Happy Hour for a $1,000 award to support their locally sourced food projects built around the ideas GROW, NOURISH or INSPIRE. Who will be named the ultimate 2013 Femivore? Join us in the amazing Heurich House to find out.
Show your support of Women in the DC Food Movement by sponsoring FEMIVORE as part of our week long celebration of local food, farms, chefs and independent businesses.
Wednesday, July 24
6-9 p.m. - $35 Happy Hour and Awards Reception
Heurich House Museum
1307 New Hampshire Ave NW
Washington, DC 20036
---
Urban Foraging and Foraged Cask Event
Drink Local! Join us for a night of flavor and fun as Meridian Pint features "foraged cask ales" from 8 area breweries. Each one-off cask ale will feature a selection of ingredients that you could find on a foraging expedition in the District. As an added bonus, the 24 bar taps will feature a local beer take-over and when you start getting hungry, Chef Shewmaker will be featuring foraged and local-ingredient specials.
Thursday, July 25
6-9 p.m. - $12 - Two Cask Drink Tickets
Meridian Pint
3400 11th Street NW
Washington, DC 20010

Contributing Breweries:
DC Brau Brewing | Franklin's Restaurant, Brewpub and General Store | Lost Rhino Brewing Company | Mad Fox Brewing Company | Port City Brewing CompanyChocolate City Beer | 3 Stars Brewing CompanyFlying Dog Brewing
---
Edible Urban Garden Tour + Happy Hour
Featuring Bloomingdale
Hosted by Loulies.com
Grow Your Own is the theme for this year's 3rd annual Edible Urban Garden Tour. The tour will stretch through the historic neighborhood of Bloomingdale with features to include back-yard, balcony and roof-top gardening, shared garden spaces, rain barrels, and community gardening. It is a chance to learn and be inspired by those who have created amazing and unique urban, edible spaces. Afterwards, join Big Bear Cafe for a seasonal garden cocktail. The tour is self-guided and a map of the garden locations will be distributed the day of the event. Biking or walking is recommended. For questions, please contact Suzanne@Loulies.com.
The tour is self-guided and maps will be handed out at Bacio (81 Seaton Place, NW Washington, DC 20001).
Friday, July 26
Gardens open for touring 5-8 p.m - $15
Bloomingdale (Starting Point: 81 Seaton Place, NW Washington, DC 20001) and Big Bear Cafe for Happy Hour
1700 1st Street NW
Washington, DC 20001
---
Farm-To-Street Party
Come and enjoy great food from our community, for our community, and by our community as Eat Local Week 2013 culminates in this fantastic food festival featuring over 125 vendors who are making local food happen; the ultimate block party celebrating the crops, commerce, and community members that feed our city. Vendors include District restaurants dishing up locally-sourced specials, food and beverage producers featuring their Made-in-DC goods, chef-demos, speakers, and more. Come hungry, come thirsty, and be sure to empty out your pantry in anticipation!
1:00 pm The Delafield String Band
1:30 pm Raw Living Foods with Joy Bliss Raw
2:00 pm Candy Making with Thunder Pig Confectionery (winner of the 2013 Start Up Kitchen)
2:30 pm What's all the Shoutin' About Vinegar Pie? with Annalee Ash (winner of the 2013 Makes Me Wanna Shout Making Contest)
3:00 pm The Brass Connection
3:30 pm Culinary Herb Container Gardening with the DC State Fair
4:00 pm Fresh Made Food for Babies and toddlers with The Kid and the Kale
4:30 pm Cooking Locally with Chef Will Artley of Pizzeria Orso
5:00 pm Jonny Grave and the Tombstones
5:30 pm Pie Eating Contest with Whisked!
(a Farm-to-Street party Tradition!)
6:00 pm Flavor. Health. Soul. with Bazoar Spices
6:30 pm Flavors of the Mid-Atlantic with Chef Colin of Equinox Restaurant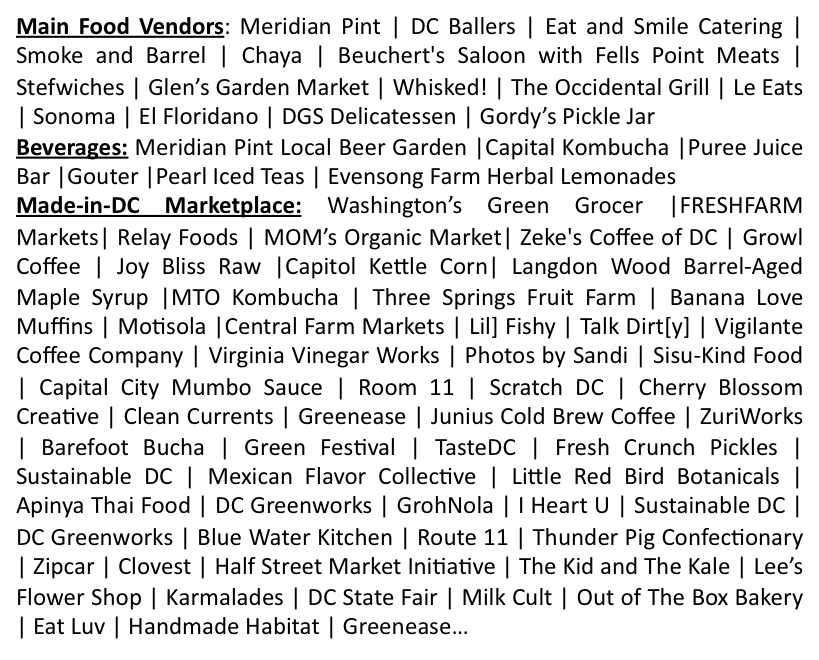 1-7 p.m. - $5 Suggested Donation
Union Market
1309 5th Street NE
Washington, DC 20002
Own a restaurant, food start-up or non-profit? Apply to be a vendor at the Farm-to-Street Party by filling out this
form
.
Demo and Live Music Stage Co-Sponsored By:


Made in DC Marketplace
Co-sponsored by:
:



Drink Local Garden Co-Sponsored By: