Eat Like a Sailor | Dine Like a Captain with Old North Church, Sail Boston...
Description

Eat Like a Sailor | Dine Like a Captain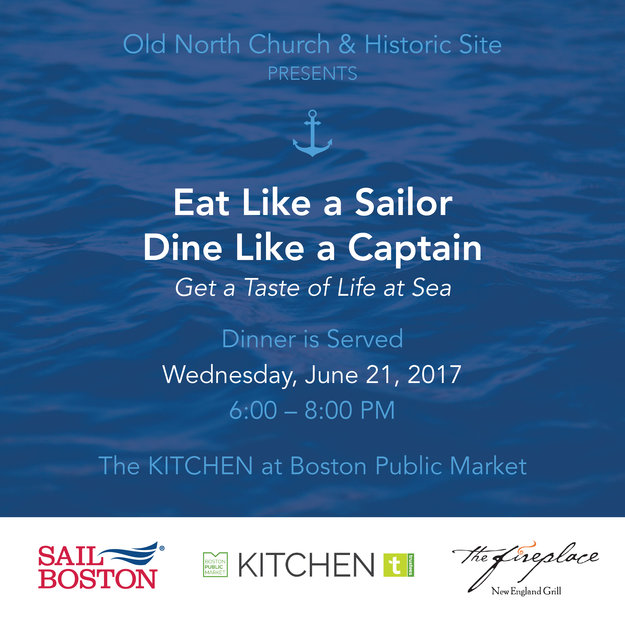 When is the last time you had a bite of dandyfunk? Or enjoyed a sip of snagaree?
Join The Trustees, the Old North Church & Historic Site, and The Fireplace for a culinary adventure through the maritime victuals of our seafaring forebears. You'll try these recipes and many others as we experience firsthand the way food and menu reflected class structure on the seas. Renowned chef Jim Solomon of The Fireplace has devised a menu that will take you on a journey from the simplicity of the sailor's board to the richness of the captain's table with dishes like Hard Tack 'Biskit', Cornmeal Porridge with Sautéed Carrots and Bacon, Poor John Cod Cakes with "Limey" Mayo, and Madeira Braised Mutton with Turnips, Carrots, Bacon Hash and Currant Studded Rice. Lift your cup of the sailor's Rum Tea Punch; toast the evening with some Snagaree: it's going to be an unforgettable and delightful night!
What is Old North's connection to the sea? Many of Old North's original pew owners and parishioners were sea captains, privateers, and merchants. Old North's steeple, the tallest point in Boston until 1830, beckoned home those in the sea-faring industry and was often the most welcome sight to those on board a ship entering Boston Harbor.
Tickets:
SINGLE Ticket: $60 per Trustees member and $75 per nonmember.
COUPLE Ticket: $112 per Trustees member and $140 per nonmember.
Please note: Members must bring their current member card and number. Join The Trustees and save! Members save between 20-40% off all classes in The KITCHEN. Join here.
About The Trustees and The KITCHEN
As one of the largest owners of agricultural land and the premier steward of the cultural and natural landscape of Massachusetts, The Trustees extends its leadership to transform the local food system by connecting residents and visitors back to the land and sharing the Commonwealth's collective agrarian heritage through innovative retail and educational experiences at the Boston Public Market in the heart of downtown Boston.
The KITCHEN is a community gathering place, managed by The Trustees, that is restoring the craft of seasonal cooking in Massachusetts, New England, and beyond through hands-on classes and educational experiences that celebrate the farmers and artisans of this region. Partnered with the Boston Public Market, The KITCHEN embraces a whole-food approach to eating and promotes cooking as an essential cornerstone of a sustainable food system.
Join The Trustees and receive 20%-50% off all classes, workshops, and events at The KITCHEN and all Trustees properties.