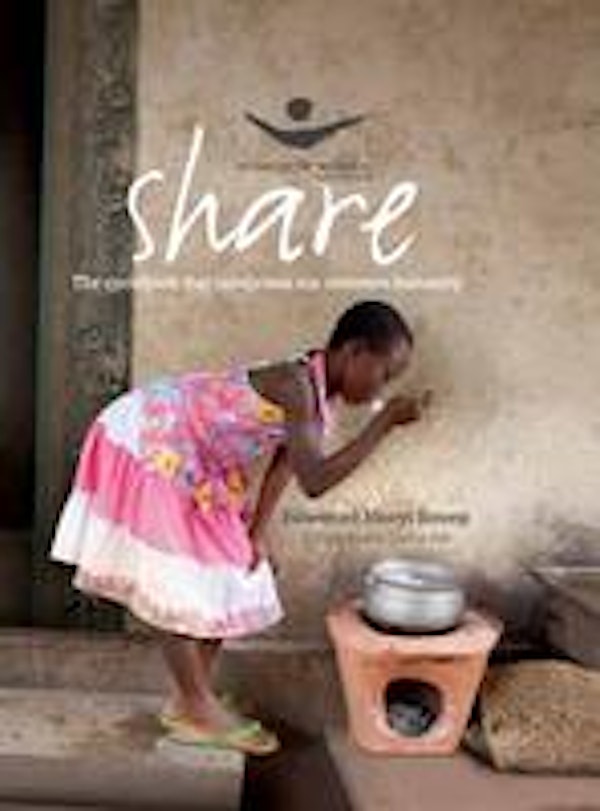 Eat. Drink. Share: The Cookbook that Celebrates Our Common Humanity
By The Sub-Zero, Wolf, and Cove Showroom by Riggs Distributing
Date and time
Thursday, August 8, 2013 · 6 - 8:30pm PDT
Location
The Sub-Zero | Wolf Culinary Events Center 1755 Rollins Rd Burlingame, CA 94010
Refund Policy
Contact the organizer to request a refund.
Description
Dear friends of Share: The Cookbook and WfWI,
For friends and supporters of Eat. Drink. Share. who cannot attend this Thursday's event, we have decided to postpone in your favor, as this event is not to be missed!
With summer days in full swing before the school year starts back up again, we have received many emails expressing disappointment that the timing doesn't work out. We to remedy that issue by rescheduling for the near future to host this beautiful event this fall or early winter.
Both contributing authors, Jesse Ziff Cool, owner of Flea Street Café in Menlo Park, and Lauri Pastrone, co-author of Share, will co-host the event which will feature regional cuisine of the areas of focus for Women for Women International, as well as some recipes from the humanitarian, celebrity contributors noted below.
Look out for email updates in the coming months regarding the new date for Eat. Drink. Share., or visit our Events Calendar to learn more at www.riggsdistributing.com.
Read more about Eat. Drink. Share. here:
The legendary actress Meryl Streep penned the preface to Share: The Cookbook that Celebrates Our Common Humanity, a beautiful new cookbook that is part recipe collection and part chronicle of the human spirit. She states simply, but powerfully, one of the main messages of this collection of recipes and stories: "For all our apparent diversity . . . Nothing more beautifully conveys our interdependence than the food eat . . . Food unites us globally."
Co-­-authored by Lauri Pastrone, local Los Gatos resident, who was inspired to combine her two passions, cooking for her family and helping women in war-­-torn countries rebuild their lives. In Share, Pastrone teamed up with other like-­-minded individuals to create a cookbook that feeds the soul as much as the body in an effort to benefit Women for Women International (WfWI), the organization that introduced Pastrone to her passion for making a difference in the lives of women in need, one by one, impacting a world-­-wide community of individuals. Share is the fruit of her labor.
Debuting in May of this year, Share has landed a top seed on J. P. Morgan's Summer Read List for 2013,with others such as Sotomayor's My Beloved World and Sandberg's Lean In, described as "10 of this year's most captivating reads [selected to] . . . challenge, amaze and inspire you." The enthusiastic embrace ofShare is a success for WfWI, the organization that inspired the work and benefits from the sale of the book, as the publisher, Kyle Books, is donating 100% of proceeds to the WfWI.
The recipes in Share come from the women living in the war-­-torn countries and also from renowned international chefs such as Alice Waters, Maggie Beer, Rene Redzepi, and Hugh Fearnley-­-Whittingstall,and humanitarians such as Aung San Suu Kyi, Nelson Mandela, Christiane Amanpour, Desmond Tutu, Emma Thompson, Judi Dench, Richard Branson, Annie Lenox, Paul McCartney and Mia Farrow.
Join Riggs Distributing at the Sub-­-Zero | Wolf Culinary Event Center for this special night to honor the work that inspired and culminated in this dynamic cookbook. Eat. Drink. Share. is dedicated to celebrating the vibrant life of women aided by WfWI. Come meet contributing author Jesse Ziff Cool,owner of Flea Street Café in Menlo Park, and Lauri Pastrone, co-­-author of Share.
Eat. Drink. Share.
Enjoy recipes from Share, cocktails and wine reception throughout night
Multiple live cooking stations featuring world-­-wide cuisine catered by CuisineStyle by

Pamela Keith

Beer and wine from countries represented in the book

Specialty cocktails crafted to pair with featured dishes and served out of the Churchill Pub

The story of

Share

as told by

Jesse Ziff Cool,

owner of Flea Street Café in Menlo Park, and

Lauri Pastrone, co-­-author, who collaborated on the creation of Share

A gift of a signed copy of

Share: The Cookbook that Celebrates Our Common Humanity
In the forward written by Meryl Streep, we are reminded to, "Take time to enjoy the food and read the stories [offered in Share]. Welcome friends and family to your table. Join me-in celebration of our shared humanity." Eat. Drink. Share. is an occasion to do just that!
To learn more about
Share: The Cookbook that Celebrates Our Common Humanity,
click here
.
About the organizer
The Sub-Zero, Wolf, and Cove Showroom by Riggs Distributing welcomes you to take a hands-on approach to learning with our full range of Sub-Zero, Wolf, and Cove appliances. Let our chefs and product specialists demonstrate what makes these brands the best in class. Visit our showroom to take a taste drive of Sub-Zero, Wolf, and Cove!