Eat Drink and Network LIVE!!!
Description
Come out and join Join Muzo Radio Podcast, LLC. www.muzoradio.com, London Simone, LLC, DMT Consulting Group and The Online Business/Vendor Hop on Tuesday October 3, 2017 from 5:30-8:30pm at the Barnett Business Center at 1010 Barnett Road, Columbus, Ohio 43227!!!
We are pleased to announce MuzoRadio's newest live show "The Talk of the Town" Business Showcase which will be airing LIVE at Eat Drink and Network!!!
By attending Eat Drink and Network, you'll get to know who we are at Muzo Radio Podcast, meet and network with other businesses here in the Columbus area, meet and greet our talk show and podcast personalities, enjoy delicious appetizers, live or played music from local Dj's and artists, product and service demos fun door prizes from our vendors and swag bags!!!
FREE ADMISSION
FREE VENDOR OPPORTUNITIES (for a limited time)
Vendors include:
Perfected Scents
Kimberley Mason - Thirty One Gifts
Takai BaLonn - Paparazzi Accessories
Sharon Marsh - Financial Services
Monica Mitchell - Plush Accessories
Sheree Alexis - Designer
Chacon Carter-Jefferson - Chacon Sweet Treats
Latanya Settles - Forever Free Fitness
Mayetta Barfield - Legal Shield
Lashania Barfield- Noah's Ark Animal Workshop
As a Vendor at any Eat Drink and Network event, you will receive your own round or rectangular table, a featured interview on the Talk of the Town Business Showcase Show, website and name mention on ads in regard to our event, as well as on our digital flyers, invitations and social media pieces and a free Eat Drink and Network Autographed T-shirt!
We are looking forward to meeting you at Eat Drink and Network with Muzo Radio!!! Stay Tuned for Future events by visiting our website www.muzoradio.com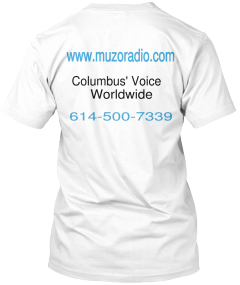 Eat Drink and Network Apparel
$21.99
We partnered with Teespring to create some awesome merchandise for this event. Show your support and look good wearing it. Check it out!