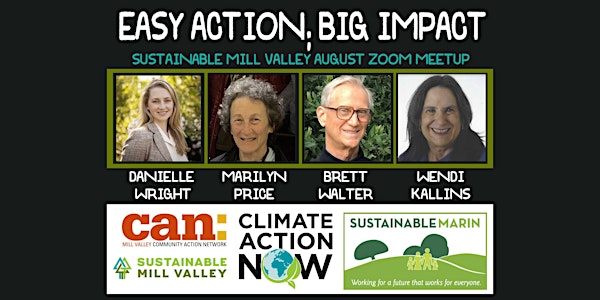 Easy Action; Big Impact Meetup
Local experts will review opportunities for community members to take action on a broad range of environmental issues.
About this event
Join Sustainable Mill Valley for our Easy Action; Big Impact Meetup via Zoom. Local experts will discuss three easy ways to take actions for a big impact on issues like climate change, protecting the environment, plastic pollution, and environmental justice.
Marilyn Price and Danielle Wright from MVCAN Eco Team and Sustainable Mill Valley will present their Weekly Action Newsletter, which informs on current climate and social issues. It includes links to signing petitions, sending emails to elected officials, registering for webinars, as well as other ways to take immediate yet impactful actions!
Brett Walter, Founder and CEO of Climate Action Now will show how we can use the Climate Action Now app to scale up our demands for climate action from political and business leaders. Find out why Al Gore's Climate Reality Project, Elders Climate Action and other groups have adopted Climate Action Now as one of their "go to" apps for climate activism.
Wendi Kallins from Sustainable Marin will discuss establishing a Climate Rapid Response Network that would manage a database of Marin County community leaders, advocates, and volunteers. This database would be used to create a network for each town to promote advocacy on policy initiatives that focus on sustainability and climate change. Find out how you can participate!