Description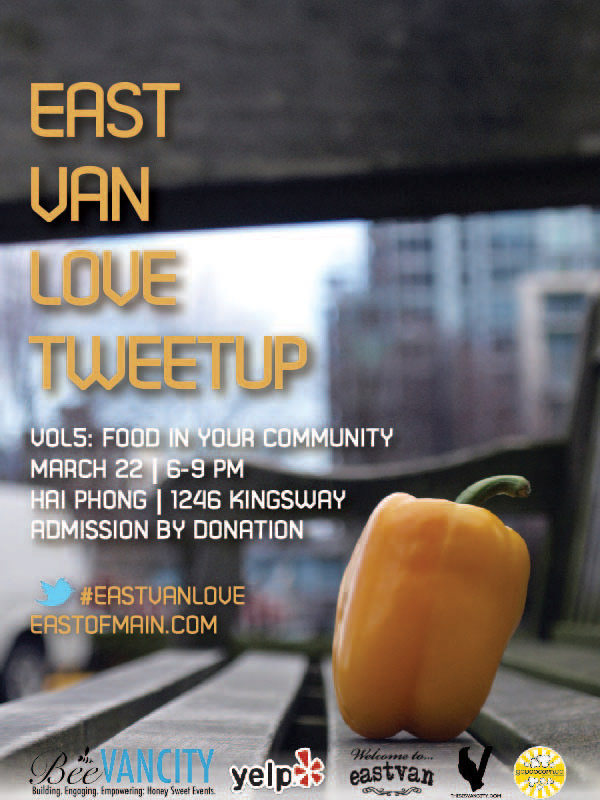 March 22, 2012 (Thursday)
Hai Phong
1246 Kingsway, Vancouver
Among food carts and fine dining, many of us overlook the delectable culinary gems hidden in our own neighbourhood. On March 22nd, the fifth volume of the EastVanLove Tweetup is about "Food in Your Community". After all, Vancouver is undoubtedly famous for its ethnic diversity, innovative cuisines, and strong West Coast tradition. Join EastVanLove as we explore the communities east of Main Street and discover a world of sustainability, urban farming, social dining, and collaborative food development.
Speakers
What is #EastVanLove?
#EastVanLove is a hashtag that links like-minded tweets together on Twitter, and allows us to share information and to have conversations about our love for East Vancouver, its culture, and its community!
What is a tweetup?
A tweetup is an event where people who tweet come together to meet in person.
Who should attend?
Anyone who loves the East Vancouver community. (You don't necessarily have to live there. You just need to love it!)
Show your East Van Love by joining us on March 22nd!
Check out our Facebook event page!
Tweet your love with #EastVanLove.
Brought to you by:
Kimberley Ong (@kimieong)
Stephanie Chua (@steph_chua)
Ajay Puri (@masalapuri)
____________________________________________________________________________________
About Hai Phong
1246 Kingsway, Vancouver
Event Specials
Appetizers:
Spring Rolls - $6 for 6 rolls
Salad Rolls / Tofu rolls - $5.50 for 2 rolls
Garlic Butter Chicken Wings - $9.95 for 1 dozen
Entree:
Pho Tai (rare beef) $7.50
Pho Tai Nam (rare beef + beef brisket) $7.50
Pho Tai Bo Vien (rare beef + beef ball) $7.50
Lemon Grass Chicken on Rice $8.50
Grilled Pork Skewer, Spring Roll, And Shredded Pork With Vermicelli
Drinks:
Organizer of EastVanLove vol.5 - Food in your Community
Changemakers Vancouver is a social change network pf networks which aims to help individuals connect, share & act on ideas with likeminded people. It works at the inter - intercultural, intergenerational, intersectoral and interfaith.