Description
EASTSIDE CHRISTMAS... CELEBRATING 40 YEARS | SATURDAY, DECEMBER 9 & SUNDAY, DECEMBER 10
EASTSIDE FOURSQUARE CHURCH - BOTHELL, WA
This Christmas, experience a first-class concert performed by top artists from across the nation presented by renowned NW producer Gary Verrill at Eastside Church.
Come celebrate and honor 40 years of arts and ministry at Eastside Foursquare Church. This "Eastside Christmas" will take you on a trip back into the history of Eastside celebrating all God has done and looking toward the future and the great possibilities ahead.
YOU ARE INVITED!
Not only are you invited to attend, but we are asking and inviting all former and current pastors, leaders, performers, worship leaders, musicians, vocalists, Eastside Performing Arts Kids, and volunteer participants of the Arts at Eastside to participate! Since 1978 we have seen the development of artistic and creative individuals who we would have never been able to predict possible for a small start-up church. So many of our own have gone on to great careers and we hope that all will venture back to where it all began and be a part of this great evening.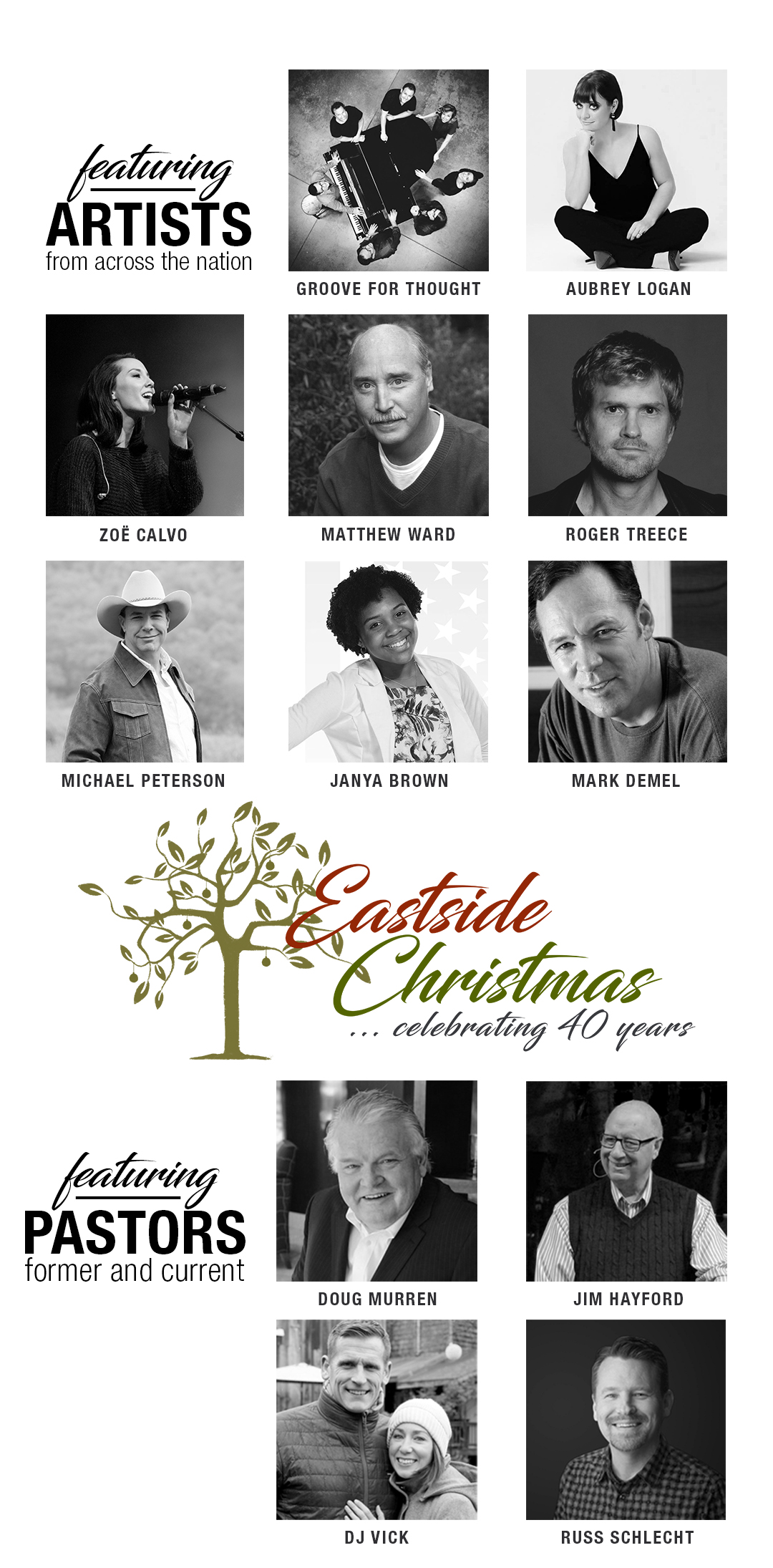 FEATURED ARTISTS AND PERFORMERS
LIVE AND VIDEO APPEARANCES FROM FORMER & CURRENT EASTSIDE PASTORS

Doug Murren

Jim and Betsey Hayford

DJ Vick

Russ Schlecht (current Senior Pastor)
COMMEMORATIVE KEEPSAKE
A special addition to "Eastside Christmas... Celebrating 40 Years" will be a commemorative keepsake available for purchase or included with your upgraded ticket. This keepsake will commemorate Eastside Church's 40 year history in stories, photos, and memorabilia. A great way to bring back memories from your history at Eastside!

Refund Policy: Should you need to refund your ticket, please contact Bob Horn at 425.488.2500 ext. 224 or bobh@eastsidechurch.org. We reserve the right to limit ticket refunds after 7 days prior to the event date.