Description
Hello!
Municipalities of all sizes are undertaking projects converting their streetlights from older, outdated technologies to LED. These projects often generate significant energy and maintenance savings and can be leveraged to a create a Smart City foundation for your community.
At our November 1st meeting, TEN Connected Solutions- a firm focused in designing and installing streetlight conversion projects- will present on the benefits, obstacles, and key decisions associated with smart lighting projects, as well as provide feedback on a number of other Smart City technologies. Please click through the below link for a short survey that will help TEN Connected tailor its presentation to the communities in our organization.
Click Here to Take a Quick, 1 Minute Survey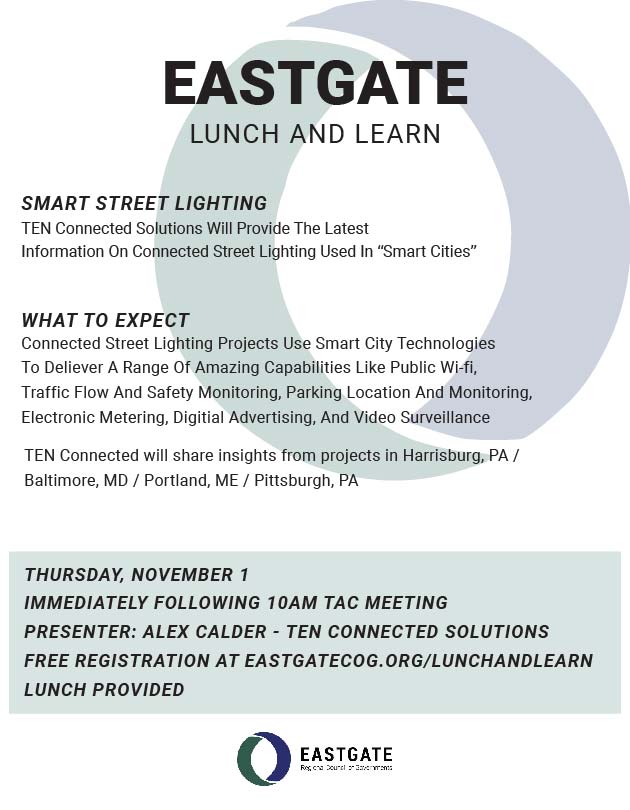 Organizer of Eastgate Lunch and Learn Series: Smart Street Lighting
Eastgate Regional Council of Governments is a voluntary association of local governments in Northeast Ohio. Ashtabula County, Mahoning County, Trumbull County, and all cities, villages, and townships in the counties are members. Although our members are unique, they share many common interests. Eastgate brings communities together to create a unified voice in areas such as transportation, water and air quality, land use planning, and local infrastructure projects.

Eastgate is directly responsible for a variety of federal, state, and local planning and project implementation programs. As a Metropolitan Planning Organization, an Areawide Water Quality Management Agency, an Economic Development District, and an Appalachian Regional Commission Local Development District, Eastgate continues to maintain required certifications and planning documents to qualify the region for federal and state funding.