About this Event
Eastern Standard Time
Put together top musicians from Washington, DC's Jazz and Reggae scenes, give them the recipe for the original Jamaican Ska, throw a dose of Soul in the mix, shake well, and the result is Eastern Standard Time.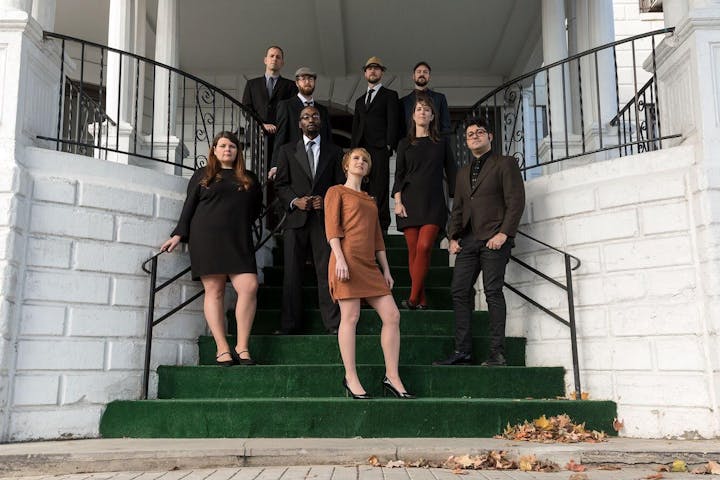 The Fuss
The Fuss is a dynamic ska, rocksteady, and early reggae band from Washington, D.C. Their sound pays tribute to the music of 1960's Jamaica and the British Mod scene, while putting modern slant on the timeless styles. The group is comprised of 3-part female harmonies, a 3-piece horn section, and 4-piece rhythm section.
bandcamp

The Bongo District
The origins of the Bongo District date back to 2016. When Dros (Guitar / Vocals) arrived to North America to pursue new challenges in his already extensive musical career through out Central and South America (Adhesivo, Los Furios, etc). By the way of fate and music, he met Luis (Lead Guitar), an experienced and seasoned guitar player. They started playing acoustic shows together around the DMV (Washington, Maryland, and Virginia) under the name "INDA MEANTIME".
Ironically the duo name would eventually grab its own literal meaning as the band continued to grow and shape itself. As they constantly played the DMV area, other musicians took interest by jamming occasionally in the project. In the summer of 2017, Edd (bass), Chris (drums), Crizz (percussion), Luis, and Dros had already been performing as a steady lineup for some months and decided that the band had developed its own personal style of reggae funk and latin music; and the Bongo District was born.
Manu Chao, an influential reknowed artist radicated in Barcelona, Spain, first coined the term Bongo in his song "King of the Bongo" back in 1992. Every member of the band identified themselves with the lyric of the song which describes the cultural shock people face when one decides to migrate from their homeland in search for a better future. As a band we share the vision that music becomes meaningful when you combine melodies with a message, and given our current state of society, we believe there is a growing need for a place to express and be yourself without any repercussions, a place free of judgment, a "borderless" place where you can experience the joy of music in communion. We decided to call this place, the Bongo District.
Date and Time
Refund Policy