Eastern Champlain Sub-Region Consultations/Consultations de la sous-région...
Event Information
Location
Multiple Locations in Eastern Champlain
Différents endroits dans la sous-région de Champlain est
Description
Eastern Champlain Sub-Region Consultations: Transforming Pathways to Care
Please join us in a discussion about your local LHIN sub-region. During the consultation we will discuss the population health profile of your sub-region and its key findings. Share your input to identify and inform local priorities to improve coordination of care in your sub-region.
Spaces are limited, so we encourage you to sign-up for one session only.
If the session you are interested in is full, please register for another session in your sub-region or email natalie.nelson@lhins.on.ca
To be added to the waitlist, please provide the following information:
Date & Time of Session you would like to attend

Which health care sector/category do you work in or represent?

Primary Care/Health Service Provider /Patient, Client,Caregiver.
If you are not able to attend a face-to-face consultation and would like to share your feedback online, please register for Online Feedback.
Eastern Champlain Sub-Region Consultations: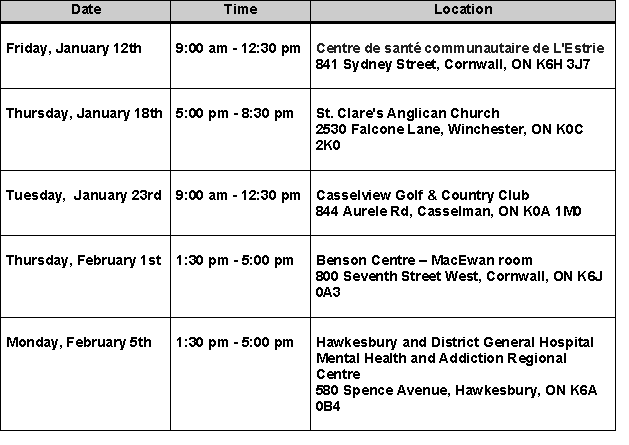 For more information about Champlain sub-regions please visit: http://www.champlainlhin.on.ca/GoalsandAchievements/OurStratPlan/SubRegions.aspx?sc_Lang=en
---
Champlain Est Sub-Region Consultations : Transformer les parcours de soins
Venez participer à une discussion au sujet de votre sous-région du RLISS. Durant la consultation, nous discuterons du profil de la santé de votre sous-région et des principales conclusions. Faites-nous part de votre perspective afin d'influencer l'établissement des priorités locales afin d'améliorer la coordination des soins dans votre sous-région.
Les places sont limitées, donc nous suggérons de vous inscrire à une seule séance.
Si la séance qui vous intéresse est complète , veuillez vous inscrire pour une autre séance dans votre sous-région ou communiquez avec natalie.nelson@lhins.on.ca.
Pour ajouter votre nom à la liste d'attente, veuillez nous fournir les renseignements suivants dans votre courriel :
Indiquez la date et l'heure de la séance à laquelle vous souhaitez participer.

Indiquez dans quel secteur des soins de santé, ou catégorie de soins, vous travaillez ou représentez.

Soins primaires/ Fournisseur de services de santé/Patient, client ou personne soignante.
Si ne pouvez pas assister en personne, mais que vous voulez nous transmettre vos commentaires en ligne, vous pouvez le faire en vous inscrivant à cette option.
Champlain Est Sub-Region Consultations :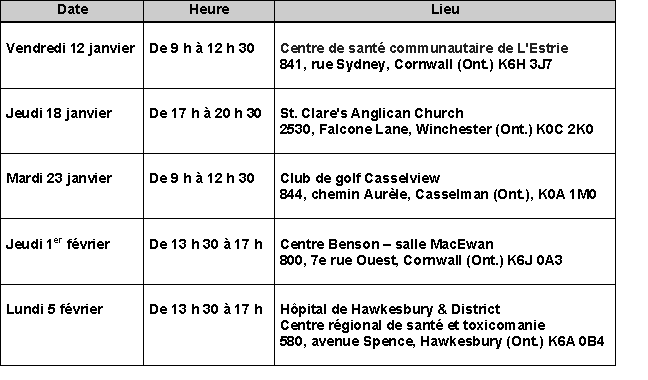 Pour de plus amples renseignements sur les sous-régions du RLISS de Champlain, visitez :
http://www.champlainlhin.on.ca/GoalsandAchievements/OurStratPlan/SubRegions.aspx?sc_Lang=fr-CA
Date and Time
Location
Multiple Locations in Eastern Champlain
Différents endroits dans la sous-région de Champlain est