Easter Potluck dinner and Easter through Mary Magadalene's Eyes

Sunday, April 20, 2014 from 5:00 PM to 6:30 PM (PDT)
Event Details
Easter Poluck dinner 5 pm to 6:45pm (bring a dish to share and donation for paper supplies)

Moonrise Service: Easter through Mary Magdalene's Eyes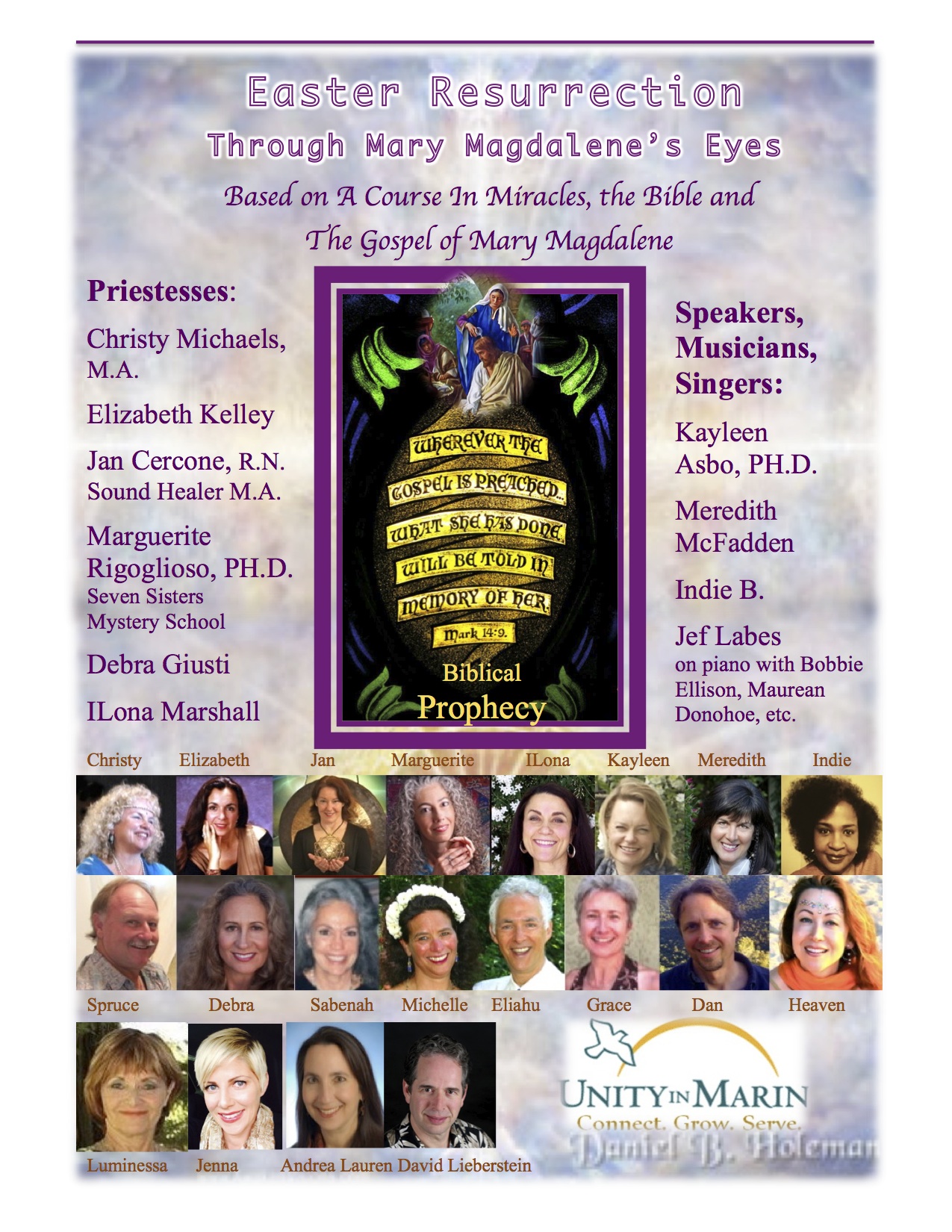 A glorious evening of exploration, inter-connection, education, sacred music and ritual wonderment—a dynamic new change in the way we have looked at Easter. When we look through her eyes, we see a story of blessings, of courage and deep devotional love.
We begin with a beautiful sacred service followed by a live ritual walk.   Together, we walk in her footsteps focusing on her actions, her message and her role. We begin with the anointing with real spikenard flown in from Jerusalem. Then we go through all the events of the Stations of the Cross, up to her role as the first witness to the resurrection, making her the Apostle to the Apostle.
This service is based on Magdalene's journey, sourced from the Bible, Gospel of Mary, A Course In Miracles, Rev. Cynthia Bourgeault book, The Meaning of Magdalene and the Gnostic Liturgy. We discover in this closer look, Mary Magdalene's, critical key part in the story. She is now being restored as the Apostle to the Apostle. The Bible prophesizes that Mary would be remembered and discussed for what she has done, (Mathew 26:13) and so it is done in this service.
Led by Rev. Christiane Michaels, M.A., and joined with by Elizabeth Kelley an ordained Priestess from the Holy Order of Mary Magdalene originating in Southern France. The Order claims succession from Mary Magdalene herself and has survived, mostly in secret, by the careful selection of candidates and until recently ordaining only women.
Sermon by Scholars, Kayleen Asbo, PH.D. and Marguerite Rigoglioso PH.D. all of whom teach the Gospel of Mary along with Rev. Christiane Michaels, M. A. .
Piano by Jef Labes. Music by Sound healer, Jan Cercone, R.N., M.A., and Meredith McFadden, Spruce Hauschildt, with Sabenah Elizabeth, Heaven, Bobbie Ellison, and Andrea Lauren M.A. and David Lieberstein.
Joined by Gospel singers Indie B., and Bobby Ellison and other friends from Unity like Maurean Donohoe, Melanie Carter, etc.. The ritual where we walk in Magdalene's footsteps, we will be joined by Gailya Morrison, Debra Giusti and friends Dan Craig- Morse, Grace Galzagorry, Luminessa Enjara, Marguerite Rigoglioso's Seven Sisters Mystery School students and friends, Hodah Heart and Knights Templar of Order of Magdalen, Eliahu Goodman and other friends.
When & Where

Unity In Marin
600 Palm Dr
Novato, CA 94949


Sunday, April 20, 2014 from 5:00 PM to 6:30 PM (PDT)
Add to my calendar
Organizer
Unity In Marin
Unity In Marin is a Spiritual Community committed to authenticity and the expression of love and support for each other in living an awakened and enlightened life.
 You are invited to...
Connect: with Spirit, inspiring each other, the community and the world.
Grow: in consciousness through education, healing and prayer.
Serve: Spirit, community and the world with love, joy and a sense of adventure.
Visit our website to learn more about us at:
www.unityinmarin.org

Easter Potluck dinner and Easter through Mary Magadalene's Eyes