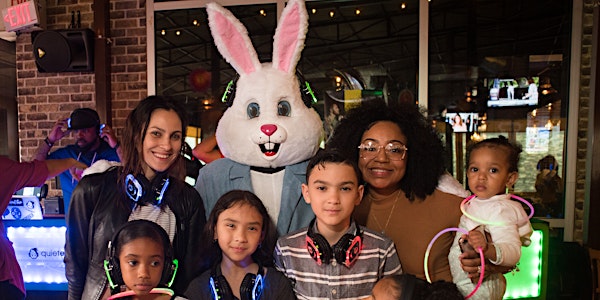 Easter Egg Hunt and Silent Disco @ Container Park - Las Vegas
ALL AGES
Quiet Events Inc.
An outdoor touchless Easter egg hunt and dance party for all ages with plenty of room to social distance!
When and where
Location
Downtown Container Park 707 Fremont Street Las Vegas, NV 89101
About this event
Join us outdoors at Container Park in Downtown Las Vegas for a Touchless Easter Egg Hunt plus Silent Disco Dance Party. All ages are welcome, so grab your family, friends, masks and smartphones to participate in the Easter egg hunt to win prizes, in addition to dancing to three different channels of music. You can participate in one or both events for the same price.
Your ticket gives you access to both the Easter Egg Hunt and the silent disco. A smartphone and $2 app purchase is required to participate in the Easter Egg Hunt. Prizes will range from candy to small toys. There will also be a raffle with prizes ranging from local vendors' snacks to a free silent disco rental for your entire family!
One of the eggs will contain a free ticket to take a picture with the Easter bunny! He missed you last year and can't wait to safely take photos with you.
Music selection for the night:
CHANNEL1 (Green): Top 40/ Pop
CHANNEL 2 (Red): 80's, 90's & 2K Throwbacks
CHANNEL 3 (Blue): Hip Hop
Your Experience Includes:
A Pair of Quiet Events Headphones
Entrance to a touchless Easter Egg Hunt (smartphone and $2 app download will be required)
Everyone will win a kid-friendly prize!
One raffle ticket to win prizes
Special notes:
Ages: All Ages (Kids under 18 must be accompanied by an adult)
Timing: The Easter egg hunt will end at 3 PM. Pictures with the Easter Bunny will end at 3:30 pm, the raffle will be at 3:30 pm, dance party will end at 4 pm
Dress Code: Casual
Rain or Shine: If it rains, we will have to cancel
Tickets Limited: 300 people (Admission to Container Park is free, but participation in the easter egg hunt and disco requires a ticket)
What to bring:
Mask (Must be worn)
Valid ID
A fully charged smartphone
You MUST have a credit or debit card for the check-in process.
Nothing is held or charged, but if the headphones are NOT returned, there will be a $100 charge to your credit or debit card after the event.
How the silent disco works:
When you arrive, you will receive a pair of special wireless headphones. You can adjust the volume and choose between up to three DJ's with a flip of a switch. Each headset has a color LED that shows what channel you are listening to. It is super social; you are in control of the music! There is no loud music that you need to talk over. Plus, there is no ringing in your ears when you leave!
How the Egg hunt works:
Download the Touchless easter egg app. At the check-in, show your ticket and they will give you a code to scan in the app. You will have 1 hour to run around the park finding eggs and scanning them. When you scan the egg; you'll collect what is inside. When the time expires go to the checkout to claim your prize.
COVID CONSIDERATIONS
Precautions WE are taking: We take the pandemic very seriously as many of our friends and family have been affected. We are doing everything we can to reduce the spread, while trying to keep people entertained, allowing us to generate income for our employees, while staying within the city and CDC social distancing guidelines for activities.
We are aware that the virus does not spread easily from touching objects, but we are still taking steps to reduce as much interaction as possible. All our equipment is wiped down with isopropyl alcohol and wipes will be onsite. We have also implemented a touchless check-in system, where we scan your ticket, ask a few questions, and then you can pick up your headphones.
Precautions YOU should take: If you have a fever, cough, or been around new groups of people within two weeks, you should not attend as you put others at risk (don't worry, we will have more events for you to attend). While dancing, singing, wearing masks are required.
SILENT PARTY AT HOME!
Quiet Events rents headphones and ships directly to you so you can have a silent disco party at home. We ship across the US and pricing is $6 a headphone with special packages starting at just $100! Setup is simple and no DJs are required. Request a Quote