Cookie Magic in a Box, Community Giving and Prizes too!
About this event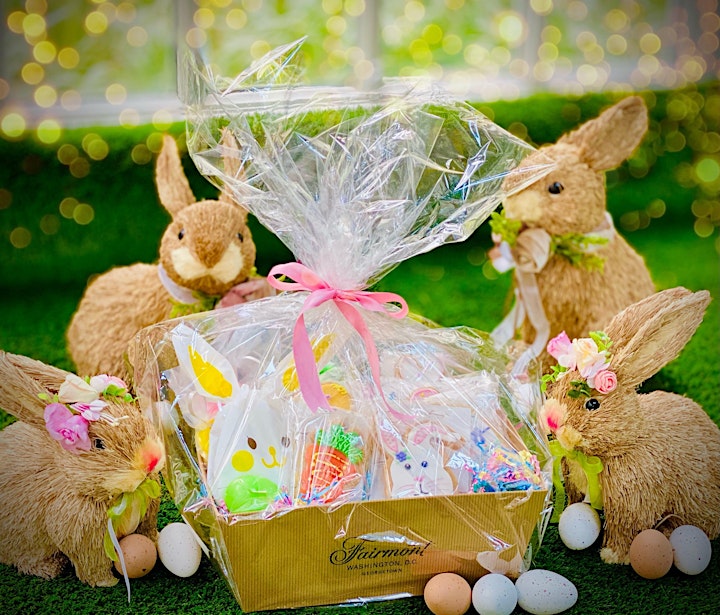 Just in time for Easter, Fairmont Washington, D.C., Georgetown is offering Easter Cookie Decorating Baskets To-Go with a percentage of the proceeds benefitting Horton's Kids*.
Take home your own Easter fun from the Fairmont, and be entered to win prizes for the most creative Easter outfit or mask, while giving back to our community. Executive Pastry Chef A.J. Thalakkat has been working hard to create scrumptiously magical fun for all ages.
Each Easter Cookie Decorating Basket Contains:
- 6 Decorated Brown Butter and Honey Shortbread Cookies – for inspiration (Decorated by Chef Thalakkat - ready to munch on)
-12 Frosted Brown Butter and Honey Shortbread Cookies - to decorate
- 4 Pastry Piping Bags with Green, Pink, Purple and Yellow Frosting and Assorted Sprinkles
- 6 Easter Eggs, 3 Contain Chocolate and 3 Contain Little Toys
Easter Cookie Decorating Baskets are $43 each plus tax. Orders must be placed by Monday, March 29th at 12 Noon. Orders can be placed directly via Eventbrite or by emailing the hotel directly at wdc.holidaysorders.dl@fairmont.com.
On Thursday, April 1st, families will pick up their Easter Cookie Decorating Baskets To-Go in to the hotel's lobby at 12:00 Noon. Those who are donning fun Easter attire and/or masks, will be entered to win, dinners and other prizes. Georgie, Fairmont's Canine Ambassador, will greet guests in her own Easter outfit.
---
*Horton's Kids empowers children growing up in one of Washington, DC's most under-resourced communities so that they graduate from high school ready for success in college, career, and life. Their research-based programming combines rigorous academic supports with social-emotional development opportunities and health and basic needs services that work together to help children reach their full potential.
Fairmont's Courtyard Garden is open daily at 4 pm offering cocktails, bar bites and other menu items. Social distanced seating is arranged around toasty fire pits and heating lamps.
Caring for our valued guests and colleagues is our top priority. To learn more about the extensive measures we are taking to safeguard, protect and care for you, please visit ALLSafeandWell.com.