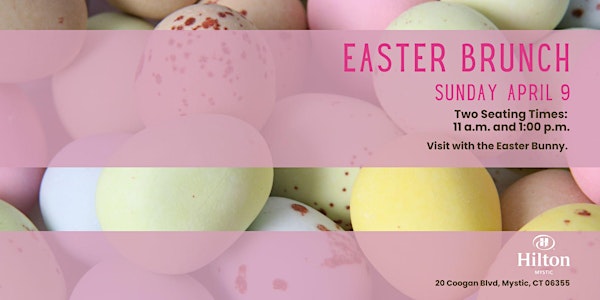 Easter Brunch at Hilton Mystic
Easter Holiday Grand Buffet Brunch at Hilton Mystic, Mystic, Connecticut. April 9, 2023
Location
Hilton Mystic 20 Coogan Boulevard Stonington, CT 06355
About this event
Easter Grand Buffet Brunch at Hilton Mystic, Sunday, April 9, 2023. Visit with the Easter Bunny. Enjoy a memorable dining tradition.
This event will take place in our ballroom with separate seating for all ticketed parties.
Two Seatings: 11 a.m. | 1 p.m.
Each seating is limited to 90 minutes.
MENU - all you care to eat buffet stations.
Breakfast Favorites
Fluffy Scrambled Eggs, Assorted Individual Quiche
Touch of Honey French Toast
Deviled Easter Eggs
Breakfast Potatoes, Smoked Bacon, Maple Sausage
Assorted Bakery Specialties
Soups
Ham and White Bean Soup
Italian Farro Minestrone
Fresh Salad Station
Baby Kale, Little Leaf Farms Lettuce, Grape Tomatoes, English Cucumber, Red Onion, Shredded Carrots, Bell Peppers, Cremini Mushrooms, House Smoked Bacon, Chopped Egg, Candied Walnuts, Chickpeas, Dried Cranberries, Golden Raisins, Garlic Balsamic, Avocado Ranch, Blue Cheese, Raspberry Vinaigrette
From The Carvery
Lamb and Mint "Porchetta," Garlic and Red Wine Jus
Slow Roasted Prime Rib, Au Jus
Hot Entrees
Braised Easter Kielbasa, House Kraut, Brown Sugar, Caraway
Honey Glazed Salmon, Mixed Citrus, Sage
Roasted Early Squashes and Tri Color Carrots
Olive Oil and Chive Mashed Potatoes
For the Littles
Chicken Fingers, Tater Tots, Cheesy Mac
Peter Cottontail's Candy Bar
Jelly Beans, Chocolate Easter Eggs, Marshmallows
Sweets & Treats
Mini Tartlets, Dessert Bars, Petit Fours,
Carrot Cake with Cream Cheese Frosting,
Seasonal Fruits and Berries
Tickets/Reservations
Each ticket provides access for one person to their timed event seating - either 11 a.m. or 1 p.m.
Tickets may be purchased for 11 a.m. or 1:00 p.m.
Seatings are limited to 90 minutes per party.
If you are purchasing tickets separately from your group, please let us know who is part of your group, so that we can facilitate seating you together.
Minimum Table size is 4 people | Maximum Table size is 12 people.
For parties less than 4 people, seating may be communal /shared tables.
Pricing*:
Adults: $71 each
Children 5 - 12 years old: $35 each
Children under 5: Free - each person attending must have a ticket.
All tickets are pre-paid and include the price of the meal, gratuity and sales tax.
*Pricing is exclusive of EventBrite Ticketing Fees. Pricing does not include alcoholic beverages.
Tables/Seating Arrangements: Guests will be seated with their ticketed groups. Minimum group size is 4, Maximum table group is 12. For reservations with 4 or fewer guests, you may be sat with other groups at communal or shared tables.
Cancellation Policy: Cancellations received BEFORE 10 a.m. Wednesday, April 5, 2023, will receive a full refund minus the EventBrite ticketing fees. We will not accept fully refundable cancellations after April 5, 2023. Cancellations may be requested via EventBrite Event Landing Page. Eventbrite fees are not refundable. Refunds are issued in the same manner in which you paid.
About the organizer
Located in the heart of mystic, this newly renovated full-service hotel is the heart of it all.  Convenient to downtown Mystic and Interstate 95, this hotel features a contemporary American restaurant, The IRONS, serving locally sourced creative cuisine, completely renvoated guestrooms, and is the perfect homebase when exploring the local area including the Mystic Aquarium, the shops at Old Mistick Village, and the local wineries and breweries. 
The IRONS Restaurant and Bar is located inside this newly renovated hotel.  Complete with an outdoor courtyard with patio furnishings and firepits - to relax, kick-back and stay all day.