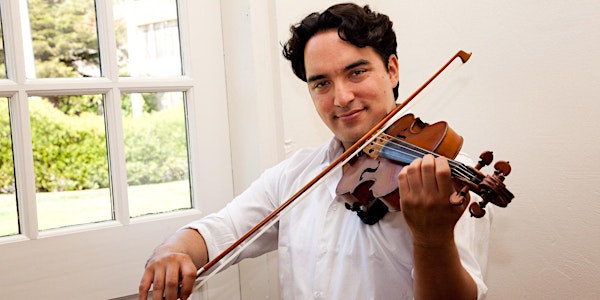 East Meets West: Lucian Balmer and friends
Event Information
Location
The Episcopal Church of the Incarnation, San Francisco, CA 94122
1750 29th Ave
San Francisco, CA 94122
Description
Date & Time: Sat. June 17, 7:30 pm
Venue: 1750 29th Avenue, San Francisco
Tickets: $20 General, $15 Seniors/Students
All ticket sales are final.
For full program details click here.

For more information visit http://sunsetarts.wordpress.com or call 415-564-2324
Lucian Kano Balmer has studied the violin for 20 years under Benjamin Spilman and Calvin Murasaki. Most notably, he has performed with award winning guitarist Shambhu Vineberg, and with sarod player Lisa Sangita Moskow. Currently, he is working on compositions with tabla player Josh Mellinger as well as multi-instrumentalist Aharon Wheels Bolsta and sitarist Joanna Mack. He is studying vocals with Bruce Hamm, senior disciple of Ali Akbhar Khan, and with renowned Hindustani vocalist, Shweta Jhaveri. When time allows, he also plays with the Mill Valley Philharmonic.
Joanna Mack began her pursuit of Classical North Indian Music in 1997. While studying Neuroscience at UCSD, she attended a Classical Indian Music class with sitar virtuoso Kartik Seshadri, a senior disciple of Pandit Ravi Shankar of the Maihar Gharana. She had been involved in Western music since childhood but was immediately drawn to Indian music. Recognizing Joanna's inherent talent and drive, Kartikji recommended her to study in Kolkata under the now late Pandit Deepak Choudhury, also a senior disciple of renowned musician Pandit Ravi Shankar. That year, Joanna traveled to India where she fully devoted herself to the pursuit of Indian Classical Music under the guidance of Deepakji. She continued her studies with him in Kolkata from 1997 through 2005. Joanna then returned to the United States and she was fortunate to be able to study under the now late Ustad Ali Akbar Khan and continues her studies with sarodia Bruce Hamm at the Ali Akbar Khan College of Music in San Rafael and master classes with sitarist Sri Partha Chatterjee.
Josh Mellinger is a multi-instrumental professional percussionist based in the San Francisco Bay Area. He graduated in Percussion Performance BFA at the California Institute of the Arts (CalArts) in Valencia, California, and have been studying Percussion for over 12 years. Josh currently performs with several groups in the San Francisco Bay Area, teach percussion lessons, and study Tabla with Pandit Swapan Chaudhuri at the Ali Akbar College of Music in San Rafael. As a multi-instrumental percussionist, he is able to competently and comfortably play a variety of drums bringing to each project I collaborate in the precise sound it needs. Click here to learn about the different drums I can play.
Josh received his BFA in Percussion Performance in 2010. During my time at CalArts, He is involved in various performing ensembles at CalArts including the Percussion ensemble, World Percussion ensemble, Tabla ensemble, North Indian ensemble, African ensemble, both Javenese and Balinese Gamelans, the Chamber Orchestra, and the New Century Players ensemble. While at CalArts, Josh studied under the guidance of Pandit Swapan Chaudhuri, Randy Gloss, Houman Pourmehdi and David Johnson.
Date and time
Location
The Episcopal Church of the Incarnation, San Francisco, CA 94122
1750 29th Ave
San Francisco, CA 94122