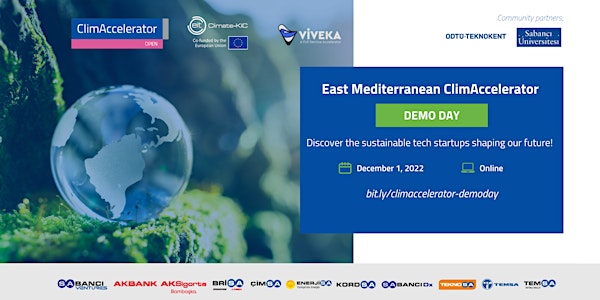 East Mediterranean ClimAccelerator Programme Demo Day
East Mediterranean ClimAccelerator Programme is organized by Viveka.
About this event
Zoom Link: https://us06web.zoom.us/j/87977349992
The future is NOW...
East Mediterranean ClimAccelerator is an EIT-Climate KIC initiative that aims to foster collaboration between start-ups and industry to shape a climate-positive new normal!
During the Demo Day of the programme, start-up graduates from East Mediterranean ClimAccelerator Programme will showcase their business ideas.
Event Agenda
3.00 - 3.15: About the East Mediterranean ClimAccelerator Programme
3.15 - 3.45: Welcome Presentations: EIT - Climate KIC Programme Partners & Mentors
Christian Daube: EIT - Climate KIC - Strategic Programmes Builder & Manager
Yeliz Erinçkan: Sabancı Holding - Strategy and Business Development Director
Agnieszka Klucznik-Tӧrő, Ph.D. : Managing director of International Center for Entrepreneurship, and Business coach of EIT FOOD, Climate-KIC, and EIT Strategic Synergies Cluster.
Tuğçe Tuğlu Özalpay: Sabanci Holding - Sustainability Manager
3.45 -4.00: Break
4.00 - 4.20: Environment Startup Pitches
Solight
Atlasia
Buluttan
Evercity
4.20 - 4.55: Industrial Startup Pitches
Hydrolyx
Momentum
Plastogaz
Sustonable
İltema
4.55 - 5.10: Urban Startup Pitches
5.10 - 5.25: Agriculture Startup Pitches
5.25 - 6.30: Q&A Session/Networking and Closing
About the East Mediterranean ClimAccelerator Startups
AtlasiaAtlasia is sustainability management and ratings service of companies, delivered via a global cloud-based SaaS platform.
BlueitBlueit builds a 'Water Mangement Platform' based a hardware and software system.
BuluttanBuluttan is a weather intelligence tech-startup providing next-gen weather and climate solutions for companies who are operating in industries (renewable energy, mobility, q-commerce, insurance etc) with medium-high vulnerability, against weather related disruptions.
EvercityEvercity is an end-to-end SaaS platform streamlining green debt and carbon credit origination.
EcofoniEcofoni aims to disseminate sustainable development goals in the business world, calculate and report the carbon footprint, create social interaction, create ESG benchmarking, decarbonization strategies, and create an artificial intelligence-based sustainability service by centralizing sustainability data.
FarmologFarmolog Farmer is a digital tool for keeping records and planning of farming activities such as field records, seeding, plant protection, fertilization, income & expense, weather forecast.
HergeleHergele Mobility provides an all inclusive fleet pack to start a micro mobility operation including the hardware - the iot integrated vehicles, the software all white label - the control dashboard in which you can track all data from trips, users and vehicles; the mobile app for the end users to scan the code and join the system and the operators mobile app to increase the operational efficiency.
HydrolyxProviding industrial recycling systems to produce green hydrogen and clean water from waste water.
Hydro XHydro X is an Israel-based start-up which is reinventing hydrogen storage.
iltemaltema is a company, which is dealing with advanced materials mostly based on technical textiles. The main product of iltema is an electrical heating fabric developed through weaving.
MomentumMomentum's wind turbine Mistral is a small scale wind turbine with shrouded geometry that augments the flow in throat section.
Move OnMOVE ON is developing autonomous tractor kits to convert any kind of
tractor into an unmanned mode.
nature2worldNature2World delivers pioneering innovations to solve global
environmental & societal problems.
PlastogazPlastogaz is developing a technology capable of recycling plastic waste, mainly polyolefins, into high quality naptha, which in turn is used to produce new, virgin quality plastics.
Solight: Solight developed a highly efficient, fully static, patented, solar collector delivering healthy, energy saving sunlight indoors; with unparalleled flexibility and price/performance, making our buildings healthier and energy efficient.
SustonablSustonable mixes post-consumer recycled plastic bottles and natural stone to create a circular, high-quality surface material, that can be used for kitchen tops, wall panels and furniture purposes.
VisuCarVisuCar is a company specializing in new technologies in automotive industry.